Auction 166A
Schools of Design

29. November 2022 at 3:00 PM MEZ CET
---
Catalogue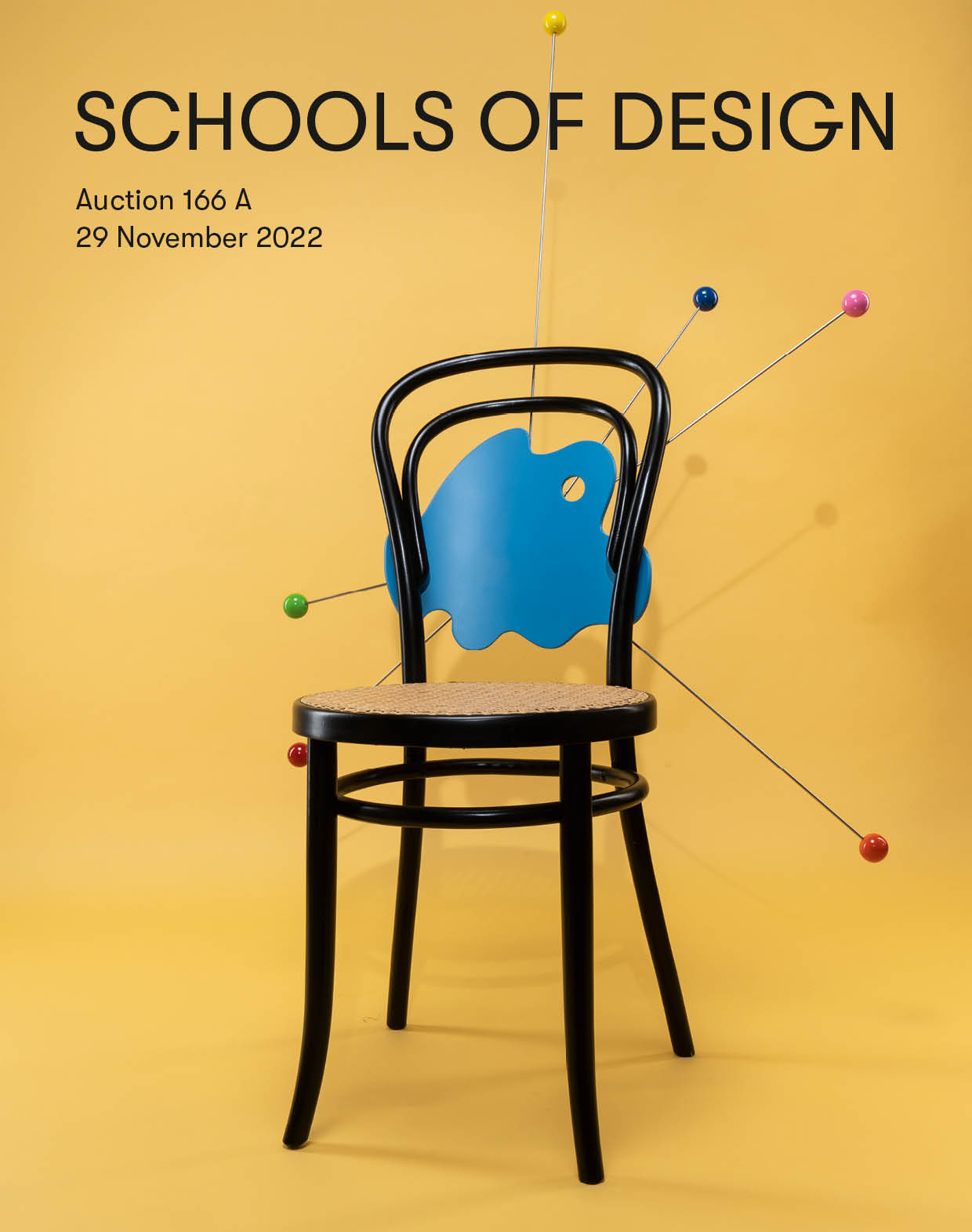 ---
The Advent season was ushered in at Quittenbaum's with a successful 'Schools of Design' auction.
Numerous bidders on the floor, on the phones and on the four internet platforms competed for the exquisite offer and ensured extremely pleasing knockdowns with their eagerness.
Right at the beginning, a customer was able to prevail over several competitors on the telephone and acquire the rare teapot and creamer by Josef Hoffmann, 1904 for the Wiener Werkstätte. The pair of pots, with all the important signets, is now going into an Austrian collection for EUR 22.000 (lot 8). Both rare armchairs by the Belgian Henry van de Velde went to a German collector after a fierce battle (lot 30, hammer price EUR 8.000 and lot 32 EUR 5.000). The wardrobe, a model that was also used in Karl-Ernst Osthaus' Haus Hohenhof, finds a new place in a German private museum, much to our delight (lot 39, hammer price EUR 3,500).
The highlights of the Bauhaus chapter were, as expected, the 'slatted chair 'ti1a' (lot 50 will go to Switzerland for EUR 45,000) and the even rarer table 'ti9', 1922-24 by Marcel Breuer (lot 49). The French client who bought the table for EUR 15.000 will soon be able to ask his opponent to the tournament with the matching chess set by Josef Hartwig. The competition was fierce, and the hammer for the set only fell in his favor at EUR 16.000 (lot 56).
Among the Italian designs, Gino Sarfatti's floor lamp '1035' from 1948 shone - proverbially - and was bid up from EUR 2,500 to EUR 7,000. It will now light up a home in Switzerland (lot 91). Ettore Sottsass' 'Ultrafragola', 1970, in a quite early version was purchased by a German museum after a long bidding battle for EUR 8.000 (lot 106).
A Swedish client won one of Le Corbusier's rare wardrobes for the 'Unité d'Habitation de Marseille'; he beat several other bidders at EUR 8,500 (lot 108).
The small but fine collection of lighting designs by the great Ingo Maurer was very well received by customers. A particularly beautiful and rare example of Maurer's 'Uchiwa' series, the 'Ju-Ku' made of 19 rice paper fans, fetched EUR 12,000 (lot 160).
Among the designs of the new millennium, the 'MAK Chair' by the British Tom Dixon won unrivaled. Two customers on the phones engaged in a bidding war with other interested parties on the internet, finally an important Northern Italian collection won the bid at EUR 15.000 (lot 184).
Some other fine designs, including a rare pendant by Henry van de Velde from the estate of a niece of the painter Curt Hermann (lot 31) and the complete kitchen furnishing by the Dane Arne Jacobsen from 1957 for the International Building Exhibition in Berlin (lot 140) are still available until 23 December 2022.
---