Art and Design of the 20th Century is our special fields
We auction objects from the fields of Art Nouveau, Art Deco, Bauhaus design to the present day, Murano Glass, Decorativ Arts, Jewelery, Author's Jewelery, Photography, Modern and Contemporary Art. Our specialist expertise in these areas has made Quittenbaum a living forum for passionate collectors and art lovers around the world since it's founding in 1998. We have built up a client base that includes not only private collectors but also major museums around the world.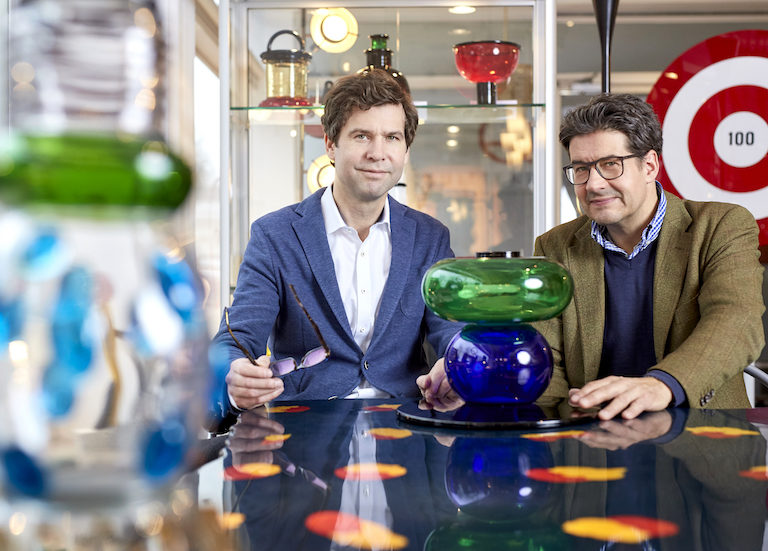 Our auctions in Munich take place six times a year at our headquarters in Theresienstraße 60. In order to make our offer and your consignments accessible to an international audience, we publish all objects with detailed descriptions and photos on our homepage. We publish comprehensive catalogues which we ship worldwide and we publish the highlights of the auctions on social media. Of course we use the latest technology to be successful. Buyers can place bids via our homepage as well as participate in the auctions via international online auction platforms such as Liveauctioneers or via our own platform 'Quittenbaum Live'.
Art Nouveau – Art Deco The art nouveau and art deco will be auctioned in May and November. We are particularly successful in offering French glass art. This is demonstrated by our high turnover for vases by Emil Gallé, Daum Frères and Lötz. Special auctions of Lalique complete the range of glassware. Another area of our expertise is our collection of art deco sculptures. By being the competitive leader, our house has been able to secure the sales of designs by Henry van de Velde.
Design – Murano Glass We regularly hold special auctions on design themes of the 20th century, which focus on a country or a design school. At the end of the year, we will be presenting particularly important furniture and lighting in our 'Highlight Auction'. In keeping with our focus on Murano glass Askan Quittenbaum presented a comprehensive catalog, which was published in 2012 by DuMont Verlag.
Modern and Contemporary Art We sell Pop Art particularly successfully. Besides we are well suited for auctioning Picasso ceramics. In addition, the artist postcards by Karl Schmidt-Rottluff and Ernst Ludwig Kirchner were among the highlights of our art offer in the past.
Author Jewelry Our passion for author's and artist's jewelry began with a collection of kinetic jewelry by the goldsmith Friedrich Becker. Once a year we dedicate an auction to this exciting topic.
Collections We have a special expertise when it comes to auctioning a whole collection. We guarantee an optimal content and photographic representation of your collection objects in a separate catalog.
How it all started – The fouding of Quittenbaum Art Auctions
The history dates back to 1956, when Ellen Piper Quittenbaum, the mother of today's managing director Askan Quittenbaum, opened a gallery for African Art in Dusseldorf. In 1968 she founded a gallery for jewelery, Art Nouveau glass and antiques in Hamburg. Askan Quittenbaum entered the business in 1992, and together they led the gallery Quittenbaum in Hamburg-Blankenese, focussing on Art Déco, Design and Murano Glass. In 1998, the company headquarters moved to Munich, and on 11 May of that year, the first Art Nouveau auction was held. The following year a Bauhaus auction was held comprising around 400 objects, which laid the foundation for the house specialising in modern design.