Buying at Quittenbaum
It has never been so easy to participate in an auction and bid on a work of art! In the following points we explain the options available to you if you would like to participate in an auction: bidding in the salesroom, bidding by phone, placing an absentee bid and online bidding via our own online live bidding platform on our website.
But before we get started, you can find out in detail about the artworks and objects we offer in our auctions. You can find all the lots of an auction on our website. The information we provide you with includes a description with dimensions, material and dating as well as a lower and upper estimate price. We present each work of art and each object in a main view and several detail photos.
Wenn Sie ein Kundenkonto bei Quittenbaum anlegen, dann können Sie über unsere Website eine Merkliste von Objekten anlegen oder unsere Experten kontaktieren, die Ihnen auf Wunsch einen genauen Zustandsbericht geben und Detailfotos zuschicken.
Wenn Sie ein ernsthaftes Kaufinteresse haben und Gebote über unsere Website abgeben möchten, müssen Sie Ihr Kundenkonto verifizieren. Wir fragen dazu Ihre Adresse ab und bitten Sie, eine Kreditkartennummer zu hinterlegen.
Bid
Bid on site
Our auctions take place in our showroom at Theresienstraße 60. If you would like to bid in the salesroom, our staff will provide you with a bidder number. New customers are asked to bring their photo ID.
Online Live Bidding at Quittenbaum's website
By means of our service 'Quittenbaum Live Bidding' you can follow the auction progress in real time on your computer, tablet or smartphone. If you want to bid live via our website, you must have a verified customer account and you must register in advance for the respective auction. Find further information here.
Online Live Bidding
Quittenbaum cooperates with various international online platforms that broadcast our auctions live. You can find the links to the auction platforms on our homepage. Click either on the button 'Bid at liveauctioneers.com' or 'Bid at invaluable.com' or 'Bid at drouot.com'. Please register in good time, at least 24 hours before the auction starts. Remember your passwords as they will remain valid for future auctions. Your bids will be accepted in the auction room by a staff member at the computer and passed on to the auctioneer. Please note that the buyer's premium may be higher on external platforms than when bidding via our website.
Place a bid
Online: As soon as the lots of an auction are online on our homepage, you have the possibility to place online a maximum bid on artworks and objects on our website. In order to do so, your registration is required. Click on 'Bid', enter your bid and accept the terms and conditions. You will immediately receive an e-mail with a confirmation. Attention: The submission, modification and cancellation of bids via the online access is only possible until six hours before the auction starts.
With bid form: Written bids can also be submitted using the bid form. This can be downloaded from the homepage and printed out. Bid forms are also available at the auction house and are enclosed with the printed catalogues. Enter the auction number, the catalogue number, the title of the object, your highest bid and, of course, your personal data. Send us the form by post or e-mail or even as a fax. A knockdown can be made below the amount you have noted, as this will only be used to the extent that competing bids make it necessary.
Bidding by Phone
If you note "bidding by telephone" on the completed bidding form and leave your telephone number (preferably also an alternative telephone number) where you can be reached during the auction, we will be happy to call you a few minutes before the artwork you want is called.
On Auction Day
The auctioneer usually calls an object up to 20% below the estimated price, unless he has already received higher written bids. As a rule, bids are raised in 10% increments. At Quittenbaum Art Auctions, the hammer falls in the classical sense. The lot is knocked down if no higher bid is submitted after a bid has been called three times.
The auctioneer may accept bids below the minimum price requested by the consignor subject to reservation. In this case, the bidder is bound to his bid for four weeks. If the consignor agrees, the purchase is concluded.
Payment
Purchased items can be paid for and taken away during the auction. You can pay the invoice in cash, by EC card or up to 5,000€ by credit card (American Express, Diners Club, MasterCard or VISA). Please note that there is a 3.0% fee for credit card payment. In case of later collection of the goods, a bank transfer is also possible. Please remember that we charge a surcharge. The stated purchase price is made up of the hammer price and the buyer's premium of 33%. incl. VAT. Please note that the buyer's premium may be higher on external auction platforms.
Value added tax indicated. Upon request, we will indicate the VAT separately. In this case, VAT of 19% is added to the hammer price and the premium of 26%. Purchases leaving the EU are VAT-free, also if buyers are art dealers from the EU with a valid European VAT-number.
Works of 20th century fine art may be subject to a resale right contribution of 1.5% (plus VAT).
Pickup or Transport
After the auction, we ask you to choose one of the following options within the next 10 days to initiate the transport of your purchase. After the deadline has passed, the goods will be stored at your expense. Please find the shipping informationhere.
Post Auction Sale
For four weeks after the auction, you have the opportunity to purchase the lots that were not sold on the auction day in our post-auction sale at the lower estimated price and the premium of 32% incl. VAT. The objects are on display and can be looked at during the opening hours of the house or by appointment.
Contact
For questions about bidding, buying and shipping, we are happy to help at +49 (0) 89-27 37 02 10 or send us an e-mail to: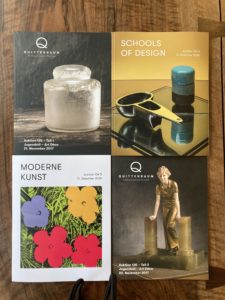 For each auction we publish high-quality printed catalogues with first-class colour photographs. You can order the catalogues individually or as a subscription. Please contact us online, by fax or mail.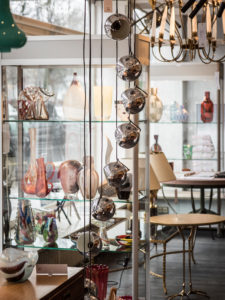 We invite you to a preview of the artworks and objects in our showroom at Theresienstrasse 60 in Munich from Thursdays before the respective auctions. All objects will then be exhibited on our premises during a five-day-viewing period for personal inspection.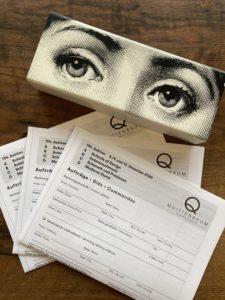 You can't be in person in Munich on auction day? With 'Quittenbaum Online Live Bidding' you can conveniently bid online from anywhere in the world. Or you can place a maximum bid before the auction, or our staff will call you by phone and bid on your behalf.