Auction 160A
Schools of Design

07. December 2021 at 3:00 PM MEZ CET
---
Catalogue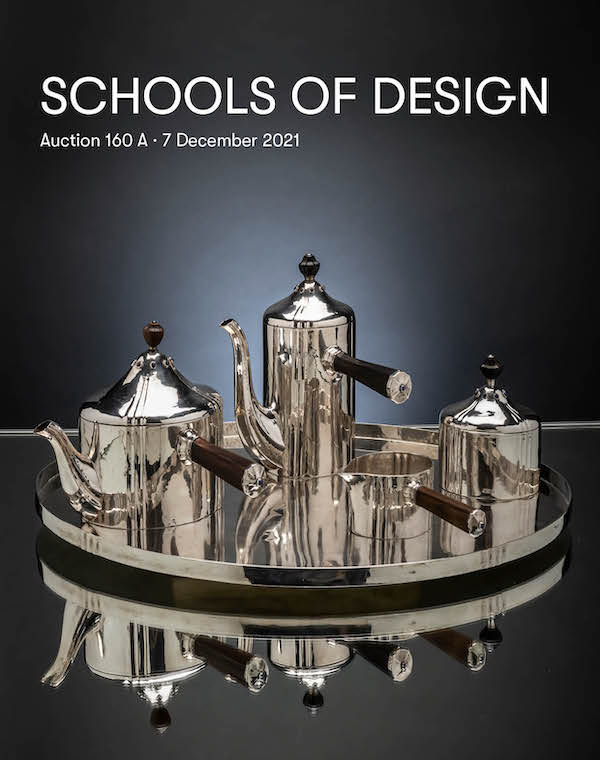 ---
For almost 20 years now, once a year, we offer a selection of special objects under the title Schools of Design. We portray the development of the work of architects and designers in a regional structure.
Art Nouveau was an international movement with great aesthetic similarities, but also regional characteristics. In the first chapter, for example, we focus on Art Nouveau of German-based artists and thus present a number of works by Belgian Henry van de Velde who had his greatest success as an architect and interior designer in Germany. Like van de Velde, Dutch designer Johannes Lauweriks was repeatedly commissioned and promoted by renowned collector Karl-Ernst Osthaus. Several silver pieces in this auction, some of them highly significant, come - like van de Velde's furniture - from the Colsman family, related by marriage to Osthaus. The silver coffee and tea service by the most important Viennese protagonist of this era stems from the same provenance. Josef Hoffmann designed it around 1920 - the rare set is clearly visible in a contemporary photograph of the Colsman family, sitting on a table in the foreground (see p. 30). In the Bauhaus chapter, we offer the first version of the extremely rare slatted chair with square wooden legs by Marcel Breuer. It is the twin piece to the one we auctioned on June 29, 2021. Also one of Marianne Brandt's first works was created in the metal workshop at Bauhaus Weimar in 1924. Made only of cylinders and circles, the bronze and nickel silver tipping ashtray follows the ideals of Bauhaus form master Laszlo Moholy-Nagy.
In post-war design, the chapters Italy, Scandinavia and France set the tone. In this part of the auction we present, among others, special lighting designs that contrast different aesthetic and technical approaches. Two wall lights and one table light by French lighting artist Serge Mouille will be called up. His sculptural black 'luminous capsules' stand in stark contrast to Poul Henningsen's famous 'Artichoke' with its many copper leaves or Enzo Mari's 'Polluce' floor lamp, which merely conceals its light bulb with a frosted glass globe. The theme of luminaires is then highlighted again towards the end of the catalog with works by Ingo Maurer from the 1970s, as well as by Mario Botta from the 1980s and an 'illuminated shelf' by Andrea Branzi from the 1990s.
German design is especially comprehensive in this auction. After Art Nouveau, Bauhaus and Ulm School, we present several works by the Pentagon group from the 1980s. Artist and designer Rolf Sachs is also present with two rare works from the 2000s, as well Stefan Diez with two chairs from Galerie Schellmann's first post-production series.
Moreover, we are very pleased that the design studio Stefan Heiliger has provided us with a selection of eight prototypes for the auction. These eight pieces of seating furniture document the work of the son of the famous sculptor Bernd Heiliger from 1980 to 2002. We find it particularly appealing to show prototypes, that is objects that had to be modified before going into series production. Thus, the challenges of the designer are vividly demonstrated.
---