Auction 168A
Art Nouveau - Art Deco Part I
Glass
23. May 2023 at 3:00 PM MEZ CET
---
Catalogue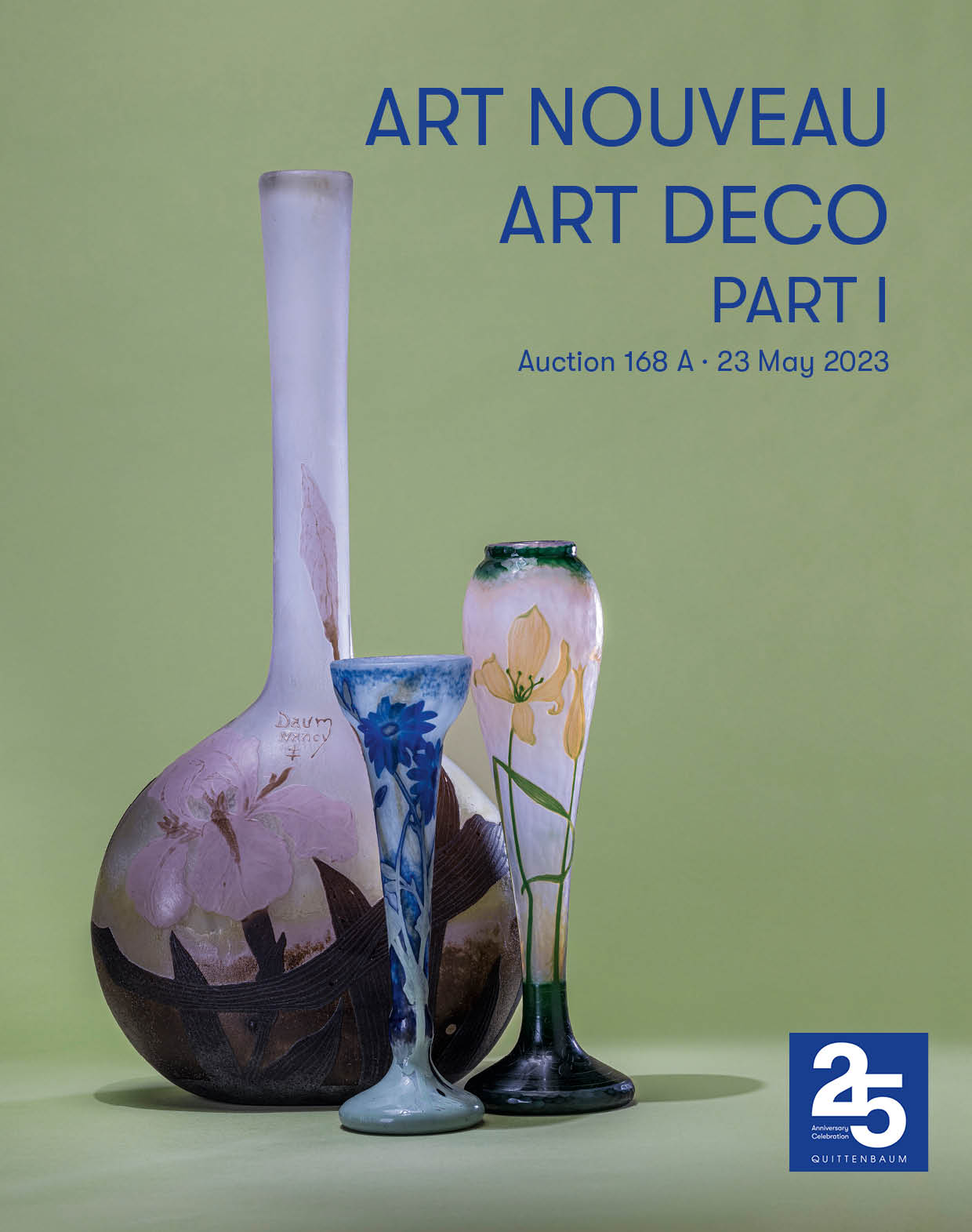 ---
In recent years, especially works by Emile Gallé, which were created during his lifetime, have become increasingly popular with collectors. Due to the specialization of our auction house on the French glass and the confidence gained by private collectors, we can now offer for the first time an exceptionally high number of works from the early period of the Gallé manufactory. Over 40 items, created before the artist's death in 1904, represent Emile Gallé's artistic oeuvre and technical diversity in a unique way. The works come mainly from four high-caliber German and Austrian private collections, assembled with special expertise over decades. One finds marqueteries, intercallaire vases, vases with patina and patinage, cut or enameled decorations as well as applications. The motifs are symbolist, orientalist, japonisational and there are plants from the field of medicines and intoxicants as well as with erotic connotation in the decorations. An important piece is the opalescent pink glass vase with an enameled depiction of a young couple in the Persian style, probably created around 1920, valued at € 10,000 - 15,000. A shallow handled vase with two autumn timelies applied in marquetry technique is estimated at € 3,500 - 4,500.
The great competitor of the Gallé manufactory was the Daum brothers, who were also based in Nancy in Lorraine and, unlike Gallé, still are today. In keeping with the season, the auction features a number of glass vases with spring flowers. There is a particular variety in the vases with dandelions. In addition to the goblet vase created entirely in the form of a dandelion by competitor Gallé (€ 2,000 - 2,500), there is a vase by Daum in green and red with etched dandelions against a marbled ground, valued at € 5,800 - 6,800. Also, a vase with blooming dandelions and applied dandelions in shades of green and yellow against an opalescent white ground that gives the piece the character of a morning misty scene (€ 3,000 - 4,000). In total, one has the choice between more than 60 works of the manufactory.
The rarities of the auction also include two small, special collections of glassware from other French and German manufacturers rarely found on the market. First, we can offer a 15-piece collection of works by glass artist Amédée de Caranza. The Italian private collector has collected the works over the course of decades. The highlight is a nearly 40 cm high vase in the shape of a spindle with stylized lustrated flowers. A German private collector has managed to acquire what is probably the most important collection of glass works with lustrated and also engraved decorations from Poschinger. The 16 vases in this collection were acquired over decades and there are many works that were designed by the painter Karl Schmoll von Eisenwerth - some of them were shown at the Paris World Exhibition of 1900. Estimates start at € 400 - 600, with the highest estimate at € 2,500 - 3,500 for an intricately cut vase with a motif of a pond landscape with fish in green and blue.
Also among the Lötz vases in this auction are quite a few examples that were shown at the Paris World's Fair of 1900. For example, Franz Hofstötter's vase estimated at € 3.800 - 4.800 with running drops in blue, a 'Pampas' goblet vase for € 1.000 - 1.500 as well as a vase and a lamp in Hofstötter's world exhibition decor in deep purple, yellow and red (€ 3.800 - 4.800 and € 6.000 - 7.000 respectively).
The Art Deco period glass section is also populated with some rare works. Led by a mushroom-shaped table lamp by Parisian pâte-de-verre artist Gabriel Argy-Rousseau 'Fruits Tropiceaux', estimated at € 39,000 - 45,000. Equally rare is the slightly smaller 'Floréal' lamp, estimated at € 22.000 - 26.000. The iconic 'Jardin des Héspérides' vase in the coveted yellow-red-brown color combination is estimated at € 9,000 - 12,000.
The nearly 50 vases from the house of Lalique are led by the opalescent vase 'Poissons' from 1921 - it is estimated at € 5.000 - 6.000. The opalescent vase with budgerigars 'Huits Perruches' is also a sought-after classic and is estimated at € 4.200 - 5.200.
---
The Art Nouveau/Art Deco auction in the anniversary week ended hugely satisfying.
The Tuesday was entirely dedicated to glass. More than half of the offer could find new owners on auction day.
In the lead, as always, were Daum Frères and Etablissements Gallé.
The highest hammer price was won over an attractive club-shaped vase with an evening-clear decoration of dandelions in predominantly orange and dark green. The etched and engraved vessel with an elaborate martelé-cut background fetched EUR 11.000, almost double its estimate (lot 37).
With Emile Gallé, a small, rare 'Clair de Lune' vase with frogs and dragonflies on a blue background experienced the highest increase from EUR 1.500 to 4.600. The new owner will also receive an original receipt from the Etablissements Gallé from 1925 (lot 99).
Glassware by the Joh. Lötz Widow company in Klášterský Mlýn was again in high demand. A rare vase in blue and yellow with three indentations by Franz Hofstötter for the Paris World Fair 1900 was bid up from EUR 3.500 to 6.500 (lot 279).
In the post auction-sale until June 23 you can still acquire other beautiful pieces.
---