Auction 162B
Art Nouveau - Art Deco
Glass
10. May 2022 at 4:00 PM MESZ CEST
---
Catalogue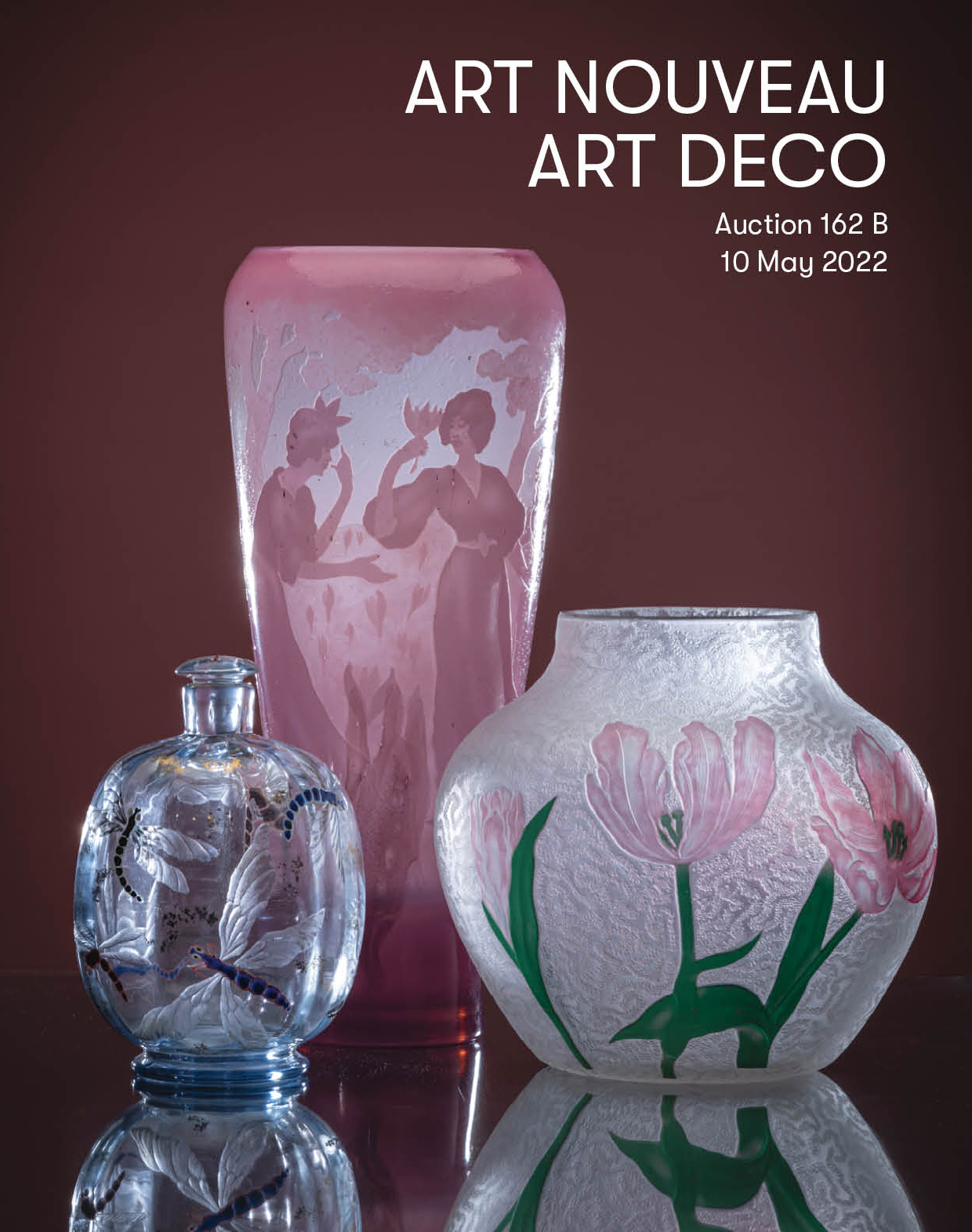 ---
Glass objects from the French glass factory Lalique in Wingen-sur-Moder mark the beginning of the three-part auction series. René Lalique's beautiful 'Ceylan' vase, which features four pairs of budgerigars in relief in the branches, stands out in particular. The slender vase in opalescent glass is estimated at EUR 3,500 - 4,500.
International glass follows seamlessly, with French works in the majority here as well. An enchanting vase with a rare 'Campanule' decor comes from Daum Frères, around 1910. The slightly spindle-shaped vase heralds the bright spring with its etched and enameled decor with bluebells and other meadow herbs. The vase, which is almost 36 centimeters high, is available for EUR 2,500 to 3,500. In contrast, the 'Crocus' vase, 1898-1900, reworked with the wheel, spreads an evening mood. Four of the flowers in different stages of growth stand out darkly against the orange background. EUR 6,500 - 7,500 should be achieved for the vase by Emile Gallé. Gallé's 'Paysage aquatique' bonbonniere, from 1895, is also very rare. The lid is richly decorated with an underwater landscape with shells and algae. EUR 10,000 - 15,000 are required for the Martelé vessel.
The second day continues with bronze sculptures, jewelry, silver, ceramics and furniture. The rare table light by Viennese Gustav Gurschner is a very special piece. A nautilus as lampshade fits organically into the stylized plant base. The rarity is estimated at EUR 6,000 - 8,000. The absolute highlight of the auction is a table by Louis Majorelle from Lorraine. While the form of the table is often found in literature with a bronze application in the form of orchids, this floral decoration is only shown in a photo from the Salon des Industries du Mobilier, Paris, 1905. Made of precious wood and gilded bronze, the estimate of EUR 60,000 - 70,000 is quite justified.
Preview starts on May 5, 2022
---
Traditionally, French glass led the offer in the main catalog on Tuesday. Here some positions were fiercely fought over. A rare 'Campanules' vase from 1910 by Daum Frères went to a Japanese collection for EUR 6,000 (lot 109) after a fervent battle. It was called up at EUR 2,500. An important 'Oiseaux' table light by Ernest-Marius Sabino was valued at EUR 800 and sold for EUR 3,300. It is now going to Belgium (Lot 196). A very rare ceiling light by Johann Loetz Wwe., 1901, was also extremely popular, climbing from EUR 2,500 to EUR 4,200 (lot 236). It will remain in the Munich area. The highlight of the auction, however, was a beautifully preserved 'Dragonfly' table light by Louis C. Tiffany. Having been part of a German private collection for decades, it will now return to the USA for a hammer price of EUR 45,000 (lot 277).
Secure one of the extraordinary pieces now! The after sale for the auctions ends on June 11, 2022.
---