Auction 150B
Art Nouveau - Art Deco

26. May 2020 at 3:00 PM MESZ CEST
---
Catalogue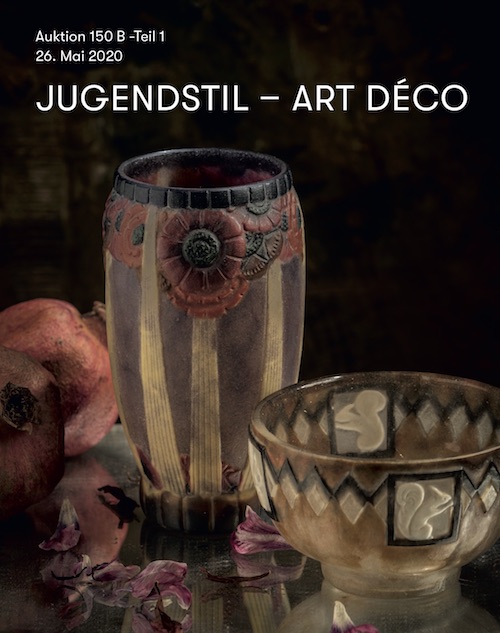 ---
Art Nouveau was at home in many parts of the world. In each place, its manifestations were different. Variations developed over time and local characteristics bled into them. The style of the two decades before and after the turn of the century in 1900 was already globalised, as one would say today. Our Art Nouveau sale offers a wide range of objects that represent this diversity very well. Works from Paris, Nancy, Vienna, Munich, Berlin, Darmstadt, New York, Budapest and Prague, the most important centres of creativity around 1900, are on offer. The interpretations revolve around the topics of nature and man, sometimes in a more stylised manner, sometimes completely naturalistic.
The Czech illustrator Alphonse Mucha experienced the peak of his great career in Paris. It is him that we owe the stylised seductive women in the midst of an idealised nature to. His depiction of the four times of the day, 'Heures du jour', from the year 1899, will be offered individually at an estimated € 2,800 - 3,800 each. From the Hungarian ceramic manufacturer Zsolnay, there is a footed bowl in the shape of a shell, a snake winding itself around the shaft, its tongue darting out over the edge – it is estimated at € 1,500 - 2,000.
Louis C. Tiffany lit up an entire apple tree with his table light 'Apple Blossom' around 1904. This table light is at least as rare as Tiffany's iconic 'Wisteria' and leads the offer with an estimate of € 60,000 – 90,000.
For the collector of Lorraine glass, in addition to many beautiful vases and bowls, an important showcase by Louis Majorelle is on offer. The slim furniture with elegant sculptural carvings and inlays is estimated at € 24,000 - 28,000. Emile Gallé's 'Orchis bouc' vase would fit beautifully in it, with its elaborate enamel painting on a multicoloured, partly martelé-cut glass base. The extremely rare vase, in a minimalistic Asian shape, is taxed at € 6,000 - 8,000.
A vase by the Bohemian manufacturer Loetz and designed by the painter Franz Hofstötter is entirely committed to the ideals of the Vienna Secession. The vase made for Bakalowits in Vienna in 1901 is estimated at € 3,600 - 4,800. Richard Mutz's ceramics workshop in Berlin manufactured Ernst Barlach's vase design with two masks as handles in 1906. This rare work is offered at € 2,500 - € 3,300.
The Roaring Twenties formed the perfect backdrop for the precious and extravagant sculptures made of bronze and ivory. Demètre Chiparus' almost 50 cm high dancer 'Solo' from the year 1928 is taxed at € 30,000 - 40,000 - in the same year Ferdinand Preiss created his 'Javelin Thrower', which is offered at € 22,000 - 28,000.
---
Quittenbaum pleased about record results
We would like to thank our clients in these unusual times, for their lively participation in our Art Nouveau/Art Déco auctions in May, especially via our platforms and on the phones. Your support granted us one of our most successful sales in recent years.
The result for the beautiful and extremely rare 'Apple Blossom' table light by Louis C. Tiffany is unmatched. According to the art price database Artnet, with a knockdown of EUR 110,000, we achieved the highest price for a Tiffany table light outside the USA (Lot 325). But there were also other lots that were fervently battled over by our clients.
The auctions started, almost traditionally, with a beautiful collection of vases and objects by René Lalique, Wingen-sur-Moder. The highest knockdown was made for the rare, large 'Bacchantes' vase, at EUR 23.500, slightly below its estimate (Lot 48).
The regular Art Nouveau auction began, as always, with French glass. An early 'Iris' vase by Emile Gallé experienced the highest price increase. Set at a favourable reserve of EUR 500, a bidder on the floor came out on top over numerous online bidders at EUR 1,300 (Lot 179). The highest bid was placed for Emile Gallé's 'Orchis Bouc' vase from 1898, at EUR 7,000 (Lot 177). The Charles Schneider company also experienced an increase in popularity. With a hammer price of EUR 1,900, their 'Nénuphars rouges' vase, from 1928-30, exceeded its estimate by far (Lot 267). In the Austrian glass section, the objects of the Joh. Lötz Wwe. Glassworks were particularly enticing. A small handled bowl by Marie Kirschner, very reasonably called up at EUR 350, fetched an incredible EUR 1,100 (Lot 291). A total of EUR 4,200 was awarded for the mould-blown vase with silver butterfly decoration. A small vase attributed to Franz Hofstötter (Lot 290) and a handled 'Medici' bowl (Lot 297) both found new owners for EUR 4,400 and EUR 4,000.
Chryselephantine figures are still in high demand. The highest bid here was placed for D. H. Chiparus' 'Solo' dancer, around 1928, with EUR 42.000 (lot 337).
While the main focus of collectors in recent years has clearly been put on glass and bronze figures, this time the metal, silver and ceramic categories also enjoyed great popularity. A small enamelled compact by Viennese Karl Mayr climbed from EUR 400 to 2,900 and is now going to go to the USA (Lot 473). A yellow earthenware vase by Bertolt Löffler was even fought over by five telephone bidders before being knocked down for EUR 3,500 (Lot 574). The result for a rare bowl with a snake by Vilmos Zsolnay from Hungary is also very pleasing. Its price soared, battled over by three telephone bidders, to a proud EUR 16,000 and is now also heading for the USA (Lot 583). Among furniture and other furnishings, two pieces stood out: the rare 'Clématites' showcase by Louis Majorelle for EUR 30,000 (Lot 627) and a carpet by weaving teacher Bertha Honecker, ca. 1905, which was raised from EUR 500 to 1,200 (lot 640).
More beautiful furniture and objects can be found in our post auction sale until June 26, 2020.
---