Auction 158A
Italian Design

12. October 2021 at 3:00 PM MESZ CEST
---
Catalogue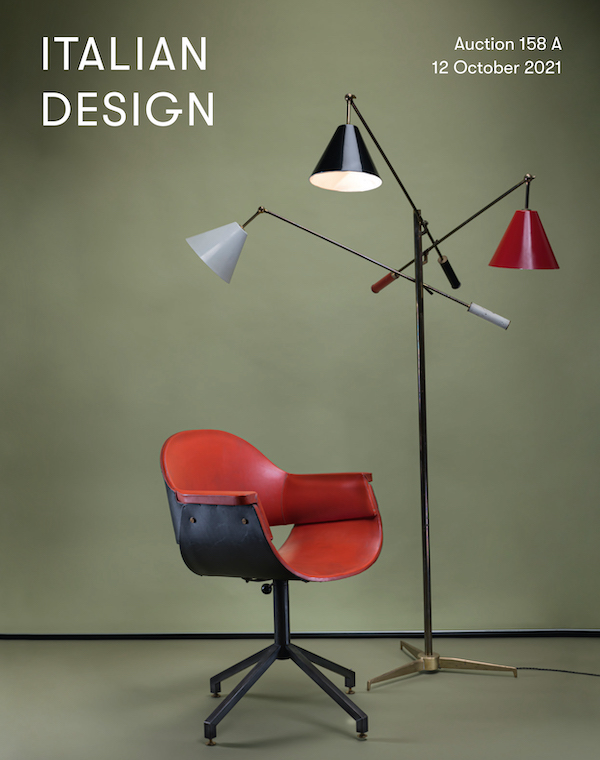 ---
Auction 'Italian Design' on October 12 features more than 300 furniture, lighting and other objects from ten decades by great designers, renowned manufacturers and smaller Italian companies.
We are particularly pleased to offer a floor lamp exhibited at the VIII Triennale in Milan in 1947. Designed by Angelo Lelli and executed by renowned lighting manufacturer Arredoluce, the '12128' model embodies 1950s Italian design elegantly and originally, just the way we love it: a composition of brass tubes and colorfully painted metal sheet shades. Also, in this design, Lelli's specific approach to light is evident. His lights are often complex in structure and designed with multiple lights. The unique model with three movable arms is estimated at 6,000 - 7,000 €. Another of Lelli's designs that we offer in the upcoming auction is a simpler, but no less exciting model - a floor lamp with three white glass shades, designed around 1954, priced at 4,000 - 5,000 €.
Moreover from Paolo Buffa we offer two wonderful designs this time. The secretary (estimate 7,000 - 9,000 €), created around 1948, is veneered with different types of wood and fine brass inlays by Giovanni Gariboldi. Two armchairs from the same period have brown upholstered textile covers and cherry wood legs and armrests and are estimated at 5,000 - 6,000 €.
Another highlight of this auction comes from Ico Parisi, the Italian designer and architect who, since the 1950s, occupied himself with making visible the skeleton of a piece of furniture by deconstructing it. In the seating furniture executed in 1958, he brought to the surface the supports normally hidden in the upholstery. The ends of the delicate black-painted steel struts are set in white, so that attractive graphic line structures appear on the back sides. The '865' furniture series consists of armchairs and sofas in various sizes. Quittenbaum offers a three-seater sofa and two armchairs, which are extremely comfortable thanks to their width and foam upholstery. The estimate for the wonderfully preserved group is between 20,000 € and 24,000 €.
For those who enjoy a variety of colors, the iconic 'Pilola' floor lamps by Cesare Cesati and Emanuele Ponzio are on offer (estimate 6,000 - 8,000 €). The lights, executed in five colors, were exhibited in the 1972 'Italy: The New Domestic Landscape' exhibition at New York's Museum of Modern Art, among others. Other colorful designs are also in the auction on October 12: a pair of armchairs in the style of Gio Ponti with a fuchsia cover (estimate 4,000 - 5,000 €), a playful armchair with red dots executed by Edra, Milan (attributed to Massimo Morozzi, 2.000 - 3.000 €), famous glass objects by Ettore Sottsass, which often resemble alien figures in their shape (estimated prices between 1.600 - 2.200 €) or for example a shelf, made of orange, black and white lacquered wooden compartments (estimated price 1.500 - 1.800 €).
Smaller objects also await you in this auction: ceramics, glasses, table lights and mirrors. All lots are available for preview from October 7 in our rooms at Theresienstrasse 60.
---