Auction 156B
Art Nouveau - Art Deco
Glass
08. June 2021 at 4:00 PM
Consignments until
16. April 2021
---
Catalogue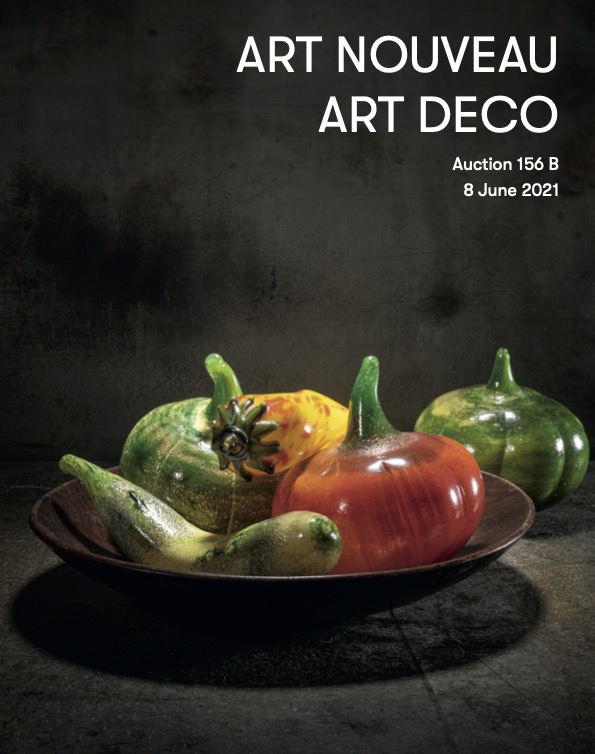 ---
Pre auction report
The second auction on Tuesday is devoted to international glass of the first third of the 20th century. As always, French glass lies in the focus, with the famous glass manufacturers Gallé and Daum at the top.
We are delighted to offer you two of the rare 'Pluviose' / 'Une Pluie' vases from 1900 this time. Henri Bergé, head decorator at Daum Frères since 1897, took great care in designing the décor. You can literally hear the rain splashing down on the still leafless birch trees, battered by the spring storm. The two vases, with polychrome powder inclusions and etched, enamelled decor heightened with black solder, are estimated at EUR 5,000 - 6,000 and EUR 7,000 - 8,000 respectively.
Regarding Emile Gallé, his works before 1900 stand out in particular. His 'Anémones' vase was made in Meisenthal, before he founded his own glass workshop in Nancy. The shape and décor of the smoke brown vase with rich enamel décor do not allow a specific chronological assignment, therefore it is set in a time frame from 1874-96. The vase is estimated at EUR 2,200 - 2,800. The 'Sang-de-boeuf' étude bowl from 1895 suits the early Art Nouveau style more. The decoration on the discus shaped vessel with ox-blood-red overlay consists entirely of deep-cut stylized tendrils (SP EUR 1,600 - 2,000).
The main attraction in this auction, however, is the unusual table light 'Fruits tropicaux' by Gabriel Argy-Rousseau from the year 1925. The masterpiece made of thin pâte de verre is estimated at EUR 32,000 - 38,000.
---