Auction 154A
Schools of Design

08. December 2020 at 3:00 PM MEZ CET
---
Catalogue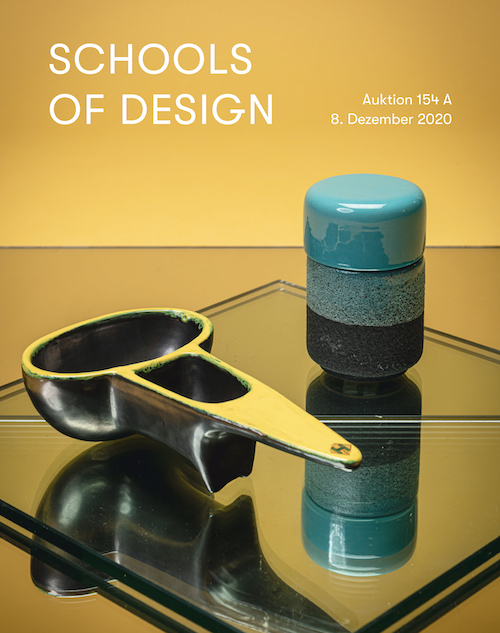 ---
The 200 lots in the 'Schools of Design' auction in December 2020 include a large number of absolute highlights of the design of the past 120 years.
The Belgian Henry van de Velde, who lived in Germany for quite some time, is again represented with a total of 12 positions of his works. In addition to ceramic work and silver, a very rare garden table from 1905 is also on offer. The three-legged basket table with a concave, shield-shaped top is estimated at EUR 6,000 - 7,000 (cat. No. 18). His 'F-2' table light from the year 1897 is just as rare, presented here in a version with a glass shade. It should attract an aficionado at EUR 16,000 - 22,000 (cat. No. 8). Velde's contemporary Gustave Serrurier-Bovy also found his own style, his perfectly documented dining room cabinet from 1905 is valued at EUR 7,000 - 9,000 (cat. No. 19).
The sale continues chronologically with the designers of the Bauhaus and the Bauhochschule Weimar. Dieckmann, Wagenfeld, Breuer, just to name a few of the illustrious personalities. Ludwig Mies van der Rohe's 'Barcelona' armchair from 1929 stands out here. The early post-war version by Waldemar Stiegler for Knoll International, 1955-58, still has its original leather cover. At EUR 3,500 - 4,500, the armchair is certainly appropriately valued (cat. No. 42).
We are particularly pleased to present the complete set of Alessandro Pianon's 'Pulcino' birds. The colourful Murano glass bodies by Vistosi, standing on hammered copper rods, are each on offer at EUR 2,500 - 3,000, only the square bird is valued at EUR 3,500 - 4,500 due to its rarity (cat.-nos. 120-124).
Cindy Sherman's service 'Madame de Pompadour - née Poisson', from 1990, establishes the connection between fine and applied art. The shape of the coffee and dinner services is based on a design that Louis XV's mistress ordered in Sèvres. Inside the plates and on the walls of the cups one of Sherman's famous self-portraits can be found, in which she depicts herself as Madame de Pompadour. The coffee service is on offer at EUR 1,000 - 1,500, the dining service will be available for EUR 1,800 – 2,500 (cat. Nos. 181, 182).
The Campana brothers are ringing in the 2010s. Their 'Grinza' armchair from 2011, covered with faux fur, looks opulent and cozy. The armchair, which is reminiscent of a Shar Pei, is on offer for EUR 6,000 – 7,000.
The two most outstanding pieces of the auction couldn't be more different. On the one side is the pair of huge sculptures by the Italian sculptor Mauro Mori. 'Femme et Homme', from the 1990s, look like archaic totems. Carved from tropical albizia wood, you could now call these unique pieces your own for EUR 30,000 - 40,000 (Cat.-No. 180). On the other side is Ron Arad's 'Big Easy Vol. 2' armchair. You cannot escape the impact the armchair, made completely of stainless steel, has. One from a limited edition of 20 pieces at One Off Ltd. , the armchair can also be purchased for EUR 30,000 - 45,000 (Cat.-No. 179).
---