Auction 135
Art Nouveau - Art Deco

21. November 2017 at 4:17 PM MEZ CET
---
Catalogue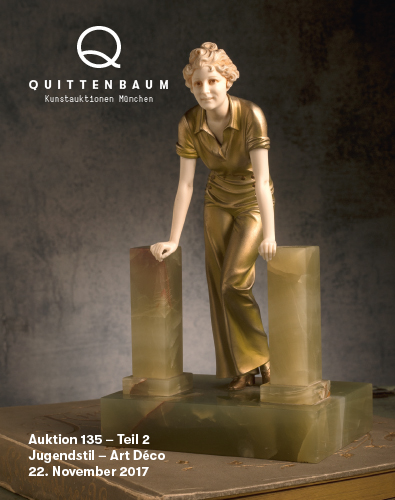 ---
Report 'Art Nouveau - Art Deco' 21/22 November 2017
With a gross proceeds of €770,000, this year's November auction 'Art Nouveau - Art Deco' was a great success. Thrilling bidding wars, solid hammer prices and surprising price increases - the two-day auction met all expectations.
As always, the works by French glass artists were the most popular, especially Emile Gallé, Gabriel Argy-Rousseau and René Lalique. Gallé's rare 'Ours blancs sur la Banquise' vase received the highest price of the auction, with more than €62,000. Argy-Rousseau's tall 'Libations' vase elicited €33,000 from a collector. The cire perdue jar by Lalique, bearing a fingerprint, obviously one-of-a-kind, was a favourite. It tripled its estimate with a gross proceeds of €36,000. A rare 'Géologie' Intercalaire vase by Emile Gallé sprung a surprise as well, after a nerve-wracking bidding war among several contestants it even quadrupled its reserve with €22,000.
The cover motif of the second auction day, Ferdinand Preiss' 'The Stile' was coveted too, it went into a private collection for more than €36,000. A collection of mocha cups with several different décors received lots of interest, their prices increasing tremendously. Most popular were the models by KPM Berlin, some receiving more than €2,000 from their new owners. The 'African Woman' from Adolph Amberg's 'Wedding Parade' was another highlight, it tripled its estimate with a proceeds of €9,000.
Furniture from the Art Nouveau - Art Deco era captured the imagination of many enthusiasts. A screen from Nancy and a dining room set, table and four chairs, by Richard Riemerschmid, received the highest hammer prices in this selection. They went for €12,000 each into new German collections. Almost all models by Richard Riemerschmid were sold successfully, for example a secretary with foldable desk for €3,755 and an armchair designed for the living room of W. Otto (€7,770).
Buy unsold items in the post-auction sale until 15 December.
---