Auction 135
Art Nouveau - Art Deco

21. November 2017 at 6:57 AM MEZ CET
---
Catalogue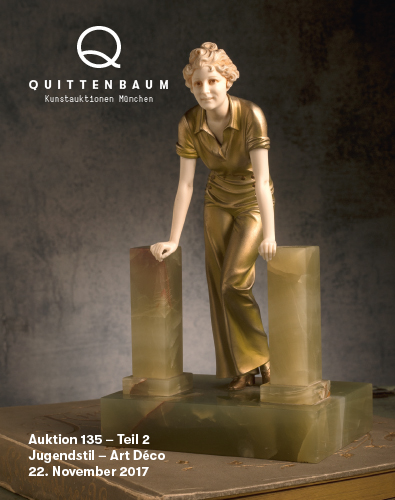 ---
Preliminary report on auction 135 Art Nouveau Art Deco November 21 and 22
The 'Roses' jar, c1920 by René Lalique, made in the 'cire perdue'-technique is clearly one of the rarest pieces in the offer of around 600 lots. It will be called up for an estimate of €12,000 – 15,000. 'Cire-perdue' – 'lost wax' if translated literally – is a technique that has been known in metal working since ancient times for modeling forms out of wax that are covered with clay or other fireproof materials. During the founding procedure, the wax melts away. Lalique was one of the first to use this technique - used as early as the middle ages for small figurines - for jewelry. Instead of gemstones he included cast glass ornaments or figurines into his jewelry. This turned out to be less expensive for the jeweler. The manufacture of vessels and figurines in the cire perdue-technique was time-consuming and costly though – and larger objects were prone to craze – thus Lalique only produced a few pieces with high artistic value in this technique. In most cases, the object 'à cire perdue' was only cast once. The exceptional feature of the jar on offer at Quittenbaum's is a distinct fingerprint to the bottom of the vessel. Who else but Lalique himself, who molded the shape with his own hands, could have left it there?
A decorative Marquetry 'Violettes' bowl, 1898-1900 - it seems to be a one-off - comes from the family of famous glass artist Emile Gallé (estimate €12,000 – 14,000). Moreover, the 'Calla des marais' Soufflé vase by the Gallé workshop, very impressive with its height of 36 cm, stands out of the French Glass selection (1931, estimate €40,000 – 60,000). Other special pieces of the auction are four 'Pluviose' vases with rainy landscape by Daum as well as three vases with mushroom décor like the 'Champignon' vase with handles and martelé cut (€10,000 – 12,000). The Pâte de verre vases by Gabriel Argy-Rousseau are rarely seen on the market, too. For example the 'Libations' vase with antique-like female figurines, 1924 (€25,000 – 30,000).
'The Style' shows Ferdinand Preiss' exceptional ability to create the living picture of a highly elegant modern and confident woman. The 'Battling Capricorn' is a typical example of Franz Barwig's work. Barwig used to work with wood until he started using other materials in his animal representations. He got his inspiration at the Schönbrunn zoo in Vienna.
Furthermore, the Art Nouveau offer comprises furniture by Louis Majorelle, porcelain, silver and pottery, for example Michael Powolny's "Grape Buck" (1907/08 estimate €5,000 – 6,000) as well as jewelry.  
---
Report 'Art Nouveau - Art Deco' 21/22 November 2017
With a gross proceeds of €770,000, this year's November auction 'Art Nouveau - Art Deco' was a great success. Thrilling bidding wars, solid hammer prices and surprising price increases - the two-day auction met all expectations.
As always, the works by French glass artists were the most popular, especially Emile Gallé, Gabriel Argy-Rousseau and René Lalique. Gallé's rare 'Ours blancs sur la Banquise' vase received the highest price of the auction, with more than €62,000. Argy-Rousseau's tall 'Libations' vase elicited €33,000 from a collector. The cire perdue jar by Lalique, bearing a fingerprint, obviously one-of-a-kind, was a favourite. It tripled its estimate with a gross proceeds of €36,000. A rare 'Géologie' Intercalaire vase by Emile Gallé sprung a surprise as well, after a nerve-wracking bidding war among several contestants it even quadrupled its reserve with €22,000.
The cover motif of the second auction day, Ferdinand Preiss' 'The Stile' was coveted too, it went into a private collection for more than €36,000. A collection of mocha cups with several different décors received lots of interest, their prices increasing tremendously. Most popular were the models by KPM Berlin, some receiving more than €2,000 from their new owners. The 'African Woman' from Adolph Amberg's 'Wedding Parade' was another highlight, it tripled its estimate with a proceeds of €9,000.
Furniture from the Art Nouveau - Art Deco era captured the imagination of many enthusiasts. A screen from Nancy and a dining room set, table and four chairs, by Richard Riemerschmid, received the highest hammer prices in this selection. They went for €12,000 each into new German collections. Almost all models by Richard Riemerschmid were sold successfully, for example a secretary with foldable desk for €3,755 and an armchair designed for the living room of W. Otto (€7,770).
Buy unsold items in the post-auction sale until 15 December.
---