Auction 131C
Murano Glass

23. February 2017 at 3:00 PM
---
Catalogue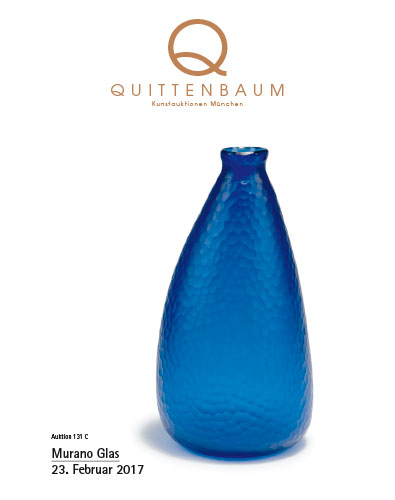 ---
The success of the previous two sales continued on Thursday, February 23, the day of the Murano Glass auction. Two thirds of the offer sold successfully, many pieces experiencing considerable price increases in the process
The battle started already in the beginning, an American collector fighting a German collector over a large, green 'Pulegoso' bowl by Napoleone Martinuzzi. The hammer fell at € 7,500 in favour of the German bidder, all but quadrupling the piece's lower tax. 90% of the works by architect Carlo Scarpa were sold. Three vases in 'Battuto' technique received the highest prices. A Swiss collector allowed € 8,000 for a slightly asymmetric blue vase, an amber 'Battuto' vase will travel to the USA for € 12,000 and a garnet red 'Battuto' will go to Italy for € 7,000, each exceeding their respective estimates lightly.
Only two of 19 pieces by Fulvio Bianconi were bought in. As expected, a very nice 'Pezzato' vase received the highest hammer price and went for € 3,500 into a French collection. A German collector secured himself an 'A fasce orizzontale' vase for € 2,500.
More considerable hammer prices were received for the works of Ercole Barovier. Among the highlights was a 'Pezzati' vase, taxed between € 4,000 and € 5,000 that will return to Italy for € 5,500 and a 'Lenti' vase from the year 1940 that went to a Swiss collector for €5,200 (estimate: € 5,000 – 6,000).
---