Auction 163F
Margret Solbach Collection
Murano Glass - Design - Art
30. June 2022 at 6:00 PM MEZ CET
---
Catalogue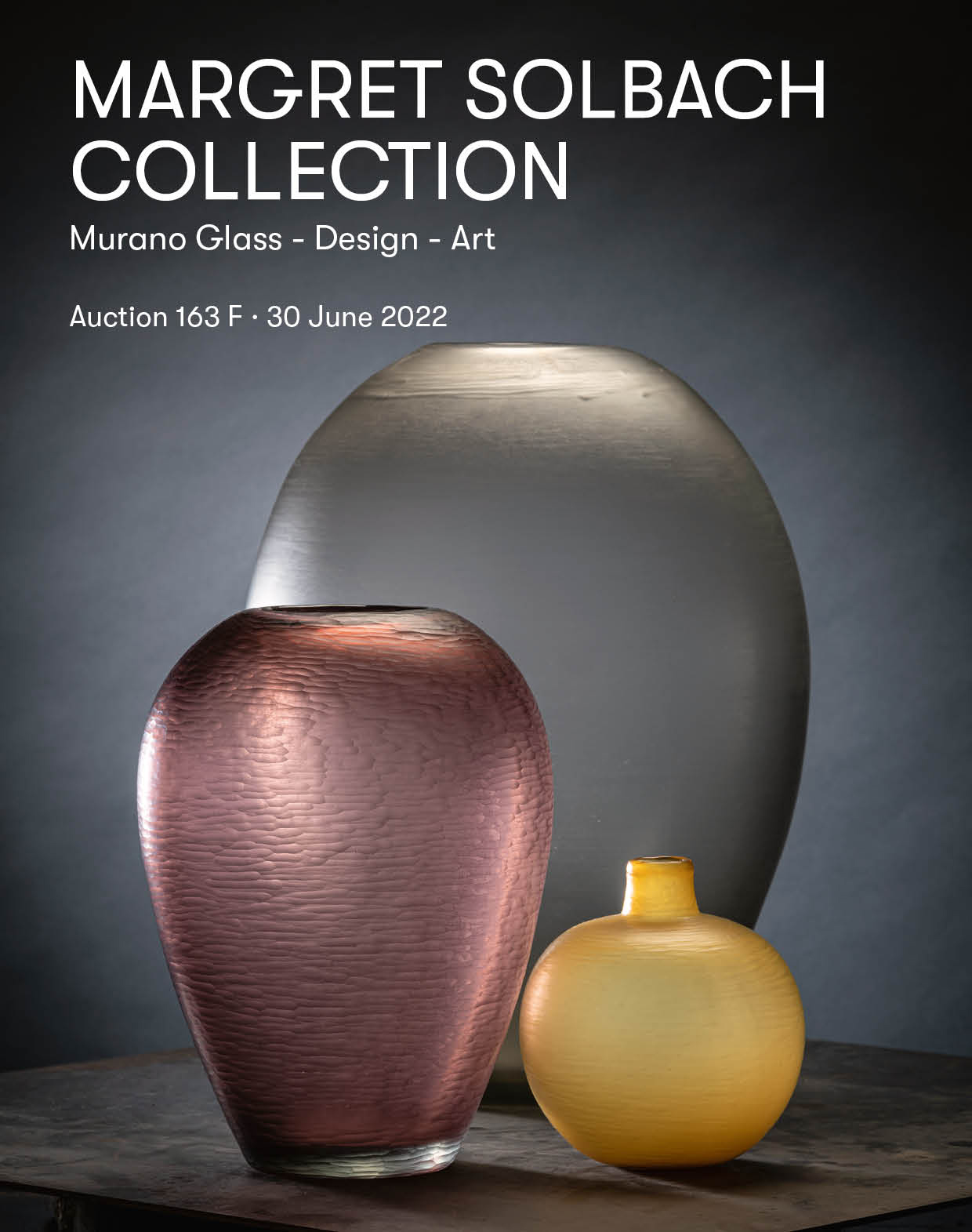 ---
For decades, the art historian and pharmacist had put together her collection with the greatest care. She was always concerned with the quality of the objects, not just with big names or the display of great values. If she liked it and the piece met her standards, she bought it. In this way, glass objects from Murano and design furnishings found their place in her home, as did textiles from the Middle East, graphics and paintings from the 19th century or silver from the Rococo period. These objects were now honored in the auction on June 30, 2022.
The first chapter contained paintings and graphics. Three ink and pencil drawings by Emil Filla from around 1930 stand out in particular. A collector from the Czech Republic allowed EUR 2,900 for the framed works after the lot had been called up at EUR 800 (lot 1098).
As part of the Design of the 20th Century chapter, the unique pieces of furniture by Peder Moos triumphed. A stool and two tables from the 1940s were sold; after a fierce bidding war, the stool received EUR 34,000 (lot 1109). The suite is going to go back to Denmark. Subsequently, a collection of almost 70 pieces of Murano glass followed, in which the works by Carlo Scarpa held a special place. His spherical vase 'Velato' in amber-yellow glass, around 1940, was bid up from EUR 2,800 to EUR 15,000 by eager bidders on the phones and on several internet platforms (lot 1197). However, the highest result was EURO 18,000 for Scarpa's vase 'Corroso a rilievi', which rose from EUR 12,000.
After that, museums and collectors battled about nine pieces of jewelry by the Danish jewelry designer Vivianna Torun Bülow-Hübe. A choker from 1954 and a necklace from 1963 were each sold for EUR 2,800. Their starting prices were a reasonable EUR 600 each (lots 1217 and 1223).
Finally, a small but fine 18th-century silver collection and a collection of Middle Eastern textiles were put up for auction. The candlestick from The Hague ('S-Gravenhage) is now returning to the Netherlands for EUR 2,400, while an Austrian collector was able to secure all five weavings for himself.
You can find more furniture and valuables from the Margret Solbach collection in our after sale till 29 July 2022.
---