Auction 163C
International Design

29. June 2022 at 2:00 PM MEZ CET
---
Catalogue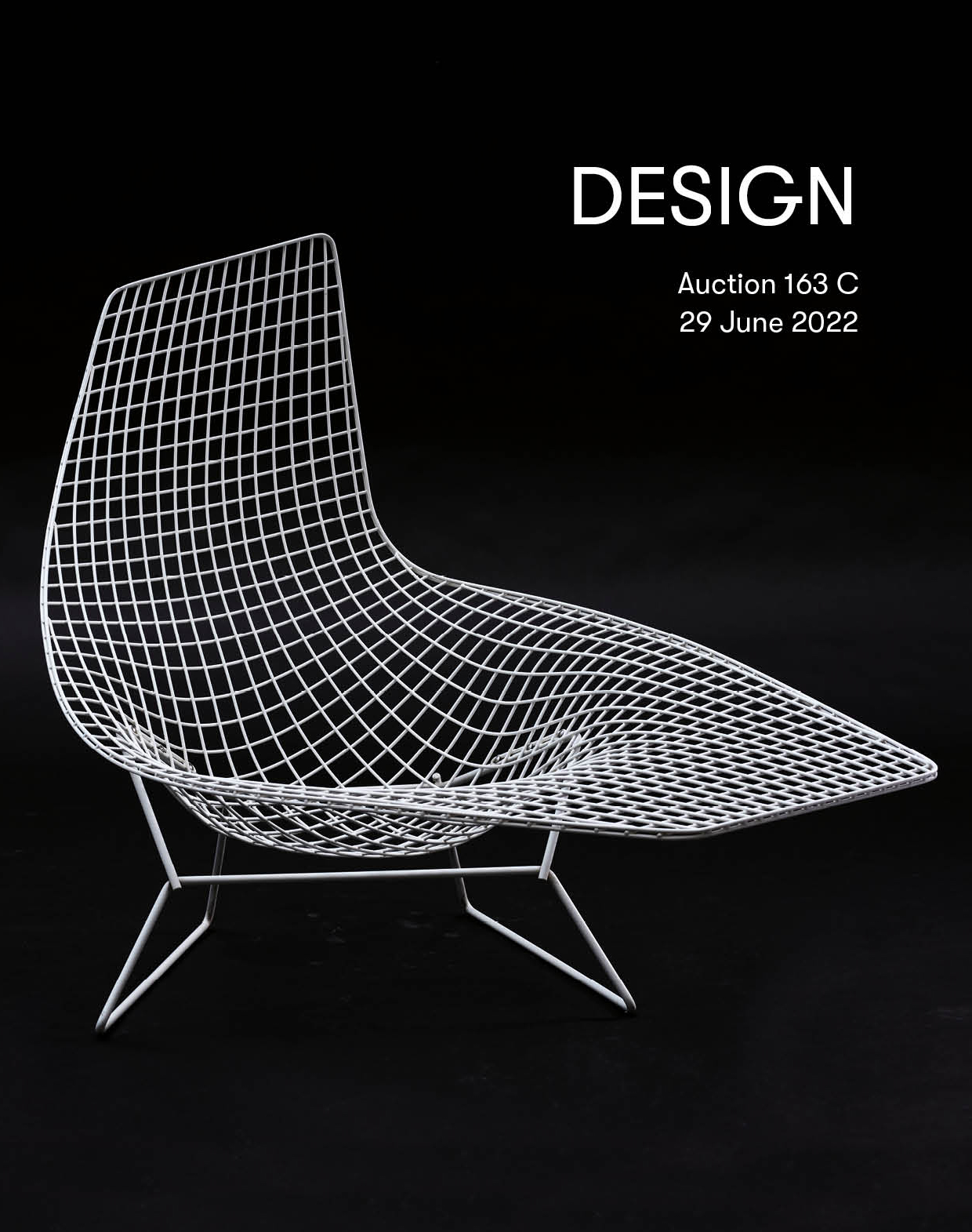 ---
American fifties have the edge.
Most of the winners of the auction come from the USA: The interest in the designs of the couple Charles and Ray Eames is unbroken. In addition to a number of their comfortable office chairs, three versions of the famous lounge chair '670' with ottoman came out on top this time. The highest bid was placed for a 'Lounge chair XL' with Santos rosewood veneer, which a German collector secured for EUR 5,200 (lot 523). Naturalized from Finland, Eero Saarinen was also represented with rare versions of his design icons. A set of four 'Tulip' '151S' chairs in black was highly sought after and was bid on from EUR 2,200 to 4,700 (lot 519). Saarinen's pair of side tables from the same series, in beautiful dark red marble, almost tripled in price, rising from EUR 800 to EUR 2,100. The last two pieces of furniture mentioned will also be transferred into the German collection. The absolute highlights of the auction came from Japanese-American George Nakashima. His 'Slab I' table from 1959 easily confirmed its estimate at EUR 22,000 (lot 504). The 'Mira' bar stool and the two 'Conoid' chairs in collaboration with Nakashima's daughter Mira were also hotly battled over. The happy new owner was only prevailed against numerous competitors for the bar stool at EUR 13,000 (lot 537).
In the Italian chapter, such illustrious names as Gino Sarfatti, Angelo Mangiarotti, Enzo Mari and Ettore Sottsass were able to further distinguish themselves.
Customers on the phones and on several online platforms fought fervently over Sarfatti's rare 1961 reading light '1086' in white. A German collector was finally able win through at EUR 7,000 (lot 314). Enzo Mari's sculptures were also very popular. His 'Cubo S, serie con sfera nera opaca', 1959-63, a black sphere in a colorless Plexiglas cube, rose from EUR 700 to EUR 3,100 (lot 451). An elegant dining table by Angelo Mangiarotti, 1959, fetched EUR 5,000 (lot 298). Ettore Sottsas's 'Ultrafragola' mirror (lot 321) and his Callimaco floor lamp (lot 348) are now going to go to Paris for EUR 7,500 and EUR 1,300 respectively.
Speaking of Paris - of Philippe Starck's numerous objects, two sold particularly well: His 'Miss Dorn' chair from 1985 was bid up from EUR 300 to EUR 1,500 by numerous interested parties (lot 425), while his pair of vases from the 1990s rose from EUR 600 also to EUR 1,500 (lot 428).
Two particularly pleasant surprises should also be mentioned: Several bidders vehemently fought over the timelessly simple room divider '545' by Wilhelm Lutjens from 1953 and thus ensured a gratifying hammer price of EUR 8,000, which a customer from the USA was able to secure (lot 273) and the 'Obliqua' armchair by Swiss Mario Botta, from 1989, in a stylish zebra look, rose from EUR 800 to EUR 3,700 (lot 401).
You can find more international design furniture and furnishings in our after sale till 29. July 2022.
---