Auction 161A
Italian Design

22. February 2022 at 3:00 PM MEZ CET
---
Catalogue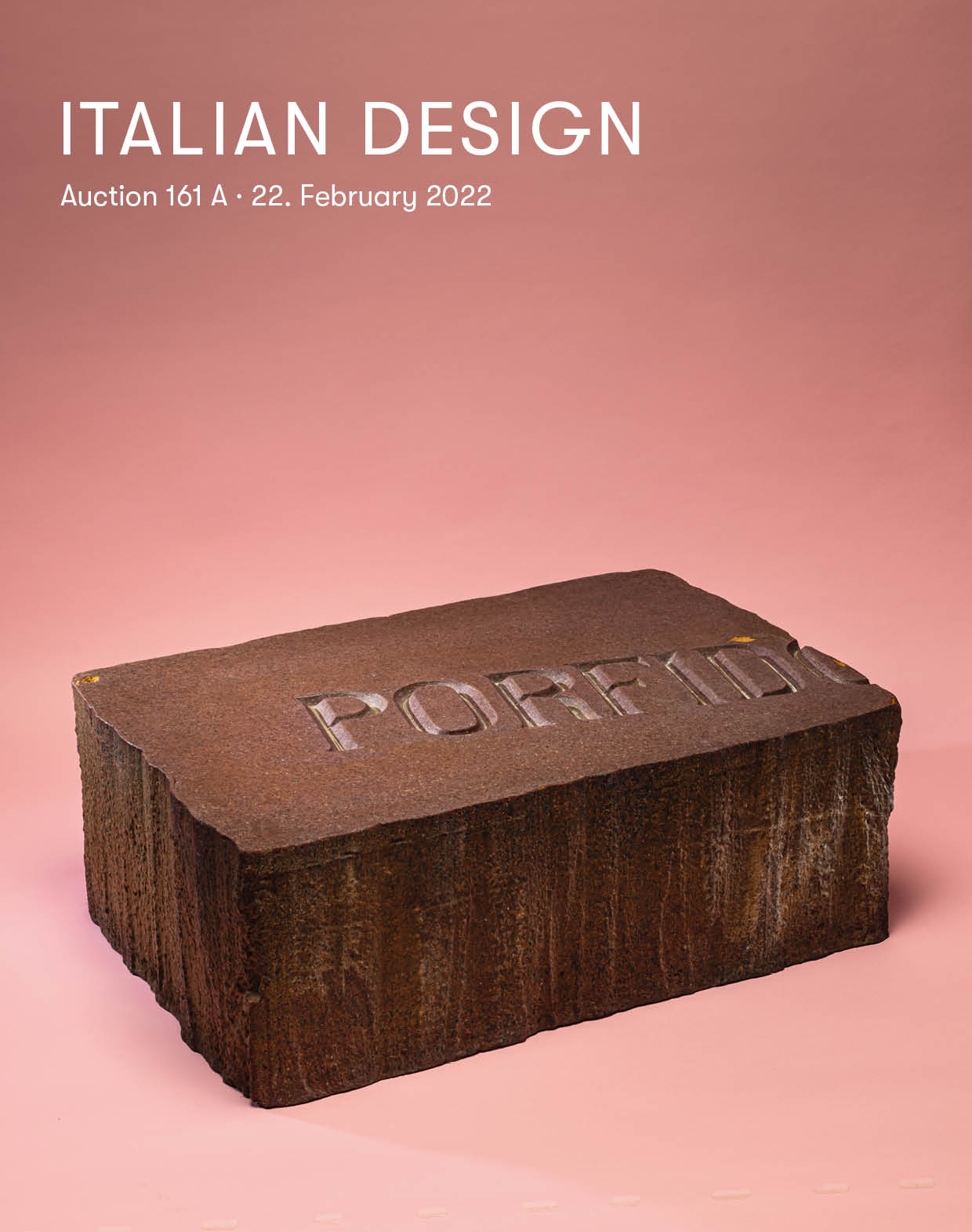 ---
Lighten up - make yourself comfortable at home - we create the required atmosphere.
It is still dark, wet and frosty outside, but do not despair, spring will come for sure! To illuminate and maybe even warm your heart, our wide range of selected Italian lighting classics of the 20th century will provide help for the cold season. With light objects by the most important Italian designers of their time like Joe Colombo, Vico Magistretti, Mario Bellini, Gio Ponti, Ettore Sottsass, Gianfranco Frattini, Sergio Mazza, Angelo Mangiarotti, Angelo Lelli, Giotto Stoppino, Marco Zanuso, Giuseppe Ostuni, Gino Marotta and Gaetano Pesce every design enthusiast overcomes the dark time, at prices between € 200 - € 5,000.
Ettore Sottsass' iconic mirror 'Ultrafragola' (€ 5.000 - 6.000) puts everyone in the right light, the illuminated snake 'Boalum' (€ 350 - 400) by Livio Castiglioni and Gianfranco Frattini as well as Gio Ponti's 'Polsino' table lights (€ 3. 800 - 4.800) create the necessary atmosphere for relaxing, Andrea Bellosi's 'Arc en ciel' (€ 2.500 - 3.500) transports the rainbow into your home and with 'Canovacci', Gaetano Pesce's already dries his tea towels outside (€ 3.500 - 4.000). Joe Colombo's desk light 'Acrilica' (€ 1.000 - 1.500) brings style into the home office, 'Biagio' by Afra and Tobia Scarpa (€ 1.800 - 2.200) does the same for the living room; it becomes flowery with Mario Bellini's 'Area' lights (€ 400 - 500 each) and Gino Marotta's 'Dalia' wall light (€ 1,800 - 2,200). Matteo Thun's 'Zerodue WWF Tower' light towers (€ 4,000 - 5,000 for the pair) set standards in any living situation; stylish lights by manufacturers Stilnovo, Oluce and Fontana Arte (€ 3,000 - 4,000) complete the exciting range.
Treat yourself to a drink in Joe Colombo's classic '4801/5' armchair in a limited Campari re-edition from 2016 (€ 2.200 - 2.500) or swing into a cozy after work with Franca Stagi's and Cesare Leonardi's design artwork 'Dondolo' from 1967 (€ 8.000 - 10.000) - to be found in all design museums and collections; museum quality for home! The same applies to the large 'Massolo' table made of polyurethane foam by Piero Gilardi for Gufram, which only appears to be made of porphyry; the piece on offer was acquired at the Milan Furniture Fair in 1974 (€ 4.500 - 5.500). For lounging at home, Mario Bellini's classic 'Bambole' sofa (€ 2,800 - 3,500) is highly desired. In demand if guests are staying, is Osvaldo Borsani's iconic 'D 70' sofa bed (€ 2,200 - 3,000) - comfortable for up to two persons. Treat yourself and your friends to Silvio Coppola's cozy table (€ 1,800 - 2,500), to match - eight comfortable chairs by Augusto Savini for Pozzi (€ 1,600 - 2,000).
---
*Design in great demand at the beginning of the year - top prices for many Italian design classics!**
The loop-shaped 'Dondolo' rocking chair - designed by Franca Stagi and Cesare Leonardi at the end of the 'Roaring Sixties' - set a new world record. After a long bidding war between two private collectors from Germany and Italy the hammer fell finally in favor of the collection in northern Italy at a sensational €43,500.
The same collection also now includes a jewel of Italian radical design - the 'Massolo' foam porphyry stone painted with Guflac by the Italian company Gufram, conceived by Piero Gilardi in 1971. The consignor had purchased it directly at the furniture fair in Milan in 1974 and, almost 50 years later, it sold back to Italy for a whopping €13,000.
Almost all of the objects by superstar designer Ettore Sottsass were sold at hefty rate increases; three ceramic vases ('Scalino Gradino', '502', 'Rocchetto') received €1,200 - €1,600 hammer prices each, the iconic wall mirror 'Ultrafragola' attained €7,000.
The other 'big' Italian designers were in great demand, too. The 'Biagio' table light made from marble, by Tobia and Afra Scarpa, doubled its lower estimate to €3,600, their 'Artona' coffee table from the legendary collection of the same name reached its estimate price at €2,500.
Enzo Mari's four early 'Box Chairs' were sold more than sixfold at €3,200, his 'Arazzo Tiziano' wall hanging jumped from €500 to a whopping €1,300, Gio Ponti's 'Polsino' table lights were sold for €3,600, his 'Pirellina' table light doubled its estimate to €1,200.
Angelo Mangiarotti's black marble objects were also among the winners; the 'Eros' side table more than doubled its estimate to €3,700, and the large bowl almost tripled its price to €1,800. Mario Bellini's design classics were all sold; the tempting, comfortable 'Bambole' sofa for a hammer price of €3,800, his 'Area' lights at prices of €350 and €600, respectively.
In addition, many other lights and furniture objects by Piero Fornasetti, Joe Colombo, Andrea Bellosi, Osvaldo Borsani, Umberto Riva, Vico Magistretti, Giuseppe Ostuni, Giotto Stoppino and Gianfranco Frattini found their way to a new home.
---