Auction 161A
Italian Design

22. February 2022 at 3:00 PM
---
Catalogue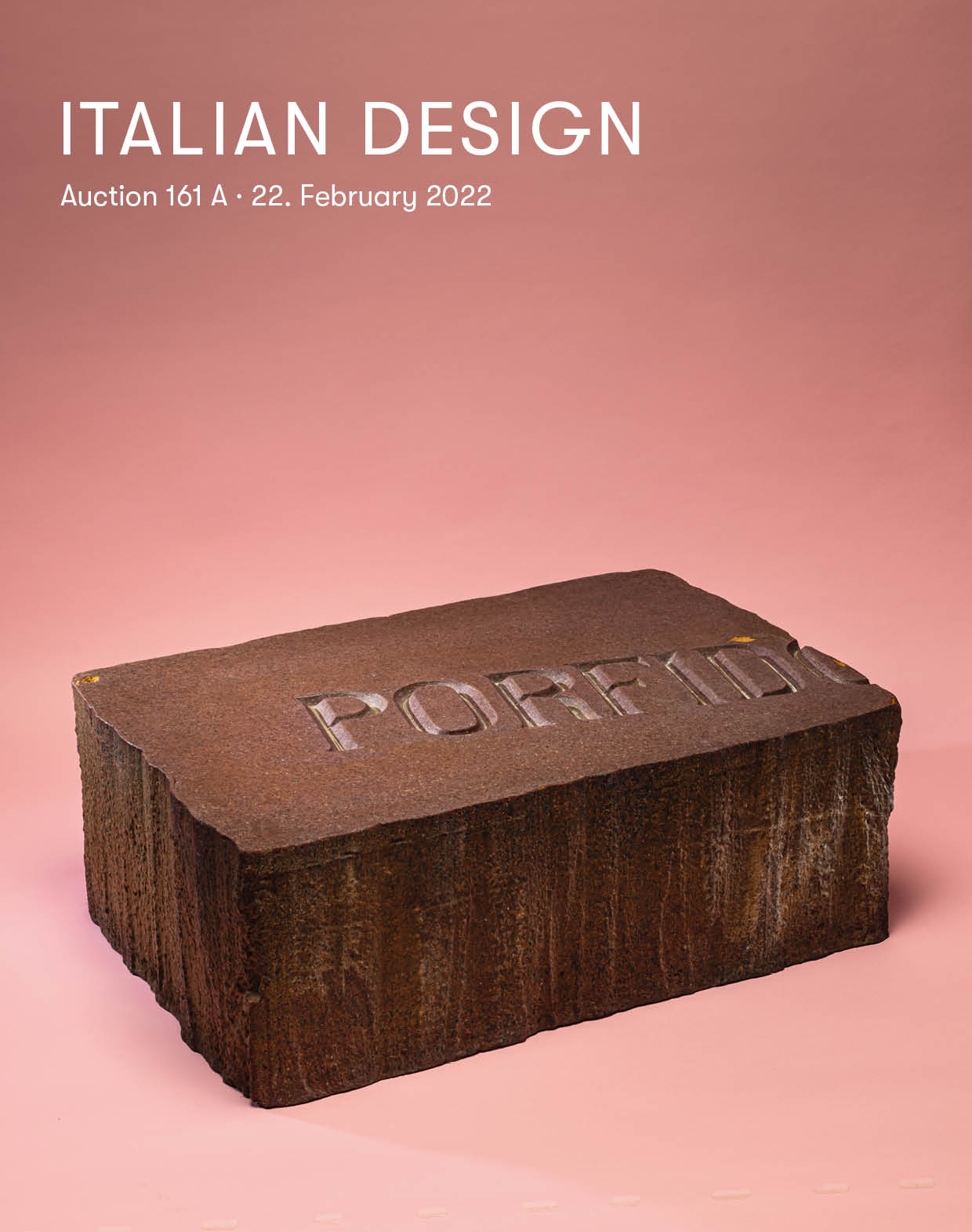 ---
*Design in great demand at the beginning of the year - top prices for many Italian design classics!**
The loop-shaped 'Dondolo' rocking chair - designed by Franca Stagi and Cesare Leonardi at the end of the 'Roaring Sixties' - set a new world record. After a long bidding war between two private collectors from Germany and Italy the hammer fell finally in favor of the collection in northern Italy at a sensational €43,500.
The same collection also now includes a jewel of Italian radical design - the 'Massolo' foam porphyry stone painted with Guflac by the Italian company Gufram, conceived by Piero Gilardi in 1971. The consignor had purchased it directly at the furniture fair in Milan in 1974 and, almost 50 years later, it sold back to Italy for a whopping €13,000.
Almost all of the objects by superstar designer Ettore Sottsass were sold at hefty rate increases; three ceramic vases ('Scalino Gradino', '502', 'Rocchetto') received €1,200 - €1,600 hammer prices each, the iconic wall mirror 'Ultrafragola' attained €7,000.
The other 'big' Italian designers were in great demand, too. The 'Biagio' table light made from marble, by Tobia and Afra Scarpa, doubled its lower estimate to €3,600, their 'Artona' coffee table from the legendary collection of the same name reached its estimate price at €2,500.
Enzo Mari's four early 'Box Chairs' were sold more than sixfold at €3,200, his 'Arazzo Tiziano' wall hanging jumped from €500 to a whopping €1,300, Gio Ponti's 'Polsino' table lights were sold for €3,600, his 'Pirellina' table light doubled its estimate to €1,200.
Angelo Mangiarotti's black marble objects were also among the winners; the 'Eros' side table more than doubled its estimate to €3,700, and the large bowl almost tripled its price to €1,800. Mario Bellini's design classics were all sold; the tempting, comfortable 'Bambole' sofa for a hammer price of €3,800, his 'Area' lights at prices of €350 and €600, respectively.
In addition, many other lights and furniture objects by Piero Fornasetti, Joe Colombo, Andrea Bellosi, Osvaldo Borsani, Umberto Riva, Vico Magistretti, Giuseppe Ostuni, Giotto Stoppino and Gianfranco Frattini found their way to a new home.
---