Auction 155A
Italian Design

02. March 2021 at 3:00 PM MEZ CET
---
Catalogue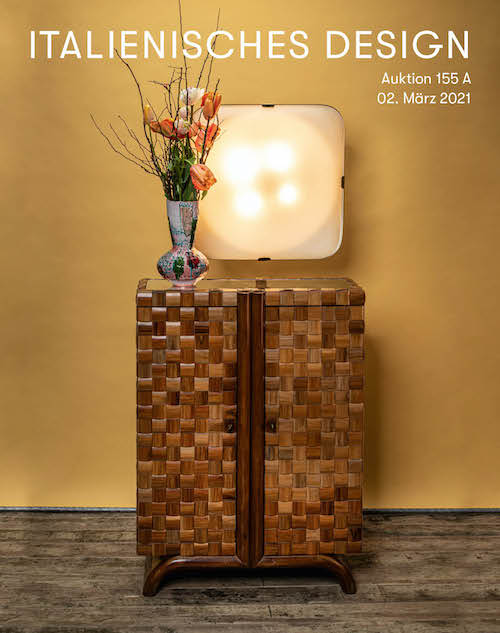 ---
We are starting the auction year 2021 with Italian design. Many of the designs we are offering on 2 March date back to the 1960s. In Italy this period was particularly characterised by completely different stylistic directions that existed side by side and inspired each other. The rocking chair 'Sgarsul' (1962) by Gae Aulenti (1927-2012) will be offered at an estimated €1,800 to 2,200. As an antithesis to the rationalists, the architect belonged to the 'Neo-Liberty' movement. In her buildings and furniture designs, she often referred to Art Nouveau forms without neglecting contemporary elements. In 'Sgarsul', which means 'street boy' in Neapolitan dialect, Gae Aulenti was inspired by the rocking chair No. 1 produced by Thonet in 1862; she reduced the ornamental forms and thus arrived at a modern interpretation of this classic of design history.
The two modular tables by Pietro Sala produced at Ostuni & Forti, date from around 1960 and can be assembled in various ways thanks to an ingenious plug-in system (estimate €6,000 - 7,000). The two 'Margherita' wicker armchairs by Franco Albini (designed in 1951, estimate €2,200 - 2,600) are also classics of the Italian offer, as is the pair of 'Sfera' pendant lamps by Afra and Tobia Scarpa with mouth-blown glass bodies from 1964 (estimate €900 - 1,200).
Exciting objects by Piero Fornasetti are also well represented in the Italian design auction; this time particularly noteworthy is the extremely decorative sofa table 'influssi astrali' from the 1960s (estimate €1,800 - 2,200) with a zodiac table top decoration, the round dining table 'Sole Raggiante' with a sun motif (design 1950/60s - estimate €3,300 - 4,000) as well as a set of elegant silk pocket squares with different motifs (estimate €500 - 700). Desirable are the ceramic objects by Ettore Sottsass; four of these special objects will be called for this time at prices between €450 - 750. Another enrichment for every interior is Sottsass' mirror-light object 'Ultrafragola'; the neon-pink eye-catcher from 1970 is offered at an estimated price of €4,500 - 6,000. The Italian offer is supplemented by the rare cabinet 'Nairobi' by Sottsass (design around 1989 - estimate €4,000 - 6,000) and the stylish, three-leaf floor lamp made of brass sheet by Tommaso Barbi from the 1970s (estimate €2,000 - 3,000).
---
1970s and 80s design very much in demand
Quittenbaum is very happy about having concluded a row of very lively auctions with numerous bidding battles and a sales quota of almost 65%. The design of the 1970s and 80s was particularly in demand. Right at the start of the auction, an exciting bidding war broke out over the cover lot. The drinks cabinet attributed to Osvaldo Borsani rose from € 2,500 to € 6,000 and went to an English aficionado in the end.
Ettore Sottsass was again among the favourites. Two early ceramics remained within the scope of their estimates, the lidded vessel from 1955 was sold for € 5,500, the candy bowl for € 2,100. Sottsass' illuminated standing mirror 'Ultrafragola' changed hands at € 4,900, his 'Nairobi' cabinet at € 3,700. One of the biggest price increases was achieved by the post-modern design: the table light by Andrea Bellosi from 1980 climbed from € 1,500 to € 4,700. Overall, the design from 1970 onward was in great demand, for example Enzo Mari's modular shelf 'Bric' from 1970 with a price increase from € 1,400 to € 3,800, and a pair of 'I feltri' armchairs by Gaetano Pesce that changed hands for € 4,500. A three-light brass floor lamp by Tommaso Barbi rose from € 1,500 to € 3,500.
---