Auction 140A
Danese
Collection Mieke and Jan Teunen
09. October 2018 at 3:00 PM MEZ CET
---
Catalogue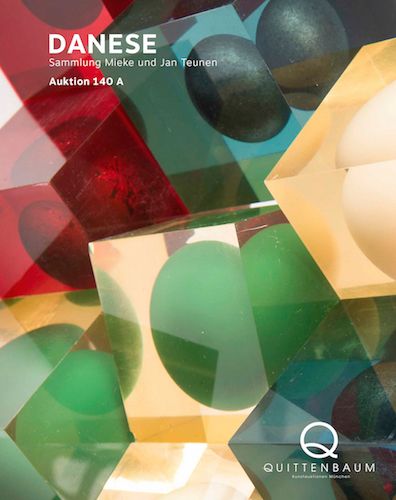 ---
Danese - The Mieke and Jan Teunen Collection
Yet before the auction the response to the great collection of Danese objects and art editions from the property of Mieke and Jan Teunen was high. Our exhibition offered the public the rare opportunity to see a great variety of designs and early editions by Bruno Munari and Enzo Mari. 
70% of 98 items were sold on the auction day. Private collectors and international art dealers fought fierce bidding battles. High hammer prices were reached for Enzo Maris '24 Cubes' (lot 33), sold for € 8,000 and Bruno Munaris cinetic object ' Tetracono SM' (lot 46), sold for € 8,700, high above the starting price of € 1,500. Especially art multiples were sought after, Maris 'Oggetto a composizione autocondotta' from 1959/1971 (lot 13) found a new owner for € 3,600.
Sculptural bowls such as the objects from the 'Paros' series and vases which were inspired by bamboo plants and columns increased from their estimates. A collector from Germany purchased three bowls of the 'Putrelle' series for € 3.400 (lot 9). Three vases 'Tortiglion' (lot 60) were sold to an online bidder from Japan for € 2,100.
---