Auction 133A
Bauhaus - German Design

27. June 2017 at 3:00 PM MEZ CET
---
Catalogue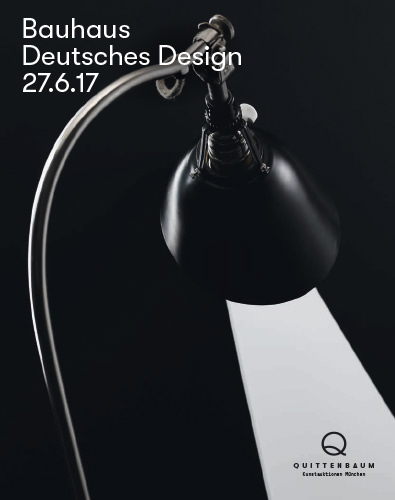 ---
174 lots of German Design were on offer on the first day of the auction. In the Bauhaus chapter, designs by women were most popular.
It started with the 'Frankfurt Kitchen' by Austrian-born Margarete Schütte-Lihotzky, which could be sold for €23,300 (lot 4). Marianne Brandt, head of the metal workshop of the Bauhaus in 1928/29, designed the '720' ceiling light together with Hin Bredendiek for Körting & Mathiesen in 1929 (lot 44). It was knocked down for €1,036. Her table clock for Ruppelwerke, made around the same time, received the same amount of money (lot 47). The works of potter Eva Zeisel Stricker are becoming more and more popular. Her tea set, composed of round and rectangular shapes, c1928, was highly coveted (lot 9). It will travel to Italy for €2,072. The 'Fiuma' set received €893 after all.
Certainly, the men of the Bauhaus must be mentioned as well. Marcel Breuer's black 'B 65' desk from the year 1929/30 (lot 29) will go to Hesse for €6,734. Ludwig Mies van der Rohe's pair of 'Barcelona' chairs, of early Knoll production, went to Switzerland for €6,888 (lot 60).
Egon Eiermann dominated the 2nd chapter. The wonderful pieces from his own home were most sought-after. It isn't surprising then that the brilliant clavichord with base he made together with his pupil and co-worker Rainer Schütze (lot 68) found a new home for €4,921. One of the coffee tables with tree pit, c1950 (lot 128) went to Sweden for €4,428. The two pendant lights, made each of three 'Diana' shades by Wilhelm Wagenfeld, 1954 (lot 99) were very impressive as well. They went to Cologne for €5,957. Several museums battled fervently over objects by Herbert Hirche. His serving cart from 1956 (lot 98, €1,036) and his 'Stereo-Tischsuper RC8 TS 3' radio, 1958 for Braun will hopefully be shown publicly soon. Ferdinand Kramer's 'Rainbelle' umbrella made of paper is a special piece (lot 126). Designed in the USA in 1948, it was only issued in 1951. The rare design, only two other exemplars of which are known to exist in public collections, one at Bauhaus-Archiv Berlin and the other at Museum für Gestaltung, Zurich, went into a private collection for €1,425.
From the later chapters, the rare and popular rhino by Renate Müller and Helene Häusler 1967 must be mentioned (lot 139). It will travel to Turkey this time for €3,367. A carpet by Hans Theo Baumann, from 1988, rarely seen on the market, was sold to Switzerland for €1,845 (lot 173).
Find some more rare and nice pieces in our post auction sale that continues until July 21.
---