Auction 131B
Design

22. February 2017 at 3:00 PM MESZ CEST
---
Catalogue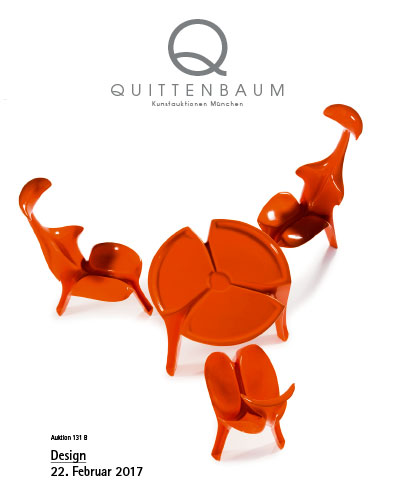 ---
Lush hammer prices for International Design too – exciting bidding wars and maximum prices also on the second day of the auction series 131
After the great success of the 'Italian Design' auction on the previous day, the International Design shone with a sales quota of almost 50% and many very satisfying hammer prices as well.
Among the designs or the first half of the 20th century, an early 'B9' tubular side table by Marcel Breuer for Thonet all but doubled its estimate and went from €600 up to €1,000. A German Art Deco side table was highly popular and was sold to a collector from the South of Germany for its high estimate of €1,100. An elegantly shaped side table attributed to famous Swedish designer Carl Malmsten found a new home in the United States for its lower estimate of €1,200. The famous 'Visiteur' chair by Jean Prouvé went to Paris for €2,600, a little over its upper tax. The minimalistic, three-legged plywood chair by Max Bill enticed international interest. For €1,700, a little above its upper tax, it will go into a Paris-based collection as well.
Beate Kuhn, one of the most famous German ceramists, passed away in 2015. Last year, the Grassi Museum Leipzig had already dedicated an exhibition to her, now the Neue Sammlung Munich follows suit in June of this year. It might well be that the presence of pieces by Kuhn in these institutions added to the fact that all her designs sold very well – for prices between €350 and 1,600. The lot including for different designs for Rosenthal from the early 1950s doubled its price from €800 up to € 1,600. Kuhn's 'People' sculpture from the year 1979 received €1,300. The works by American ceramicist Evelyn Ackerman were popular as well. Two of the three decorative wall plates on offer were sold for their estimates (€1,200 respectively €1,300) to American collectors. A Spanish dealer allowed the upper tax of €1,200 for Margarethe Heymann-Marks early tea set (1930).
Scandinavian Design experienced brisk interest. The multi-coloured lanterns of brass and glass by Swedish lighting designer Hans Agne Jakobsson created Spring fever. Their prices were increased in fervent bidding wars up from €800 to €2,100 (9 smaller lanterns) and €600 to €2100 (3 taller lanterns) respectively. The armchair by designers Hvidt and Mølgaard-Nielsen, made famous through the TV series Mad Men, increased its price by 50% up to €1,500. Likewise popular were Verner Panton's heart-shaped chair from the year 1958, purchased by a Chinese client for its estimate of €2,000 and Poul Kjaerholm's 'PK-33' stool, which will remain in Germany for €2,250. Star lot, like several times before, was the elegant writing desk by Bodil Kjaer, used in several James Bond features. For a hammer price of €13,000, it changes hand and countries from Belgium to Germany.
Keep an eye out for German Design, which is becoming more and more popular on the international parquet. As was the case in the 'Highlight' auction in December 2016, Egon Eiermann's designs were very popular. His rare 'E 20' wicker chair and a variation of his 'E 13' wicker table reached their taxes of €1,000 and €600 respectively. Jonathan Ive, CDO of Apple is a huge fan of the clear and linear designs of Dieter Rams. This might be why a very rare and early sideboard with wall shelf ('RZ 571')went to a California-based dealer for €1,800.
The designs by Günter Beltzig are completely different from Rams'. Together with Luigi Colani and other designers, Beltzig embodies the playful, anthropomorphic design language of the late 1960s and early 1970s, a counter-movement to the strict, functional German Design of the Hochschule für Gestaltung (HfG) in Ulm. The 'Floris' set, which must be unique in its completeness from the very early days of the design (c1967), consisting of three chairs and a table, was highly coveted and went, after a short bidding war between two clients, to a Swiss collector for €32,000. The 'Solid' chair by Heinz H. Landes from the year 1983 is one of the icons of German Design of the 1980s. A German collector allowed the lower tax of €2,500 for it.
The collectors were seemingly focussed on the Design from USA. Several clients on the telephone lines and on the floor fought fervently over the 'Rosewood case' by American designer George Nelson. The hammer fell only when its lower tax had more than quadrupled up to €7,500. The two easy chairs by designer Ross Littell met with huge interest worldwide. They went up from a moderate estimate of €2,200 to an appropriate €3,100 from a California-based dealer. Cult-eclectic design objects like the 'Traccia' table by Meret Oppenheim (designed in 1936), made by Simon Gavina in the 1970s, are very popular at the moment. The hammer fell at €3,100 (estimate: €2,200-2,500) in favour of a Swiss client.
The post auction sale for more interesting, popular and unfamiliar design objects is on and ends on 24 March.
---