Auction 131A
Italian Design

21. February 2017 at 3:00 PM MEZ CET
---
Catalogue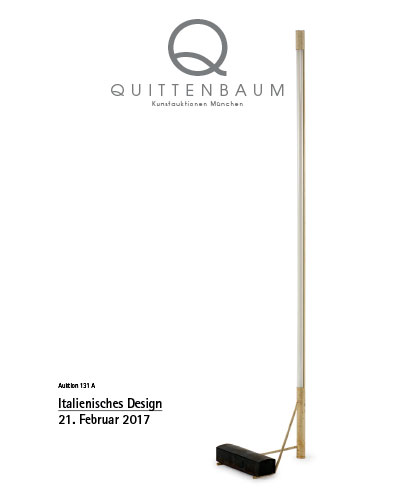 ---
Around 240 lots will be on offer in Quittenbaum's first auction of the year, 'Italian Design', on February 21. As it is getting harder and harder to find early executions of classics of the Italian Design History, we proudly present some extremely beautiful pieces. The offer of illumination is extraordinarily wide, with Gino Sarfatti's important '1063' floor lamp for Arteluce, 1953/54, to the fore. We offer the early piece for an estimate of €14,000 – 18,000. The minimalistic design pioneered the use of fluorescent tubes in lighting design in the 1950s, Sarfatti's '2097/30', 1958 (estimate €700 – 900) and '2042/9' ceiling lights, 1963 (estimate €3,500 – 4,500), too, are among the classics the student of aeronautical engineering created for his factory.
Other concise lighting was designed by Bruno Munari, Vico Magistretti and Ettore Sottsass. The latter adds to the offer with his 'Bay' table light (€1,900 – 2,100), two 'Hikary' ceiling lights (€1,500 – 1,800) and the illuminated 'Ultrafragola' mirror (€3,500 – 3,800). The most diverse lighting designs by Milan factory Stilnovo are on offer. An exceptional table light with grey glass shade, 1954, stands out in particular. It is estimated at €900 – 1,200. Last but not least, the always stunning 'Golden Gate' floor lamp by Nanda Vigo, 1970, must not be forgotten. It will be called up around €7,500 – 8,000.
Joe Colombo is present with some important designs as well. Quittenbaum offers his 'Tube chair' in dark brown for an estimate of €3,500 – 3,800 and his 'Living Center Dinner element' a multifunction piece of furniture with hotplate on wheels (1970, estimate €1,500 – 2,000). Like many designs from the Radical Design era, it had been in production for a short time only. Ico Parisi's furniture is an example of elegance and workmanship. For example, the slender sideboard of walnut and rosewood, which will be called up at €1,500 – 2,000.
As past auctions realized very satisfying sales quota of Fornasetti objects and pieces of furniture, Quittenbaum once more received a range of great consignments, for example plates, mugs, a coat rack and an extremely beautiful umbrella stand.
---
Spring fever for Italian Design – Quittenbaum's first auction of the year brings 'La dolce Vita' into the grey February sky.
High demand from international clients via telephone lines and the internet as well as on the floor provided the first Design auction of the year with a hammer quota of more than 50% and a row of very high hammer prices. Most popular were the classics of the important Italian designers of the 20th century. Gio Ponti's - the forefather of Italian Design – 'Casa e Giardino' easy chair almost doubled its estimate of €1,500 with the help of international bidders to €2,700. His writing desk for the Banca Nazionale del Lavoro stayed inside its estimate at reasonable €1,200. Ico Parisi's sideboard, made of three different kinds of wood, from the late 1950s, went for its estimate of €1,500 to a US-based client. The complete study suite by Studio BBPR for Olivetti will go to the United States as well. The modular system from the late 1950s was knocked down in favour of a renowned California-based gallery owner for €5,200 (a little over its tax). A California museum secured itself the famous 'Tube chair' by Joe Colombo for €4,000, also a little over its tax. Colombo's lighting designs, 'Topo', 'Tiedro', 'Spider' and 'Coupé' found new friends as well for prices between €500 and €750.
Architects Tobia and Afra Scarpa, son resp. daughter-in-law of famous architect and glass designer Carlo Scarpa, used to design illumination, furniture and objects as a team. Their pair of '925' easy chairs, four 'Monk' chairs and a rare set of fireplace companions surpassed each their upper estimates to €3,800 (€2,200), €1,100 (€500) and €1,600 (€800) respectively and found new homes in the United Kingdom and Switzerland. A pair of Italian sideboards, from an unknown designer, experienced a huge increase. Estimated reasonably at €1,800 – 2,200, four international clients on the phones and two bidders on the floor fought over the simply elegant, high-quality design from the 1950s. After a long bidding war, an Italian collector secured the pair for himself with a hammer price of €8,600. Two very early classic 'Taccia' lamps by Achille and Pier Giacomo Castiglioni doubled their estimates to €1,300 and €1,400 respectively. The will adorn homes in the United Kingdom and Italy from now on. Bruno Munari's designs were popular as well. Two ceiling lights and a table light from the 'Bali' series changed hands for €600 and €500 respectively, the 'Acona Biconbi' ceiling light, featured prominently in the German newspaper Süddeutsche Zeitung, a design somewhere between "Disco ball and Space capsule" (SZ, 18./19.02.2017) received €2,000 from a German collector. An American collector bought Ettore Sottsass imaginative 'Ultrafragola' mirror for its upper estimate of €4,000.
The very early '1063' floor lamp by Gino Sarfatti from the year 1954 was indisputably the highlight of the auction. Tubular metal, fluorescent tube and transformer coated with sheet metal – purest minimalism – coveted worldwide! Five telephone lines and diverse bidders online made the design icon shoot up from a moderate €14,000 step by step during a long bidding war to a sensational €24,000 (netto). One of the highest ever hammer prices reached for this object in Europe. Sarfatti's '2042/9' ceiling light, with nine large matted glass balls, received €3,500. Both lights went to a Paris-based dealer.
Once again, Piero Fornasetti was the most popular designer with the highest total supply. His highly decorative ceramics, furniture and illumination designs have been coveted for years. 29 of 30 objects by Fornasetti changed hands for prices between €300 and €2,600. The tall 'Tema e Variazioni' urn for €2,600 (€1,500), 'Unità d'Italia' for €1,200 (€800) and the 'Farfalle' mirror for €1,400 (€900) experienced the highest price leaps.
The post auction sale for the unsold Italian designs of the 1930s to 2000s in on and ends on 24 March.
---