Auction 159C
Art Nouveau - Art Deco Part II

17. November 2021 at 3:00 PM MEZ CET
---
Catalogue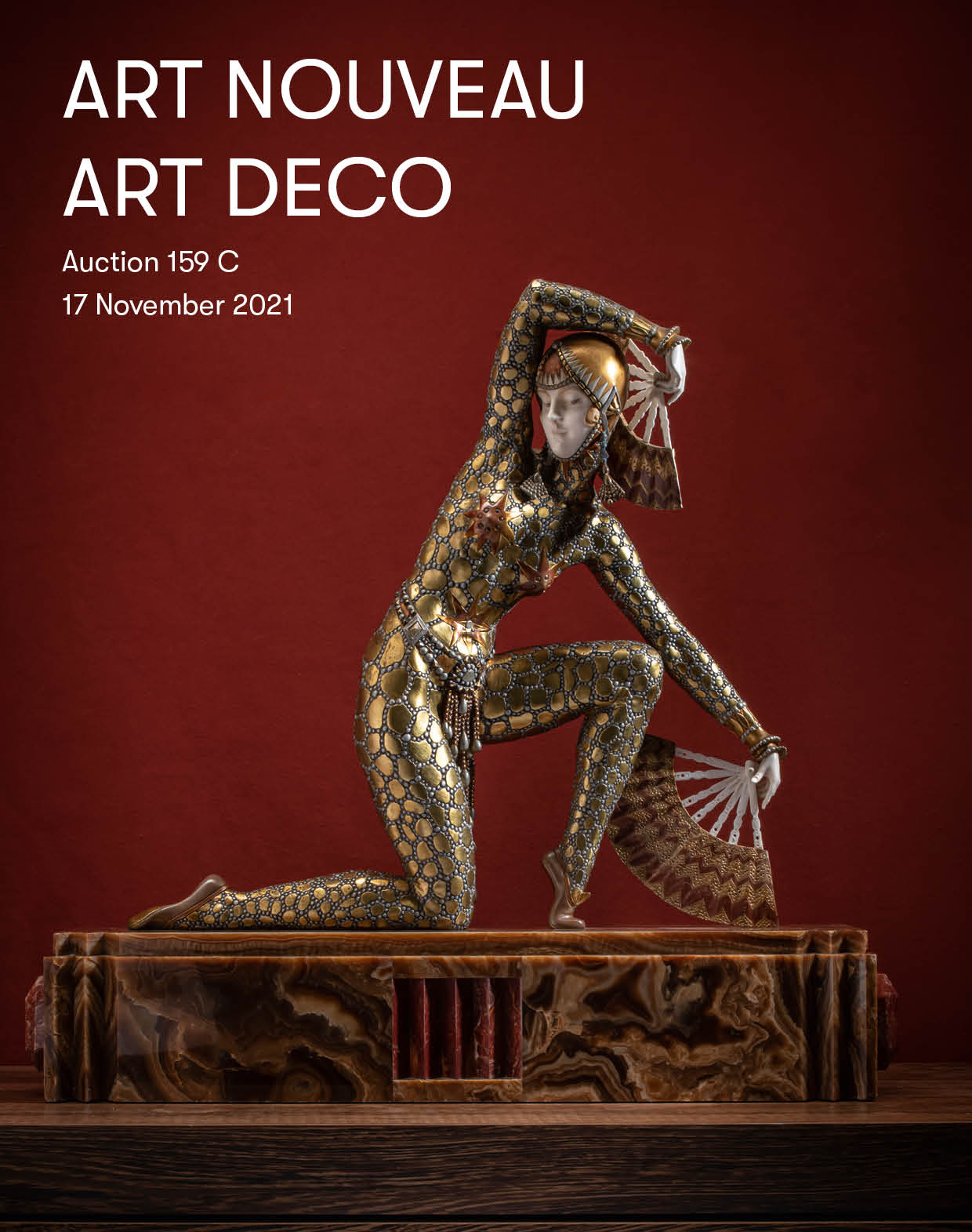 ---
The auction on November 17th will continue with a similar high-profile. Figurative bronzes once again comprise 60 lots in our offer. Ferdinand Preiss, Demètre H. Chiparus and the Austrian Bruno Zach lead the selection.
The Berlin-based Ferdinand Preiss is represented this time with his 'Cabaret Girl' from around 1925. The figure represents the dancer Nelova from the 'Rasch Girls' troupe. The Cryselephantin figure can be purchased for EUR 35,000-45,000.
The native Romanian Chiparus was also inspired by the revue and delivers the main item of the auction. His rare "Danseuse au éventail", a dancer in a skin-tight, detailed jersey, similar to that of the "Girls" from the same year, is shown in a kneeling pose, she swings the two wafer-thin fans above and behind her. The figurine made of gilded bronze and carved ivory is being offered for EUR 140,000.
This time, the ceramics selection also offers outstanding pieces, including a very rare mocha service for six by Samuel Schellink, designed in 1908 for the Haagsche Plateelbakkerij Rozenburg, The Hague. The wafer-thin eggshell porcelain set with a chicken yard decor is estimated at between EUR 7,000 and 9,000.
Also outstanding is a 35-piece "wing pattern" service by Rudolf Hentschel from 1901. It is a particularly early example by Meissen, as it had been in the consignor's family since 1902. Between EUR 6,000 and 8,000 were set for the service, which has been very nicely preserved for its age.
The furniture selection includes some rare cabinets by Émile Gallé and furniture by Louis Majorelle. This time we also have on offer a larger selection of bentwood furniture by factories Thonet, Kohn and Fischel. Though, one of the rare board chairs by Carlo Bugatti from 1904 should be mentioned here above all. The dark stained and ebonized wooden chair, typical of Carlo Bugatti's work with rich carvings, inlays made of pewter, ivory and sheet copper in the Moorish style, is now available for EUR 6,000 - 7,000.
---