Auction 153B
Art Nouveau - Art Deco
Glass
17. November 2020 at 4:00 PM MESZ CEST
---
Catalogue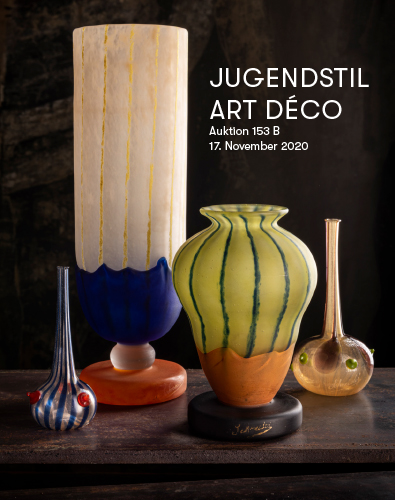 ---
The ladies of the Wiener Werkstätte in the centre of attention
We are very happy to have concluded a very successful Art Nouveau / Art Déco auction. This time it was sculptures, made of bronze and ceramics, as well as a number of pieces of furniture that earned us one of the most successful auctions in recent years with a turnover, all-in-all, of around EUR 760,000. Upon receiving the collection of around 20 figurative ceramics from the ladies of the Wiener Werkstätte, which had been assembled with great care over the years, we were absolutely thrilled!
We were even more delighted when we succeeded in selling the entire collection. The four works by Vally Wieselthier received the highest prices of the selection. Two private collectors divided the three heads and the standing figure in fierce bidding battles between themselves. 'Phyllis' from 1919 (488), set at a moderate EUR 1,000, finally went to Switzerland for EUR 21,000. The same collector also secured the next lot, a head with curly hair, for EUR 25,000 (489, estimate EUR 2,500 – 3,000), while the other two pieces remain in Germany.
Ferdinand Preiss' 'Spring Sun' caused a sensation within the bronzes section. The unclothed young woman made of gilded bronze, stretching towards the sun, far exceeded her estimated price and was finally sold to a German collector for EUR 32,000 (462).
Louis Majorelle's furniture was also in great demand. Three of his showcases were hotly contested. The highest bid was received for the extremely rare showcase with carved legs from 1903. It is now part of a German collection for EUR 30,000 (787).
French Art Nouveau glass was, as always, in high demand, with the usual leading protagonists Daum Frères and Emile Gallé this time having to share the collectors' attention in particular with Pâte de Verre objects and the works by the Verreries Schneider. A rare table light with checkerboard pattern by Schneider (293), as well as a bowl by François Décorchemont (195), were sold for EUR 6,000, each.
Other great results were provided by Emile Gallé's owl from 1889, having climbed from EUR 4,000 to 14,000 (474), a pendant light from Vienna, around 1905, which, called up for EUR 1,200, was sold for 3,300 (663) and a lidded box that could be attributed to the Polish designer Julia Keilowa only after the catalogue was printed. Estimated at EUR 900, it was raised to EUR 2,000 by clients on several phones (636). A piece by Félix Rasumny should be mentioned among the jewellery selection; The gold pendant, decorated on both sides, now belongs to a Munich collector for EUR 2,300 (699, EUR 800 - 1,000)
The special Lalique sale was also very popular, the highest hammer price of EUR 7,200 here went to the rare table light 'Six Danseuses' from the year 1931 (42).
Further beautiful objects are available in our post-auction sale until December 18th.
---