Auction 147B
Art Nouveau - Art Deco

12. November 2019 at 3:00 PM MEZ CET
---
Catalogue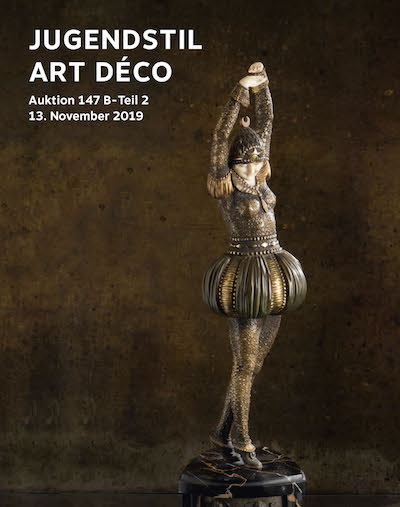 ---
A small collection of the early vases by Emile Gallé, created before 1890, perfectly represents the beginnings of the Lorraine Art Nouveau. The vase 'Plumes de Pâon', dated 1884 and estimated at € 15,000 - 18,000, is of particular importance. This impressive piece combines many production methods. Lentils are melted on the amber body both inside and outside, by using a so-called 'à chaud'(when hot) procedure. On the other hand, two different 'cold' techniques are applied for the decor. While a cold engraving technique is used for the stylised peacock feather ornament on the outer wall, the spring decor on the lower and upper edges of the mouth is done in multi-coloured enamel. The gold lettering "Je suis fier de mes couleurs" (I'm proud of my colours) elevates this vase in the genre of 'Verreries parlantes' (talking vases).
Nearly 20 years later, in 1903, a year prior to his death, Gallé created a highly significant and extremely rare piece , the 'Larmes de soude' bowl (€ 90,000 - 120,000). At that time, probably due to his poor health, the artist dealt with symbolic content more frequently. Life and death, day and night, light and shadow and the four 'elements', fire, water, earth and air can be found in his works. The soda welling from out the earth ('soude') is depicted on the bowl - it runs in long trails ('larmes'), down the wall. Soda is a salt which can be used in a variety of applications, essential both in the production of soap and other detergents and in the manufacture of glass.
Just like Gallé, The Daum brothers also chose a sculptural forms in their works. One of the examples if the vase 'La Coloquinte', created around 1910. The € 15,000 - 18,000 prized piece, in the shape of a decorative pumpkin with a small lateral opening, not only impresses with its free form but also with the bright color spectrum, which is created by plastically applied enamel powder ('vitrifications').
A small Austrian private collection enriches the collection of Lötz vases. The vase with 'Argus' decor, estimated at € 9,000 - 12,000 and created based on the design by Koloman Moser, should be the first to be mentioned here. Even a € 5,000 - 8,000 prized vase with the 'World Exhibition' décor by Franz Hofstoetter, will make collectors' hearts beat faster, as well as a few more vases with very rare decors all of which were created before 1904.
A selection of small sculptures, furniture and handicrafts will be shown on the following day, in the second part of the Art Nouveau auction. It will start with bronze and ivory figures, which have a very special appeal, due to their fine texture and execution. Noteworthy here are also the 'Bayadère' dancer in an elaborate costume with a balloon skirt by Demètre H. Chiparus (€ 30,000 - 40,000) and Ferdinand Preiss' heroic and at the same time gentle 'Diana' (€ 25,000 - 30,000). The, Serpentina 'by Otto Poertzel is called with € 20.000 and attracts everyone's attention with an almost seductive dance pose. These are followed by a series of other ivory figures that impressively reflect the zeitgeist of the Art Deco era. The next highlight is the rare, enameled table clock by Cartier with diamond-decorated rosettes in the silver body (€ 30,000 - 40,000). Sweeping lines, inlaid woodwork and floral motifs are characteristic for Art Nouveau furniture. Therefore, the unique 'Iris' cabinet by Louis Majorelle (€ 6,500 - 8,000) and the € 6,000 - 8,000 prized tiered stand by Emilé Galle perfectly captures the spirit of that time. Another masterpiece is the leaf-gilded display case by Curt Stoeving with a carved triton and niche motif (€ 5,000 - 7,500), presented for the first time in 1903 at the large art exhibition in Dresden.
All objects of the auction will be exhibited as part of our preview from the 7th of November until the start of the auction.
---
The very lively interest in the 'Lalique Only' and 'Art Nouveau - Art Deco' sales on November 13 and 14 lead to one of the best results since the auction house's foundation in 1998.
Two-thirds of the Lalique glass was sold on the auction day. German collectors and international trade fought strongly in numerous bidding wars, which led to good price increases. The ceiling light 'Feuille de Charme' was called at € 4,000 and went to a New York gallery for just under € 9,000. The blue patinated vase 'Ronces' more than doubled its lower tax and goes to a Swiss collector for circa € 2,300. The highest bid for Lalique was a very early work, a 'Brûle parfum' from 1913, which secured a French collector for just under € 16,000.
In the first part of our large Art Nouveau auction we could register a special interest for early works of Daum Frères and Emile Gallé. Numerous biddings were placed for vases by Charles Schneider, in addition, almost all the glasses of the Bohemian manufactory Lötz were knocked down.The highest proceeds were for Emile Gallé's email-painted vase, Plumes de Paôn '(€ 18,750), for a Lötz' Argus' vase (€ 15,000) and the 'Intercallaire' vase by Daum (€ 7,500).
On the second day, the sculptures were the prelude, and here, as expected, the highest result made a dancer in bronze and ivory by Demètre H. Chiparus. The 'Bayadère' goes to a Latin American collector for € 55,000. Ten more Chryselephantine sculptures could be sold in the five-digit range, mainly to collectors from Germany.
Over the decades, a private collector from Munich has assembled illustrations and paintings of Art Nouveau with great expertise. Part of his collection has now been offered in the auction. Here two landscapes by Georges de Feure in particular achieved € 10,000 and € 6,000 respectively, as well as three portraits of Loie Fuller and Sarah Bernhardt by Lewis Welden Hawkins, which more than doubled their lower taxes with € 20,000 each.
Furniture of Art Nouveau was also in great demand. Two German collectors fought over a small cabinet by Louis Majorelle, which was called at € 6,500 and finally scored € 14,500. At Art Déco, the increases were particularly high: An armchair by Eugène Printz was called at € 6000 and went to a Paris gallery for just under € 18,000. Likewise, Paris prevails against a New York collector in three Art Deco armchairs, which, called at € 6,000, redeemed € 26,400.
All mentioned prices are inclusive of premium / VAT.
---