Auction 132B
Art Nouveau - Art Deco

23. May 2017 at 2:00 PM MEZ CET
---
Catalogue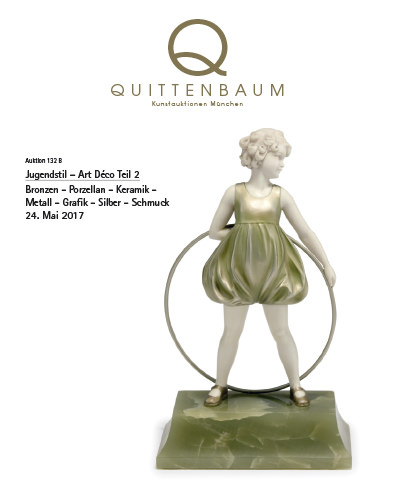 ---
With a gross proceeds of €900,000 the two-day Spring sale 'Art Nouveau – Art Deco' at Quittenbaum's ties in with earlier successes.
The French glass received good results throughout. With Emile Gallé's 'Bonheur au Nymphéa bleu' vase leading the way, it surpassed its estimate of €10,000 – 14,000 by far with a proceeds of €24,600. It passes into a French private collection. Other examples by the Lorraine artist were popular as well. A German collector was willing to pay almost €13,000 for an atmospheric blue 'Vase de Tristesse' with crocus pattern.
Artworks by other glass designers met their estimates as well. The beautiful 'Plumes de Paon' table light by the Daum brothers convinced through its rare peacock pattern and received a little more than €14,000. Gabriel Argy-Rousseau's 'Feuillages modernes et fleurs' vase successfully sold for around €6,700 as well.
Surprisingly, the highlight of day one was not found in the Glass chapter. It was a small magazine / letter rack that ignited a thrilling bidding war between to American clients. Now, one of them can call the decorative small piece of furniture their own for €15,000. The rack, decorated elaborately with several kinds of wood, increased its estimate of €1,200 – 1,400 tenfold.
Day Two came up with exciting bidding wars as well. Peter Behrens' 'Behrens' silverware enticed several private collectors, in the end, two bidders settled the battle between them. With a proceeds of around €19,500 the original reserve of €6,000 was tripled easily.
In the Bronze and Ceramics selections figurative works were the most popular. Most of the results are in the higher four-digit-range. Ferdinand Preiss' 'Hoop Girl' received more than €8,000 and his small Pierrette with pointed hat more than doubled its tax with €5,000. Annie Offterdinger's 'Carmen' of earthenware went into a German private collection for around €6,500 and Ferdinand Liebermann's 'Capriccio' stays in Germany for almost €5,500.
Unsold lots will be available in our post auction sale until June 23, 2017.  
---