Auction 158C
Murano Glass

14. October 2021 at 3:00 PM MEZ CET
---
Catalogue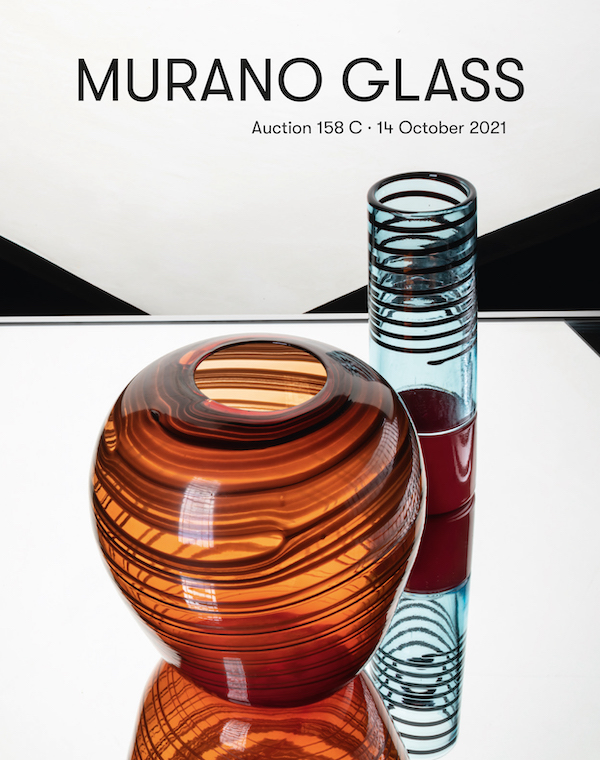 ---
On October 14, we will offer more than 250 vases and glass objects of famous manufactures and designers.
This time we can offer a very rare vase designed by the US artist Thomas Stearns for Venini. The amber vase ' A Fili' with gray-brown thread application was created in 1961/62 and is estimated at € 18,000 - 28,000.
Thomas Stearns received a one-year scholarship to Italy in 1960 and decided to join the avant-garde glass manufacturer Venini. A student at the Memphis Academy of Art and the Cranbrook Academy of Art, he was mainly active in the field of painting and experimented only briefly with flat glass. At Venini, he initially had difficulty getting his ideas implemented. The famous glassblower maestro 'Boboli' (Arturo Biasutto) refused to execute his mostly asymmetrical designs. But then another glassblower, 'Checco' Ongaro, took him on. This apparently resulted in a very fruitful collaboration, although neither Stearns spoke Italian nor 'Checco' English. Stearns stayed at the manufactory for only two years and was inspired by the special atmosphere of the lagoon city. His nightly walks are said to have inspired his often dark compositions. In 1962, six of his works were exhibited at the 31st Biennale and received the gold medal.
Fish, cat or polar bear - animal figurines have always presented designers with technical challenges and are popular collector's items, as shown not least in the extensive exhibition 'L'Arca di vetro. La collezione di animali di Pierre Rosenberg' at the Stanze del Vetro in Venice. Also in the upcoming auction, figurative works by Ercole Barovier or Antonio da Ros will come up for bid. A rarity is the early design by Barovier Seguso & Ferro. The deer with fawn in blue glass with satin finish is estimated at € 6,000 to 7,000.
Highly recognizable are Anzolo Fuga's designs for A.Ve.M of the 1950s and 60s. The models 'Bandierine', 'Finestra' or 'A canne' captivate with amorphous forms and contrasting combinations of opaque white and colored glass.
High quality works by Barovier & Toso, Venini, Seguso Vetri d'Arte, Archimede Seguso, Fratelli Toso, and Aureliano Toso complete the diverse range.
---