Auction 128C
Murano Glass

22. September 2016 at 3:00 PM MEZ CET
---
Catalogue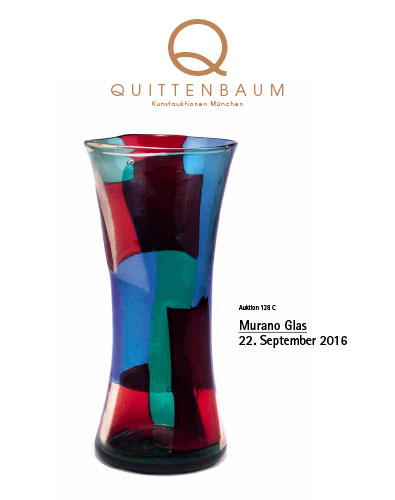 ---
Fulvio Bianconi was the star of the auction
As expected, Fulvio Bianconi was the star of the Murano auction. His 'Donna' vase in the shape of a female torso, taxed between €9,000 and 12,000, was sold to an US-American collector for €11,000. It is this 'Donna' vase that had been featured in the large 'Bianconi' retrospective at Stanze del Vetro in Venice last year.
A Munich-based Murano aficionado secured himself the cover lot for its lower tax of €8,000. This very early and rare vase with the famous 'Pezzato' pattern outdistanced two other vases of the same pattern, which had been knocked down at €2,200 and €3,600 respectively.
After a fervent bidding combat, an important German Murano collector got the upper hand at Ercole Barovier's 'Opalino a fiamma' vase for €8,000, it had been called up at €4,000. Barovier's 'Variazione Christian Dior' bottle, a later work from the year 1969, was secured by another German collector for its lower tax of €5,000.
Many other pieces by Barovier and works by Carlo Scarpa as well were in high demand with the international clientèle.
---