Auction 128C
Murano Glass

22. September 2016 at 3:00 PM MEZ CET
---
Catalogue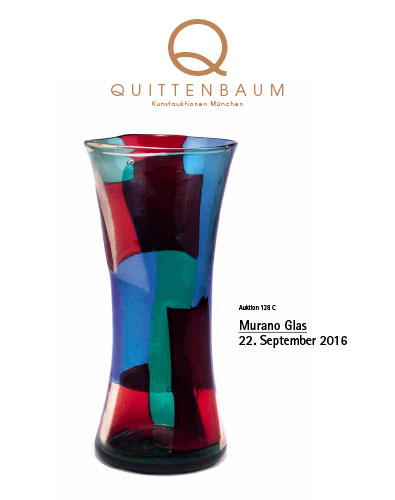 ---
It's been a year already since Quittenbaum last had such a large choice of Fulvio Bianconi's incredibly ravishing 'Pezzato' vases. On 22 September, several exquisite exemplars will be on offer. One of the highlights is a spindle-shaped vase, taxed at €8,000 – 10,000, which sets itself apart from similar models with its extremely large and elongated platelets. A tall bottle-shaped vase belongs into the same price range, its outstanding feature being a few platelets fused onto white glass. Two more 'Pezzati' are estimated at €2,000 – 2,500. Moreover, Fulvio Bianconi's 'Donna' vase from the year 1949 stands out. It featured in the single exhibition of Bianconi's work for Venini in Venice last year and is waiting for a connaisseur at €9,000 – 12,000. In addition, the Venini selection contains fine works by Carlo Scarpa, for example a range of small-scale 'Sommerso a bollicine' vases and bowls in early execution and three 'Mezza Filigrana' vases that were also made prior to World War II. The offer of almost 220 lots is being completed with rarities from the Barovier & Toso workshop. The objects by Ercole Barovier are spearheaded by a bottle-shaped vase with stopper called 'Variazione Christian Dior' from the year 1969, estimated at €5,000 – 6,000. The 'Opalino a fiamma' vase, 1957, is of similar rarity and has a tax of €4,000 – 5,000. A small-scale 'Intarsio' vase, designed in 1961-63, counts among the classics. With its luminescent colour combination of sky-blue and orange, it's on offer for €2,500 – 3000. Aficionados of Dino Martens, Flavio Poli and Anzolo Fuga will be finding special pieces in this auction as well.
---
Fulvio Bianconi was the star of the auction
As expected, Fulvio Bianconi was the star of the Murano auction. His 'Donna' vase in the shape of a female torso, taxed between €9,000 and 12,000, was sold to an US-American collector for €11,000. It is this 'Donna' vase that had been featured in the large 'Bianconi' retrospective at Stanze del Vetro in Venice last year.
A Munich-based Murano aficionado secured himself the cover lot for its lower tax of €8,000. This very early and rare vase with the famous 'Pezzato' pattern outdistanced two other vases of the same pattern, which had been knocked down at €2,200 and €3,600 respectively.
After a fervent bidding combat, an important German Murano collector got the upper hand at Ercole Barovier's 'Opalino a fiamma' vase for €8,000, it had been called up at €4,000. Barovier's 'Variazione Christian Dior' bottle, a later work from the year 1969, was secured by another German collector for its lower tax of €5,000.
Many other pieces by Barovier and works by Carlo Scarpa as well were in high demand with the international clientèle.
---