Auction 151C
Modern Art

25. June 2020 at 3:00 PM MEZ CET
---
Catalogue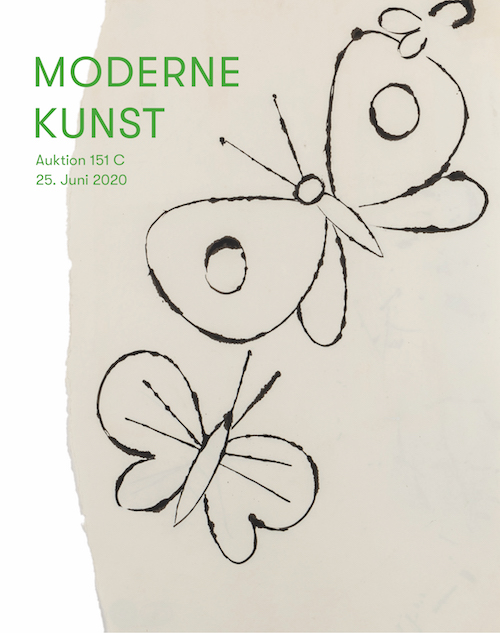 ---
With about 200 lots, the Half-Year-Season at Quittenbaum Art Auctions ends on June 25, 2020 with 'Modern Art' and 'Art after 1945'. Afterwards, selected African exhibits will be called up and a private library on the same theme will be set up.
At the heart of the auction is a wide range of 'Pop Art', an art genre that is particularly cultivated at Quittenbaum Art Auctions. Nearly 40 of these are by Andy Warhol, including two ink drawings from the artist's estate entitled 'Roses', probably made in the 1950s, and 'Butterfly' from the same period (valued at 6,000-7,000 and 5,000-6,000 euros). The Warhol offer is rounded off by hand-signed editions, test prints and Polaroids.
Seven lots in the Pop Art section are by Alex Katz (estimates from 1,800-2,000 euros to 20,000-25,000 euros). These include iconic silkscreens such as 'Grey Dress' and 'Grey Umbrella', as well as the fine pencil drawing 'Vincent' from 1984 with the provenance Pace Wildenstein New York.
Keith Hering is represented in the auction with remarkable positions from the Pop Art era of the 1980s. In 1985 he sent a drawing in acrylic on the lid of a puzzle box to the American artist, actress and former Andy Warhol superstar Brigid Berlin alias Brigid Polk. The original envelope from Keith Haring to the Warhol Muse, the second part of the puzzle box and two small stickers with motifs from his art also belong to this drawing (12,000-15,000 euros). The second lot by Keith Haring is a signed 'Hooded Sweatshirt' (5.000-6.000 Euro), the third was created in collaboration with Angel Ortiz (LA II) in the 1980s. It is entitled 'Dogs and Ufo' and measures 97.0 x 126.7 cm (10,000 - 12,000 euros).
Chinese Pop Art positions are in the program with lithographs by Yue Minjun and Zhang Xiaogang. Paintings, sculptures and editions by Roy Lichtenstein, Allen Jones, Jeff Koons, Mel Ramos, KAWS and Fritz Köthe round off the Pop Art offer. In the 'Classic Modernism' section, a colourful flower still life by Erich Deckel entitled 'Parrot Tulips' is of particular interest. The work, created in a mixed technique of watercolour, gouache and chalk on paper in 1922, has been confirmed by the Heckel estate in Hemmenhofen as an authentic work by the artist (15,000-20,000 euros).
---