Auction 163B
The T Collection. Curated by Michele De Lucchi
Design - Art - Objects from the property of Mieke and Jan Teunen
28. June 2022 at 5:00 PM MEZ CET
---
Catalogue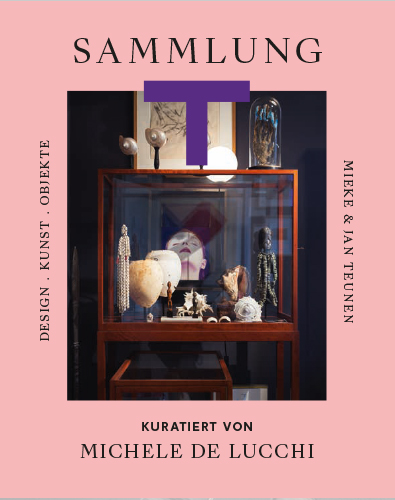 ---
163B Collection T. Curated by Michele De Lucchi. Design - art - objects from the property of Mieke and Jan Teunen.
We have the great pleasure to auction works of art and objects from the T collection on June 28th. The catalog, with an introduction by Michele De Lucchi about collecting, brings together 126 lots from the fields of Contemporary Art, Design, African Art and selected objects from a cabinet of wonders ("Kunstkammer"). Mieke and Jan Teunen started their collection more than 50 years ago with one work. Today, their home at Schloss Johannisberg resembles a richly filled treasury in which every object has a hidden meaning in the overall context of the collection structure. Works from different epochs, countries of origin and styles meet in these carefully curated rooms. In the synopsis of this creative diversity, they illustrate the values ​​of the T collection. It is about beauty, imagination, perception and communication, about culture in everyday life and uplifting of the soul through art.
Up for auction at Quittenbaum's are art editions issued by Danese, created by Bruno Munari and Enzo Mari, such as the 'Ogetto di autocomposizione autocondotta' (€2,000-3,000) from an edition of 50, to name just one. The objects are a reminder that, from 1988 on, the collector couple was responsible for marketing the wonderful Danese objects in Germany. Vase objects by the sculptor Anish Kapoor, who is currently showing his monumental works in two large exhibitions in Venice, are being offered for an estimated €2,000 - 2,500. Among the highlights of the offer are the works by the Italian architect Michele De Lucchi, including two of his wooden sculptures. Their archaic design language reminds of houses and towers (€ 8,000 - 9,000). Of great importance in the architect's oeuvre are the six original design drawings for the 'Festival Office' project (1995, € 25,000 - 30,000). Early on, De Lucchi addressed upgrading rational, impersonally designed offices with socially and culturally charged architectural elements with the aim of achieving a positive effect on employees' physical and mental health. For Festival Office he designed pavilions as retreats and spaces for communal celebrations.
"Kunstkammer" objects are classified by some rare anatomical models from the 19th and 20th centuries and works of contemporary art by Katharina Fritsch, sensitive ink drawings in the style of cave paintings by Hilarius Hofstede (€ 1,500 - 2,000), works on paper are grouped on themes such as the eye, phallus or brain by Berend Hoekstra (€ 2,400 - 3,200) as well as works by Helga and Helge Schmidhuber. Groups of works by Heinz Te Laake (kinetic clock images) and Roger Pfund (banknotes) offer insights into their artistic concepts.
Early-style furniture designs by George Nelson, Sori Yanagi, Robert Wilson and Gaetano Pesce bring out the main points. The African works, which were often acquired from the Simonis Gallery in Düsseldorf, are of outstanding provenance. A Baule Gbekre monkey figurine from the Ivory Coast enters the race with an estimate of €32,000 - 38,000. The Benin bird figure, on the other hand, comes from the former property of the sculptor Sir Jacob Epstein (1880-1959), who was acquainted with artists and collectors of African works of art such as Picasso and Brancusi at the beginning of the 20th century.
The catalog designed by the Fuenfwerken Design AG agency can be purchased by sending a message to buchhaltung@quittenbaum.de.
---