Auction 161C
International Design

23. February 2022 at 3:00 PM MESZ CEST
---
Catalogue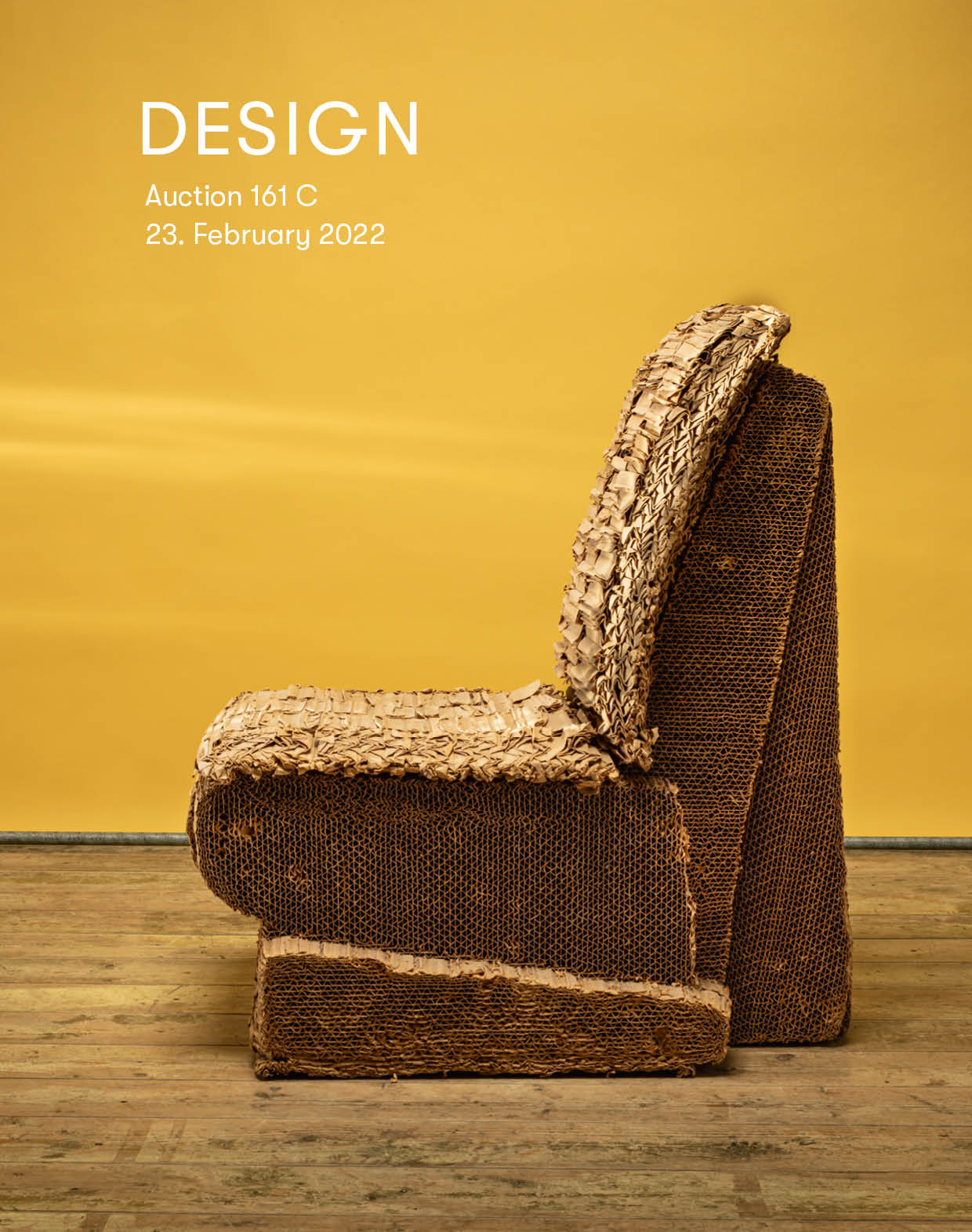 ---
Vive La France - Philippe Starck and Pierre Chapo inspire!
The international design auction brought sensational results for Philippe Starck. 84% of the 50 objects on offer, furniture, lighting, electrical appliances, sculptures and everyday objects were sold. Two pieces of small furniture brought forth the highest hammer prices: the surrealistic stool icon W.W. almost doubled its estimate to €3,800, while the classic 'Lola Mundo' folding chair was sold for €3,700, almost three times its estimate. However, the largest increases in price were seen in architectural models and utensils, all of which were sold; the 'Le Moult' model achieved more than five times its estimate and was sold for €2,600; the 'Picfeu' poker rose to more than ten times its estimate - € 2,200 hammer price, two 'Chab Wellington' coat hooks more than twenty times - € 2,500 hammer price.
The price for the 'L'Oeil' coffee table by carpenter/designer Pierre Chapo was also record-breaking; the hammer fell only at € 10,500 in favor of a French gallery. The two sofas (two/three seater) and two of Chapo's armchairs also sold at high prices: €1,300, €1,500 and €3,200 respectively. Two rugs from France also attracted attention: Eileen Gray's design 'Centimetre' rose in price well above its estimate at €2,600, while Andrée Putman's design from the 1980s received the same price.
Designs by Alvar Aalto, Hans J. Wegner and Egon Bro Pedersen were successful in Scandinavian design. Wegner's early 'AT33' sewing table from 1949 went to a German private household for €1,000, as did the typically Danish chest of drawers by Egon Bro Pedersen for €1,500. Aalto's famous cantilever chair '34' made of birch plywood with a striking zebra look can now be found in a Belgian household for a hammer price of €2,200.
The expanded metal chair 'SingSingSing' by Japanese designer Shiro Kuramata from 1985 also achieved an exciting result with a hammer price of € 2,700. Also designed in the 1980s, Masayuki Kurokawa's curved, mushroom-shaped 'Lavinia' table light is one of the most elegant lighting designs of the time; a collector from Belgium secured it for himself for more than double its estimate. A typical draft of the New German Design of the 1980s, the 'Solid' chair, made of concrete and reinforcing iron, was sold to an American collector for €2,500.
Jindrich Halabala's iconic 'H269' armchair group with ottoman from the 1930s/40s, instead, was sold to a Munich bidder for €6,000.
However, the highest price of the auction was received by the corrugated cardboard icon 'Skinny Beaver' by the world-famous architect Frank O. Gehry; Designed in 1979 with a focus on sustainability, the 'well-owned' chair went to an Italian private collection for €14,000, almost five times the estimate.
---