Auction 160B
Catchy Colors!
Art and Design from a German Private Collection
08. December 2021 at 3:00 PM MEZ CET
---
Catalogue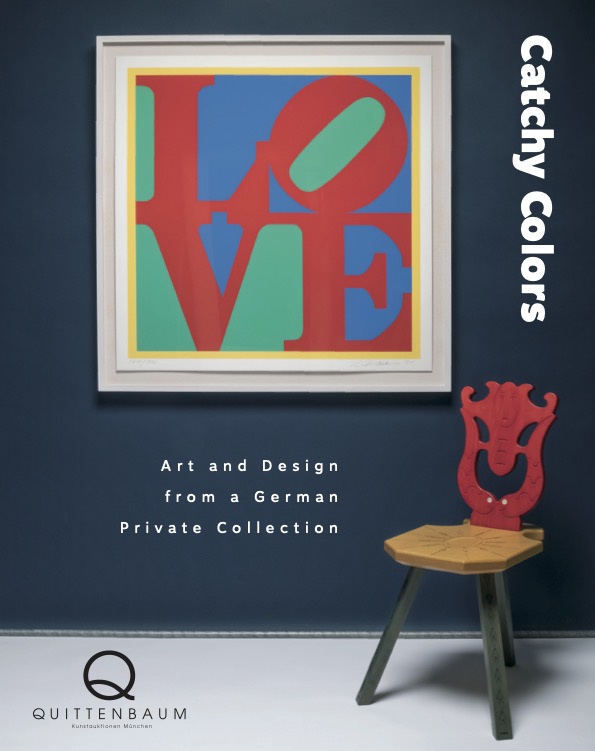 ---
Just under 300 lot number from the fields of design and modern art are on offer from a private collection.
Taking great pleasure in colors and innovative forms and materials, the couple from Lörrach furnished their home in the 1980s and 90s. The pleasure they took in outstanding designer creations and artistic positions was applied to all areas of life. From ties and kitchen appliances to furniture and art on the walls - every object had to be special.
For the most part, the collectors often secured early versions and special editions. For example, an armchair from Ron Arad's earliest production is part of the auction for € 20,000 - 30,000. It is one of the first five versions of the 'Pesce Italiano - Italian Fish' model from 1988, still made in London by Ron Arad and his team. A number of important works from the British design scene stem from designers such as Tom Dixon, Danny Lane, Mark Brazier-Jones and Ron Arad. Found objects are transformed into furniture, lamps or sculptures. Brazier-Jones' 'Lyra-Chair', from 1989, is on offer for € 2,500 - 3,000, Dany Lane's 'Etruscan Chair' from 1990 will be called up with an estimate of € 3,500 - 4,000 Tom Dixon's 'S-chair', from 2003, comes from a small series of 90 copies and is distinguished by the white leather printed with colored letters (€ 600-700).
Stefan Wewerka's 'Classroom Chair' from 1970/71 was also made by the artist himself. Further sculptural furniture, which rather follows the motto 'function follows form', forms an important focus of the collection: the seating object 'Capitello', made of foam by Studio 65 is valued at € 3,000 - 3,500. Both Shiro Kuramata's large-scale armchair made of a mesh-like construction (expanded metal) and Stiletto's 'Consumer's Rest', a cut-open shopping cart, offered at € 2,000 - 2,500, are artistic furniture designs.
For the design fan with a smaller budget, there are many exciting objects as well. You can find many classics from the program of Alessi designed by Ettore Sottsass or kitchen appliances by Borek Sipek, plastic objects by Walter Zeischegg or Enzo Mari for under € 200.
We are also pleased to offer you exciting works in the field of modern art. The two oil paintings by the Indian artist Sohan Qadri from the late 1960s are estimated at € 10,000 - 14,000 and € 2,800 - 4,000.
Also on offer are colorful and exhilarating Pop Art works from this particular collection. One of the highlights is Robert Indiana's 'Heliotherapy Love', which we estimate at € 10,000 - 14,000. The iconic lettering LOVE - available at our house as a color serigraph from 1995 - became the artist's signature. We also offer two works by Indiana from 'The Hartley-Elegies: the Berlin-Series', each at an estimate of € 1,100 - 1,300. The imposing work 'Summertime' by Werner Berges is estimated at € 3,300 - 3,800. The twelve steel plates show a colorful beach scene and transform with their dimensions of over 2 x 3.5 m a large wall surface into an incomparable eye-catcher.
In addition to large-formatted prints by Indiana, Lichtenstein, Calder, Rosenquist, Bach and many more, the complete portfolio '1¢ Life' by Walasse Ting comes under the hammer. It is estimated at € 1,200 - 1,500. Other individual sheets from the portfolio were framed and can already be purchased from estimated prices of € 150 - 250. You can also look forward to numerous sheets of the 'Hommage à Picasso' series, that were created by a wide variety of artists and can make art enthusiasts with smaller wallets happy.
---