Auction 151A
Bauhaus 101 and the Florian Hufnagl Collection

23. June 2020 at 3:00 PM MEZ CET
---
Catalogue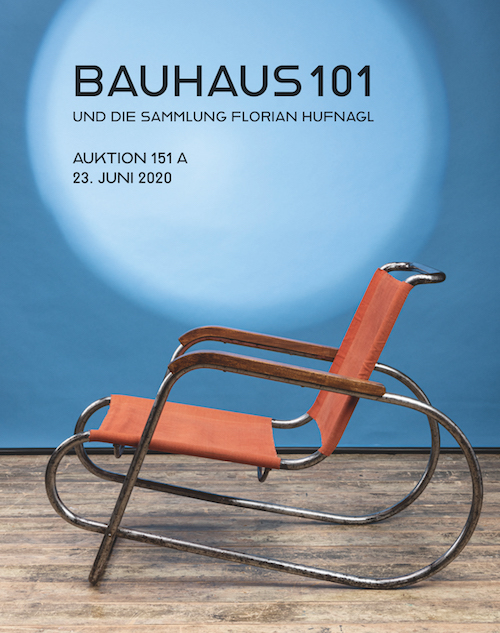 ---
The 100th anniversary of the Bauhaus put many important works on the art market. One year later, world-famous designs are still offered in our auction 'Bauhaus 101'.
We will start on the first auction day, 23 June, with a row of armchairs made by the Vereinigte Werkstätten München. The 'Haus Bocks' armchair, designed by Bruno Paul around 1904/05, is one of the highlights of this auction with its high quality finish in oak and black leather (estimated price 5.500 - 7.500 €). It is followed by four armchairs 'Haus W. Otto' by Richard Riemerschmid from 1898, each of which will be called up individually for an estimated € 3,800 - 5,000.
Straightforward designs and functional simplicity are characteristic features of the two armchairs by Erich Dieckmann that are particularly exciting highlights of this auction. True classics of German tubular furniture, the models '8219' (estimated price 8.000 - 12.000 €) and '8239' (estimated price 12.000 - 18.000 €) were designed in 1931 and manufactured by Cebaso, Ohrdruf. Both armchairs are reupholstered with copper-coloured iron yarn from that period. Another highlight is a table designed by Dieckmann, which can be used as smoking, tea or reading table. This rare table was made of mahogany at the Weimar Bauhochschule; later, it belonged to the property of a former student of the Bauhaus Dessau and is now on offer for an estimated 8,000 - 12,000 €.
*Lighting objects by the lighting artist Ingo Maurer, who passed away in 2019, will also be offered in the auction.** Models such as 'Iló Ilú' (estimated price 300 - 450 €), 'Eclipse Ellipse' (estimated price 1.000 - 1.300 €) or 'Uchiwa III' (estimated price 600 - 800 €) play with shadow effects and create an unforgettable impression of delicate, fragile light.
In the second part of this June auction, we present high-quality design objects and works of art from the private collection of Professor Florian Hufnagl, the director of the Neue Sammlung in Munich from 1990 to 2014, who passed away in 2019 at the age of 71. The offer brings to light the perfectly thought-out arrangement of his Munich residence, whose atmosphere was dominated by design classics such as Marcel Breuer's 'Wassily' armchair (estimated price 400 - 600 €) or side tables such as 'E-97' (estimated price 350 - 500 €) and 'E-1027' (estimated price 350 - 500 €) by Eileen Gray. Florian Hufnagl also had an affectionate look on the quieter objects of applied arts such as the two small wooden vessels by Ernst Gamperl from 2014 (estimated price 1.000 - 2.000 €). Among his favourite designers was Konstantin Grcic, who is represented with three colourful side tables 'DIANA A', 'DIANA C' and 'DIANA F' (estimated price 250 - 350 € each).
---