Auction 142B
Important Artists' Jewelry of the 20th Century - two Private Collections

12. December 2018 at 5:00 PM MEZ CET
---
Catalogue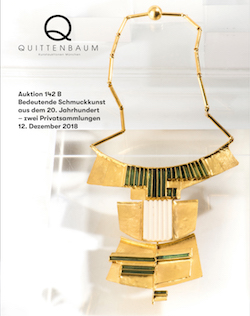 ---
Important Artists' Jewelry of the 20th Century - two Private Collections
This year, we will hold the first auction dedicated especially to Jewelry of the 20th century. The works of Dusseldorf-based goldsmith Friedrich Becker, from the collection of the late Ellen Sauter, had met with huge interest last year already, and received record prices. The offer, comprising 155 lots that will come up for auction on 12 December, unites many important names and excellent works of art. Not only one, but two private collections were offered to us, thus presenting a cross section of 100 years of jewelry.
Humanity has adorned itself for centuries, but it was the 20th century when jewelry design gained a lot in importance. It is a point of intersection between Fine Art and Applied Art, uniting Design, Architecture, Painting, Sculpture and Conceptual Art. The goldsmith acts as a crafter and an artist. The works are their brainchild, they use gold, silver, other precious metals and many other materials freely, experimenting with concepts and shapes. Brooches look like tiny sculptures, the kinetic art of the 1960's shows clearly in some of the works, painterly effects or minimalistic tendencies, belong into the broad range of the design that made history in the goldsmithery of the last century. The auction offers the high-quality results of this high-contrast and exciting development.
A German Private Collection
All in all, 42 objects by award-winning gold- and silversmiths are present. They are of great importance for the development of the modern-day jewelry design and artist jewelry in Germany. The collector, who chose the works with the utmost care, acquired all but a few pieces directly from the artists themselves. Among the highlights of the offer are works by Hermann Jünger and Klaus Ullrich. Othmar Zschaler, Ebbe Weiss-Weingart and Jens Rüdiger Lorenzen are among the other important personalities that influenced the German artist jewelry design.
The Belgian Private Collection
The second collection comprises 84 lots and includes divers works by international designers and artists. For example jewelry by Arnaldo Pomodoro, Line Vautrin and Swedish designer Vivianna Torun Bülow-Hübe, whose designs were made by the Georg Jensen firm. The collection reflects the broad aesthetic sense of the two collectors. Next to elegant necklaces, bracelets and rings that adorn their wearer on an every day basis, unusual, extremely artistic works of art with a more object-like character can be found as well.
The two collections are completed with 29 other high-quality works from different provenances.
---