Auction 140B
Auction Italian Design

09. October 2018 at 5:00 PM MEZ CET
---
Catalogue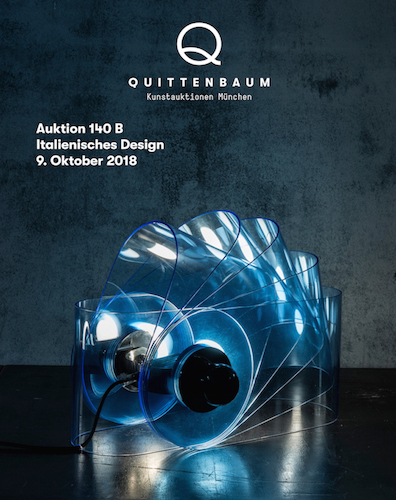 ---
Italian Design
Italian design still in high demand! Artists, fashion designers, art- and design galleries, architects, interior designers and last but not least collectors stocked up and secured design trophys for themselves during our second design auction on october 9. Especially the designs by established and world reknown architects and designers were in high demand.
Osvaldo Borsani's well exhibited designs reached solid prices. The famous 'D70' sofabed went to a french collection for € 2.850, the beautiful pair of 'canada loungers' went way above the estimate and sold for € 6.800 to a reknown collection in Switzerland.
The same collection also secured the utmost elegant Ico Parisi pair of armchairs in mauve velvet for € 6.800.
Vittorio Vigano's very rare, monolitic floorlight '1078' and gino sarfatti's spectacular ceiling light '2121' sold well above the estimates, to the Parisian trade for € 3.200 and € 5.200 respectively.
A french collector bid up two other, radical light designs, by Superstudio; the Passiflora (€ 2.500) and Gherpe (€4.600) table lights will now enrich his collection.
Still a continued success are the designs by Piero Fornasetti. More than 25 of his highly valued designs changed hands. Two mirrors 'Specchio con bolle' and Specchio bombato' found a new home in Munich for € 3.500; his wall mirror 'Gioielli' was purchased by a reknown italian-english gallery for € 2.000. The highlight, however, was his table 'corona di fiori' that got bid up to € 7.800 by the english trade.
Many of the powerful Memphis designs by Nathalie du Pasquier, Michele de Lucchi, Marco Zanuso, Marco Zanini, Thomas Bley, Martine Bedin and of course Ettore Sottsass, on offer within the price range of € 200 - € 8.000 sold very well. E. Sottsass' iconic 'Carlton' shelf sold well above estimate for just below € 13.000, the early 'Parklane' table more than doubled it's lower estimate and went to a german private collection for € 7.800; the same collector also acquired, after a fierce bidding battle, the corner shelf 'Cantone' for € 4.000.
Unsold Italian design items will be on offer in our aftersale until November 9, 2018.
---