Auction 136C
The Ellen Sauter Collection

13. December 2017 at 5:00 PM MESZ CEST
---
Catalogue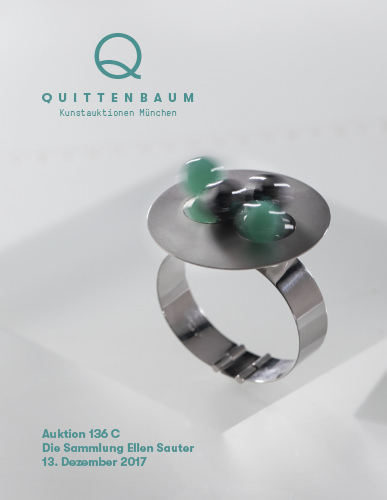 ---
With the Benefit auction 'Collection Ellen Sauter' the year culminated in a gross proceeds of more than €355,000. 
Right from the start, entrepreneur Ellen Sauter's comprehensive and rare collection of works by Düsseldorf-based goldsmith Friedrich Becker caused quite a stir, correspondingly, the demand was high during the auction. The kinetic jewellery of the exceptional artist received record prices. Especially the cover lot. An afficionado offered €33,670 for the sophisticated kinetic bracelet with rotating balls - a chrysoprase and a hematite - more than five times its estimate. The mobile pieces of jewellery motivated many bidders on the floor, on the phone lines and online. The kinetic ring of white gold, as well as another specimen of stainless steel with red spinel, reached over €22,000 each. Even the large-formatted designs of Becker scored a hit. A kinetic wall object found a new owner for €12,950. 
All but a few items by the artist were sold. 
The auction continued with a selection of Art Nouveau vases, to the delight of quite a few collectors. The wonderful 'Pavots noirs' Martelé vase by Henri Bergé increased its price to €16,835.
Purchase unsold lots in our post auction sale until 12 January 2018. 
---