Auction 136A
Schools of Design

12. December 2017 at 3:00 PM MEZ CET
---
Catalogue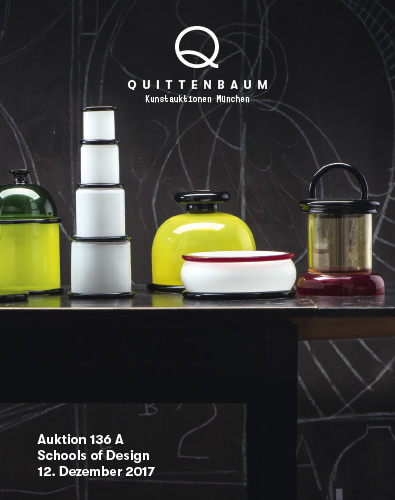 ---
From Henry van de Velde to Ettore Sottsass
Thanks to high-quality consignments, this year's highlight auction, under the title 'Schools of Design' for the third time, was a huge success. Gross proceeds of €400,000 and a sales quota of 50% per lots and 70% per value are very pleasant.
The offer comprised everything from early German design of the turn of the last century, the Avantgarde of the 1920s, the international creative centers of the Postwar-era, Post-modernism and Radical Design up to the protagonists of Contemporary Design. 
Once more, Henry van de Velde was the star of the auction. Three pairs of chained buttons (estimate together €3,000 - 3,600) received a little over €17,000, two of the master's ceiling lights were sold to a West German private collection for €26,000. A cakeplate, designed by Karl Müller at Burg Giebichenstein, went for €8,500, after being fought over in a fervent bid war that started at €1,500. Flemming Lassen's armchair is a good example of how en vogue Scandinavian Design still is, it changed hands for €15,500. 
Next to numerous international exhibitions in the event of Ettore Sottsass' 100 birthday, we as well were able to enhance his appreciation with an ample and exquisite offer of his designs. His 'Carlton' shelf will be part of a German collection for €15,500 and his 'Bastonio' dresser from the year 1963 went to France for €14,250. A series of 9 glassworks for Vistosi, 1974, were estimated at €9,000 and went for about €26,500 into different collections all over the world. 
Purchase unsold lots in our post auction sale until 12 January 2018. 
---