Auction 136A
Schools of Design

12. December 2017 at 3:00 PM MEZ CET
---
Catalogue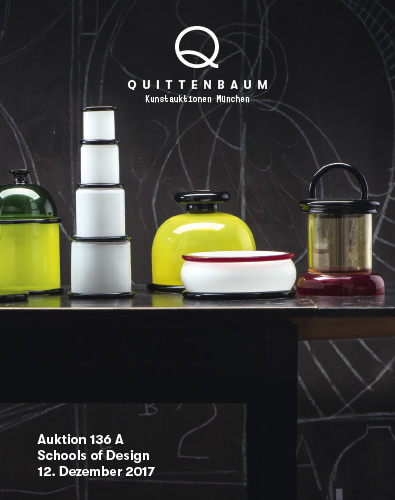 ---
Once again, this year's highlight auction with the title 'Schools of Design' guides through the Design history of the 20th century with around 200 lots on offer.
Two ceiling lights by Henry van de Velde stem from the estate of Curt Herrmann, impressionist painter and founding member of the Berlin Secession, each being estimated at €12,000 – 15,000. In both designs, from 1905/06 respectively 1911, brass meets matted glass, a simple but nevertheless elegant combination. Adolf Loos is among the pioneers of Modern Design. He found the 'Knieschwimmer' lounge chair by Hampton & Sons (c1906, €14,000 – 18,000) to be so comfortable that he used to use it in several of his interiors.
Two of the Greats of Design can celebrate their jubilee in 2017: 100 years of Ettore Sottsass and 150 years of Frank Lloyd Wright.
About 30 lots of the Italian designer Ettore Sottsass will be called up, for example furniture and lighting design, glassworks and ceramics. The 'Moonlight' floor lamp (€4,500 – 5,000), from the year 1970, is among the rather simple designs of the 'Anti-Design' representative whereas colorful vessels, like the 'Diodata' vase (€1,200 – 2,000) for Vistosi, bear witness to his sense of bold combinations of color and shape.
US-American architect Frank Lloyd Wright, famous for his 'Fallingwater' mansion, is present with two folding benches from the 'Unitarian Meeting House' (€3,500 – 4,000).
Among the highlights of the Scandinavian Design section is Hans Wegner's 'Mama Bear' – 'AP 27' lounge chair from the year 1954 (€8,000 – 12,000) and some lovely pieces of furniture by Finnish designer Ilmari Tapiovaara (1914-1999), designed in the middle of the 1950s for the interiors of the Rauma Repola mansion. Ilmari Tapiovaara is among the pioneers of modern Scandinavian design and is seen as a link between Europe and the USA in the Design History of the 20th century. He used to work in the offices of Alvar Aalto and Le Corbusier and, in the 1950s, became a visiting professor at Illinois Institute of Technology in Chicago, where he socialized with Ludwig Mies van der Rohe.
Furniture from the original interior of an apartment at the Unité d'habitation de Marseille is among the classics of the offer, as well as a wall shelf by Charlotte Perriand, c1952-55 (€9,000 – 12,000).
Beautiful lighting design rounds out the exquisite offer with designs by Oscar Torlasco, Angelo Lelli, Josef Frank, Paavo Tynell and Paolo Venini.  
---
From Henry van de Velde to Ettore Sottsass
Thanks to high-quality consignments, this year's highlight auction, under the title 'Schools of Design' for the third time, was a huge success. Gross proceeds of €400,000 and a sales quota of 50% per lots and 70% per value are very pleasant.
The offer comprised everything from early German design of the turn of the last century, the Avantgarde of the 1920s, the international creative centers of the Postwar-era, Post-modernism and Radical Design up to the protagonists of Contemporary Design. 
Once more, Henry van de Velde was the star of the auction. Three pairs of chained buttons (estimate together €3,000 - 3,600) received a little over €17,000, two of the master's ceiling lights were sold to a West German private collection for €26,000. A cakeplate, designed by Karl Müller at Burg Giebichenstein, went for €8,500, after being fought over in a fervent bid war that started at €1,500. Flemming Lassen's armchair is a good example of how en vogue Scandinavian Design still is, it changed hands for €15,500. 
Next to numerous international exhibitions in the event of Ettore Sottsass' 100 birthday, we as well were able to enhance his appreciation with an ample and exquisite offer of his designs. His 'Carlton' shelf will be part of a German collection for €15,500 and his 'Bastonio' dresser from the year 1963 went to France for €14,250. A series of 9 glassworks for Vistosi, 1974, were estimated at €9,000 and went for about €26,500 into different collections all over the world. 
Purchase unsold lots in our post auction sale until 12 January 2018. 
---