Auction 169D
Studio Jewelry & Art Jewelry

29. June 2023 at 3:00 PM MEZ CET
---
Catalogue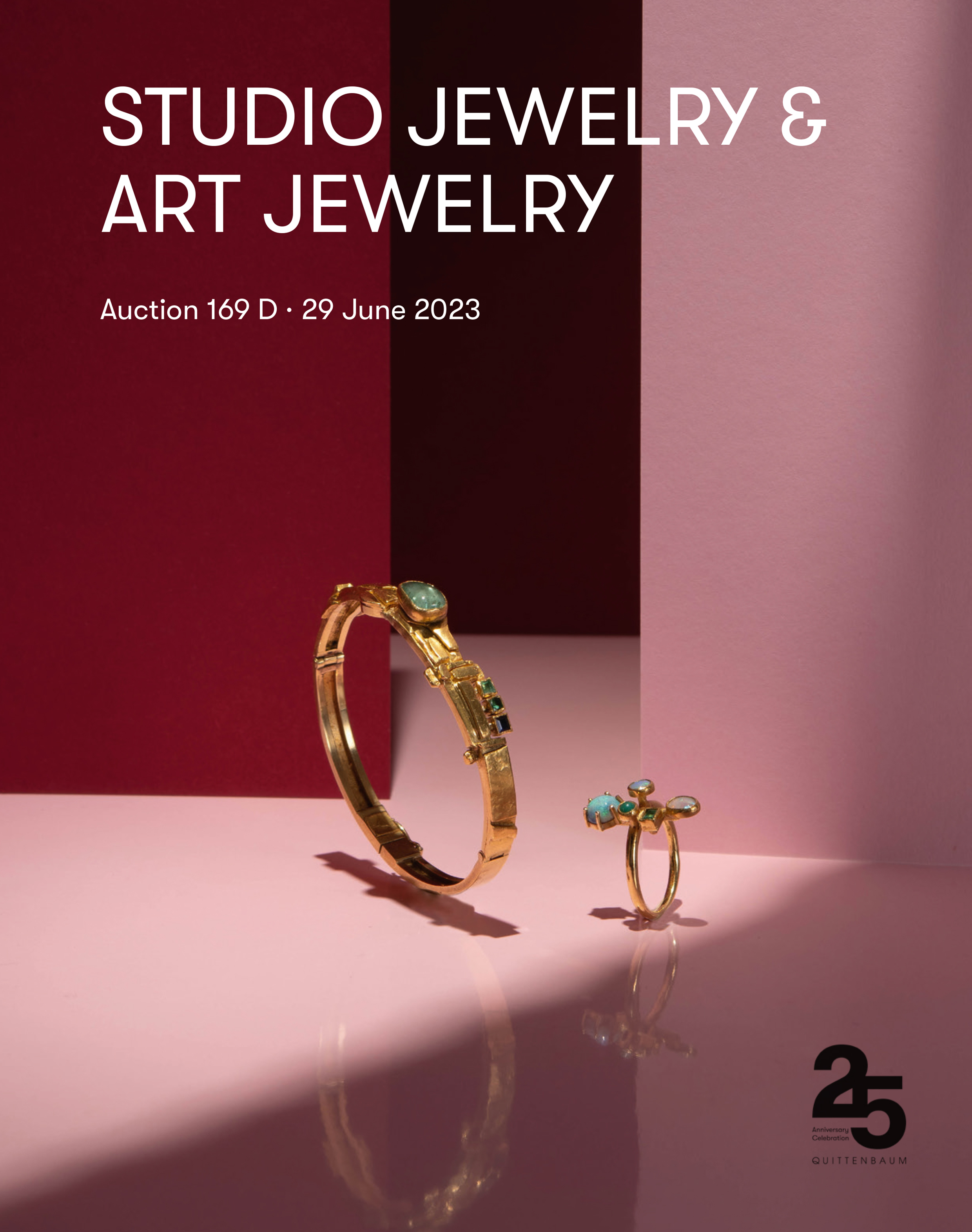 ---
For over five years now, we have been dedicating separate auctions to the domain of 'Studio Jewelry & Art Jewelry' and are pleased to present again in June a fantastic selection of significant pieces of jewelry.
His work is a symbol for the 'unity of thinking and doing' - Prof. Hermann Jünger's innovative jewelry creation, spanning over 50 years, was not only groundbreaking for the vibrant jewelry center Munich. His works are represented in international jewelry collections and museums. All the more we are pleased to offer no less than ten works by the 'pioneer of author's jewelry' in our auction. Most of the pieces come from a private collection in Northern Germany and were purchased directly from the artist in the 1960s and 70s. Especially the two necklaces are representative for the artist's intuitive and virtuosic compositions. They still trigger an irresistible fascination in many viewers. Hermann Jünger's work and his teaching at the 'Akademie der Bildenden Künste' in Munich reached far beyond the borders of Germany and had a significant influence on international jewelry artists.
If you focus on the jewelry cities of Germany, you must not miss Pforzheim. Prof. Klaus Ullrich taught here for more than 30 years at the 'Kunst- und Werkschule'. Eight works by the jewelry maker are represented in the auction. Some pieces were on display in the solo exhibition of the Pforzheim Jewelry Museum in 1992, including the stately gold necklace from 1967.
Since 1973, the Cleto Munari brand has stood for high-quality editions of a wide variety of design objects, created in close collaboration with international architects, designers and artists. In addition to such areas as glass, ceramics, carpets or furniture, Munari's inspiration has found its most perfect expression in the metier of jewelry. To this day, the designer and design and art publisher also creates innovative jewelry pieces himself with great passion and curiosity. The seven top-class pieces of jewelry in the auction are impressive proof of this.
It doesn't always have to be gold. We dedicate one chapter of the catalog to a feather-light metal - aluminum. In 1991, a wonderfully illustrated collection of essays was published under the name 'Aluminium - das Metall der Moderne' to accompany the trilogy of exhibitions at the museums in Cologne, Neuss and Engelskirchen. Two years earlier, the Düsseldorf Gallery for Design UND Design Education launched a series of exhibitions that focused on contemporary aluminum jewelry. The pieces of jewelry offered here are from the exhibitions of 1989 and 1991 and show only a small part of the fascinating variance of the material. Let yourself be carried away by the versatile 'metal of modernity'.
All works can be seen from 22 June as part of our preview.
---