Auction 160D
Studio Jewelry

09. December 2021 at 5:00 PM MEZ CET
---
Catalogue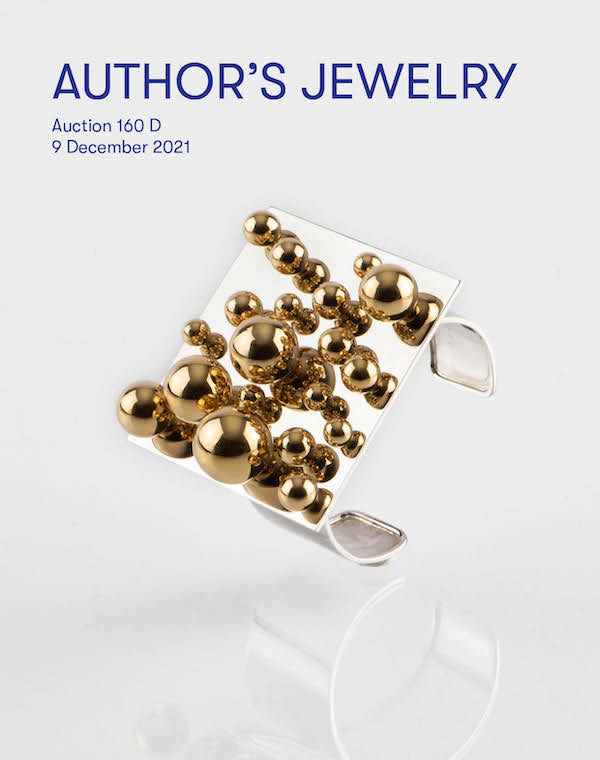 ---
The semi-annual 'Author's Jewelry' Auction in December holds a diverse range of work for both novice and connoisseur alike.
Among the highlights of our auction are three pieces of kinetic jewelry by Pol Bury. What is special about his works is that they are set in motion by their wearer. They do unfold their perfect effect only in dialogue with the human body.
Great artists such as Yoko Ono and Yves Klein are also represented in the auction. Their jewelry works make it possible to wear small works of art in everyday life. Yoko Ono's 'Box of smile', which we offer on the same day in the auction 'Modern Art', can thus be purchased during the evening both as an art object and as a ring. Hidden inside the open box is a mirror that encourages the viewer to smile back at themselves. The work was conceived as a multiple and realized in a wide variety of materials until it finally became a piece of jewelry worked in white gold. Equally significant in this sense is the brooch 'Photography' by Valerio Adami. It shows in a very graphic way how Pop Art can be realized in silver and gold.
The works of Gerd Rothmann also leave a lasting impression. We can present three pieces of jewelry by the Munich goldsmith, in which the 'imprint' of the human finger becomes the main aesthetic and content-related component of the filigree works.
Due to the variety of materials, ranging from paper to precious metals and felt, everyone will find his individual favorite piece in the auction.
You can experience all objects for yourself from December 02 to 06, 2021 during our preview.
---