Auction 157D
Studio Jewelry with selected works of the Hermann Jünger Collection

01. July 2021 at 6:00 PM MEZ CET
---
Catalogue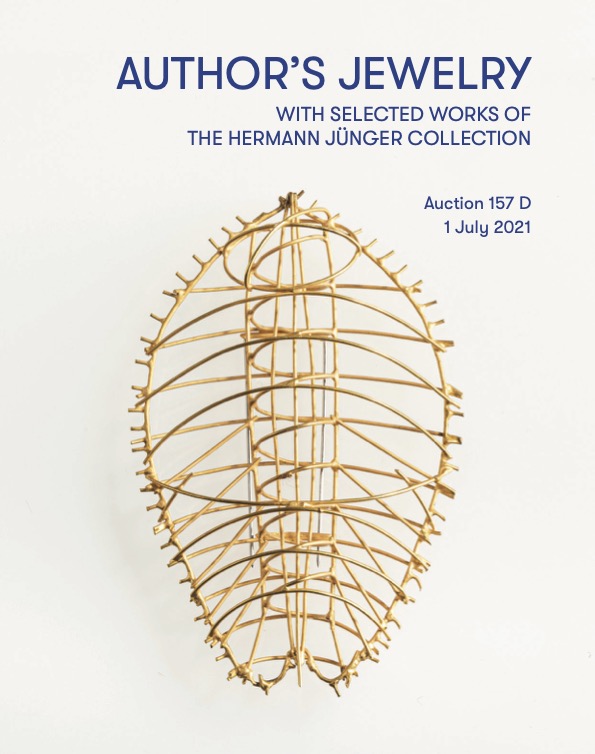 ---
The two auctions 'Authors' Jewelry' and 'Jewelry and objects of vertu' on July 1 offered a nice selection for collectors and enthusiasts.
Graphic and kinetic works by Giampaolo Babetto and Pol Bury were particularly sought after. Babetto's high-contrast brooch in yellow gold with blue pigment almost doubled its starting price and was knocked down for EUR 6,000.
Among the highlights of the evening was the unique brooch/pendant by Gío Pomodoro, which was sold for EUR 15,000. Arman's jewelry pieces were also in high demand among bidders and were all sold. The highest hammer price was achieved by the abstract brooch 'Velo mauve' at 7.200 EUR.
Organic forms, such as the ginger objects by Sam tho Duong or the gentian flower by David Bielander also attracted bidders. The small caterpillar brooch by Vhernier, a very charming piece, changed hands for 5.000 EUR.
Unsold objects will be offered in the post auction sale until August 6.
---