Auction 162A
Lalique only

10. May 2022 at 3:00 PM MEZ CET
---
Catalogue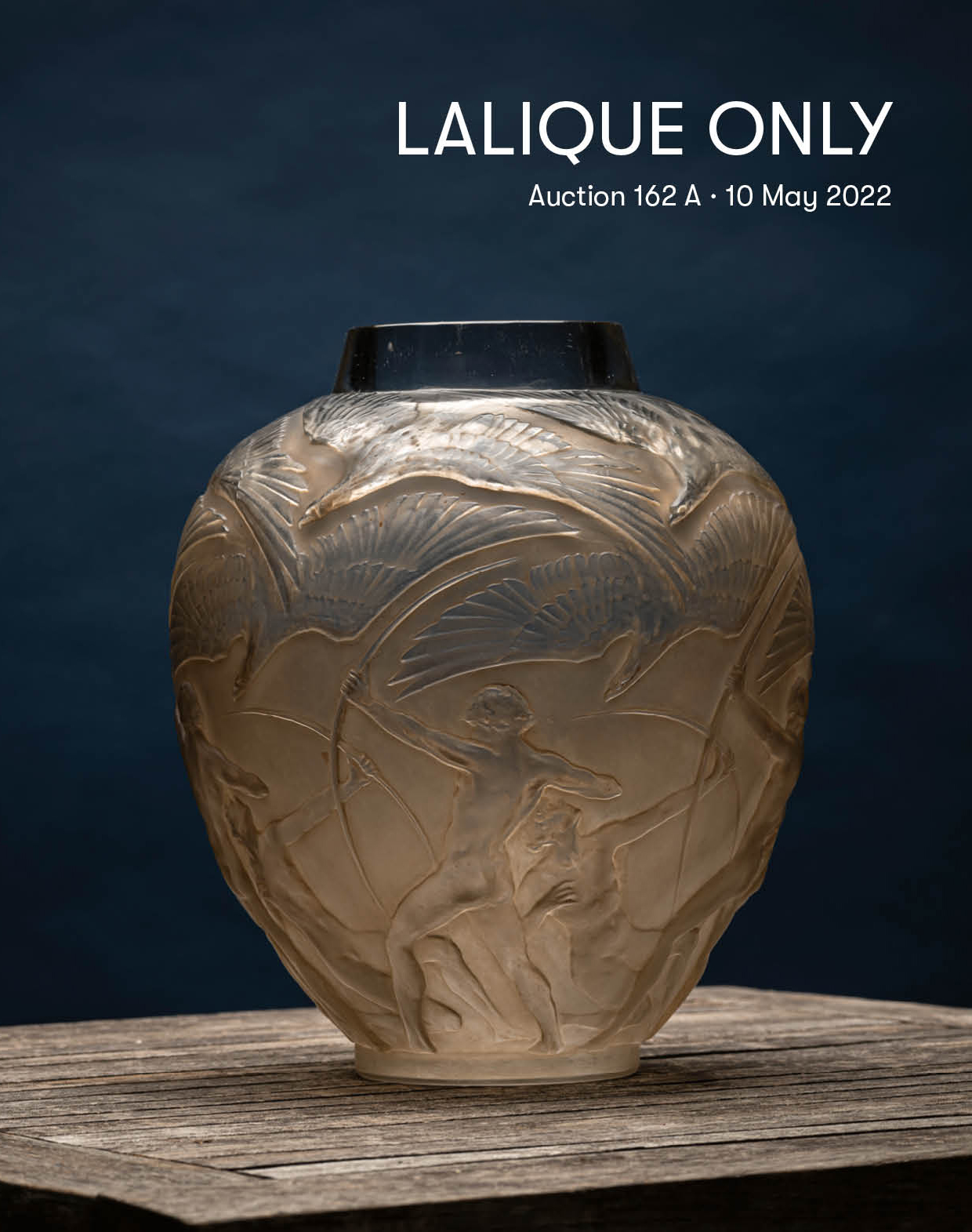 ---
We were very happy to receive such a lively response for our top-class offer from the Art Nouveau and Art Deco periods at the beginning of May.
On the first day of the auction, almost half of the small but fine selection of works by the glass manufacturer René Lalique was sold, with most lots confirming their estimates.
Traditionally, French glass led the offer in the main catalog on Tuesday. Here some positions were fiercely fought over. A rare 'Campanules' vase from 1910 by Daum Frères went to a Japanese collection for EUR 6,000 (lot 109) after a fervent battle. It was called up at EUR 2,500. An important 'Oiseaux' table light by Ernest-Marius Sabino was valued at EUR 800 and sold for EUR 3,300. It is now going to Belgium (Lot 196). A very rare ceiling light by Johann Loetz Wwe., 1901, was also extremely popular, climbing from EUR 2,500 to EUR 4,200 (lot 236). It will remain in the Munich area. The highlight of the auction, however, was a beautifully preserved 'Dragonfly' table light by Louis C. Tiffany. Having been part of a German private collection for decades, it will now return to the USA for a hammer price of EUR 45,000 (lot 277).
On Wednesday, bronze figures and furniture dominated the event. Roland Paris' rare figurine 'Satanella' features a young, masked dancer overshadowed by an oversized Mephisto figure. It fascinated a Swiss customer so much that he immediately approved EUR 15,500 for the sculpture, which had been called up for EUR 2,000 (Lot 303). Works by Austrian Bruno Zach are in constant demand. His large female figure with a riding crop went to the same collection for the nice sum of EUR 22,000 (lot 313). The interest in pieces of furniture from France was particularly pleasing. More than half of Emile Gallé's furniture was sold. The extremely rare 'Libellules' coffee table from 1900 particularly stood out. The elaborately crafted and inlaid table with dragonflies as legs came from a German private collection and is now being sold to another collection for EUR 28,000 (lot 325). The 'Sagittaires' table, designed by Louis Majorelle for the Salon des Industries du Mobiliar in Paris in 1905, had never been seen on the market. A German collector secured the extraordinary piece for EUR 70,000 for themselves (lot 336). The two claddings for central heating systems by Edgar Brandt, which were not yet available as standard in the 1920s, also board from EUR 8,000 to EUR 23,000 (Lot 321).
Secure one of the extraordinary pieces now! The after sale for the auctions ends on June 11, 2022.
---