Auction 159B
Art Nouveau - Art Deco Part I

16. November 2021 at 4:00 PM MEZ CET
---
Catalogue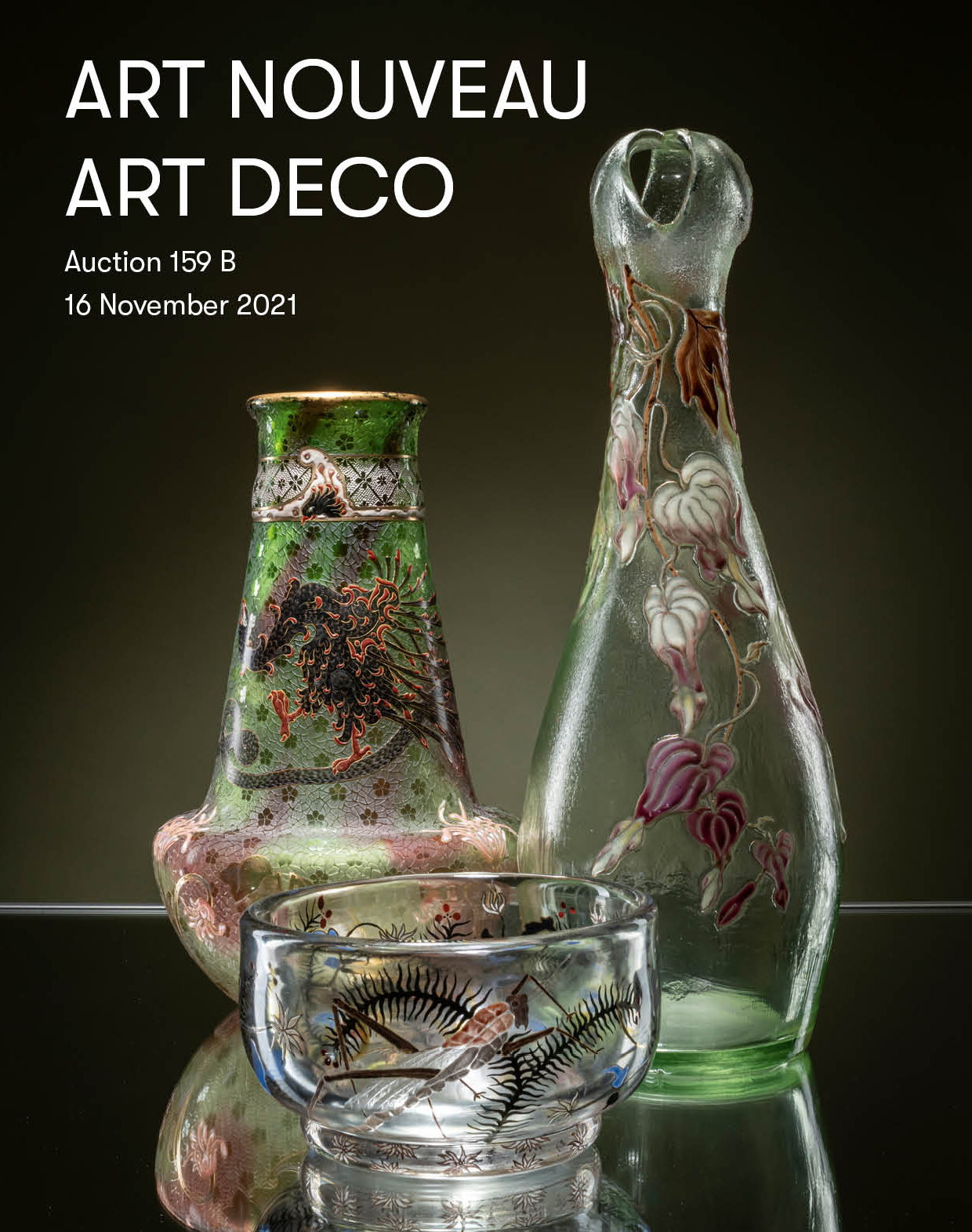 ---
Once again, we at Quittenbaum have managed to bring together quite a lot of top-class glass objects in one place. As always, works from France dominate the offer.
The collection of Pâte de Verre objects alone comprises 22 lots. These include works by Gabriel Argy-Rousseau, Henri Cros and of course Amalric Walter, who, most of the time teamed-up with Henri Bergé, created the most beautiful figurative objects, be it paperweights or bowls, such as the vide-poches 'Poissons rouge', around 1925. The oval, slightly troughed bowl has two goldfish nestled together as a handle. An aficionado should be found for EUR 1,500 - 2,500.
Two objects by the Daum brothers stand out in particular: On the one hand, there is a rare 'Cobra' table light, which was created around 1920-26 in collaboration with the well-known blacksmith Edgar Brandt. The erected snake with its open mouth carries the bell-shaped lampshade on its back. The etched shade is quite restrained with only a slight patina and leaves the focus completely on the figurative foot. The table light is estimated between EUR 12,000 and 16,000.
We are particularly pleased to offer you a very rare 'Dragon et Phénix' vase. It is dated July 27, 1899. The two-tone, etched, vase has an elaborate enamel decoration. A well-known motif from Chinese mythology is shown, in which the - male connotated - dragon dances with the - female connoted - phoenix. Both together are considered soul mates, their devotion and love for each other make them the strongest of all beings. Iconography and dating strongly suggest that the vase must have been a wedding gift. A happy customer can now purchase it for EUR 20,000 - 30,000.
Émile Gallé's 'Ancolies' vase from 1902 is just as rare and beautiful. The vase in the form of a columbine flower with four applied, rolled glass leaves is decorated with additional columbine flowers and leaves on its wall, elaborately designed with Marqueterie de verre. It is also estimated at EUR 20,000 - 30,000.
The glass chapter is rounded off with works from Austria and Germany.
---