Auction 156D
Nature and dance extravaganza - a private collection
Figurative ceramics and glass
10. June 2021 at 3:00 PM MEZ CET
---
Catalogue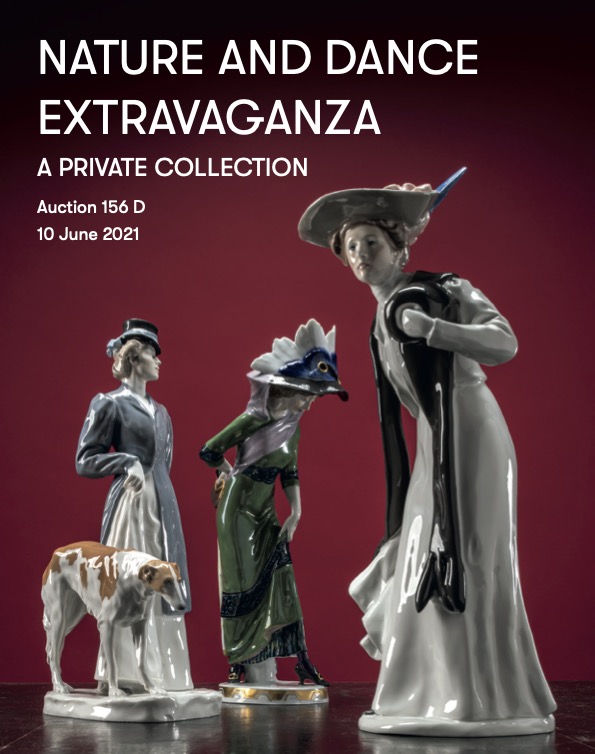 ---
The auction week ended with a sensational success. More than three quarters of the private collection 'Extravagance in Nature and Dance' could be sold with considerable price increases.
The chapter of 30 glasses from the collection could be sold completely, even exceeding the estimated prices. Emile Gallé's 'Narcisses' vase from 1902-04 brought the biggest increase from EUR 700 to EUR 1,700 and was immediately given to the lucky winner on the floor (lot 680).
The objects by Austrian Eduard Klablena experienced the highest price increase among the ceramic figurines, all six female figurines of his passed to new owners. The 'fashion lady' from 1913 was fought over relentlessly and thus her price increased from EUR 600 to EUR 6,700 (lot 839).
The interest in the works of KPM Meissen and in the lively dancers of the Viennese manufacture Friedrich Goldscheider had already been very high in advance, the trend continued during the auction: With Meissen, it was the 'Lady in a Riding Costume with Greyhound' by Rudolf Hentschel and Alfred König's 'Lady with Umbrella' - impressive with her large, imaginative hat - who rose after eager bidding battles from EUR 1,200 to EUR 4,200 each (lots 741, 742) . An unusual mantel clock 'clock case with girl as future, two children as day and night', 1901-04, was also hotly contested, and went for EUR 5,000 into a German private collection. Regarding Goldscheider, it was Paul Philippe's 'Dancer in a Feather Costume', which increased from EUR 1,500 to EUR 4,000, and Stephan Dakon's 'Turtle Doves', for which two of the Dolly Sisters acted as models. Called up at EUR 1,500, the hammer only fell at EUR 4,900.
---