Auction 156D
Nature and dance extravaganza - a private collection
Figurative ceramics and glass
10. June 2021 at 3:00 PM
---
Catalogue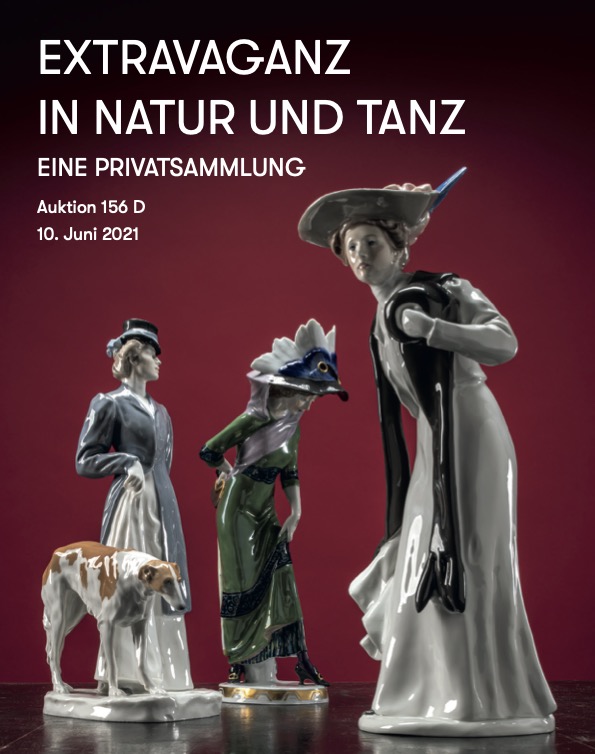 ---
Pre auction report
Thursday has a wonderful private collection in store.
Having offered you the first part of an exquisite private collection of ceramics and porcelain figurines in November last year, which focussed on the ladies of the Wiener Werkstätte, we are now pleased to present the second part of the collection in its own separate catalogue.
Over the years, the collector had lovingly brought together human and bird figurines from a wide variety of manufacturers, even if his main focus lay on the works of the traditional Royal Porcelain Manufactroy Meissen and the Viennese manufacture Friedrich Goldscheider. The manufacturer was known worldwide especially in the twenties and thirties of the 20th century, with its contemporary popular figures. The collection spans over a period of between the middle of the 19th century and the outbreak of the Second World War, the aficionado had to resort only sometimes to include new versions of important designs to complete his collection.
Two examples of the famous 'Paduan Rooster' stand out among the bird figurines. Designed by Ernst August Leuteritz after JJ Kaendler in 1854, the darker version was made before 1924 at the Meissen manufactory, the light rooster probably in 1936. Both figurines, with a height of 76 and 78 cm respectively, are estimated at EUR 12,000 - 16,000.
'The morning', a young lady dressed only in a cloth as Aurora, goddess of dawn, is a typical example of the manufactory's porcelain figurines of the last third of the 19th century (estimate EUR 1,400 - 1,800). The very expressive figurines 'Spanish dancer' and 'Spaniard with lute', which Paul Scheurich designed for Meissen in 1933, stand in stark contrast to it. Both figurines, each executed in 1995, can be purchased for EUR 800 - 1,200 each.
The Friedrich Goldscheider company in Vienna was founded in 1885. After the death of their father Friedrich, the brothers Marcell and Walter took over the company. Early on, they invited freelance sculptors and artists to contribute with designs, which were then mostly made of earthenware. The oldest piece in our selection is the figure 'Lute Play' by Melanie von Horsetzky, 1911/12. The figurine, which is still very much based on post-Art Nouveau, is priced at EUR 300-350. Better known and therefore more "typical" for Goldscheider are the characters of the theatre and variety stars of the twenties. The figurine 'Turtledoves' by the sculptor Stephan Dakon, 1927/28, shows two of the well-known Dolly sisters who were models for several figurines by the manufactory. The short clothes, the pose, the beautiful but not overloaded decor were wonderfully suitable for the light material of the earthenware.
Two 'fashion ladies' by Annie Offterdinger, designed as early as 1914 for the Werkbund exhibition in Cologne, are also particularly beautiful. Even these women in their fashionable clothing announce a change in society, which will be fulfilled after the First World War (estimate EUR 2,400 - 2,800 each).
---