Auction 156A
Lalique Only

08. June 2021 at 3:00 PM
Consignments until
16. April 2021
---
Catalogue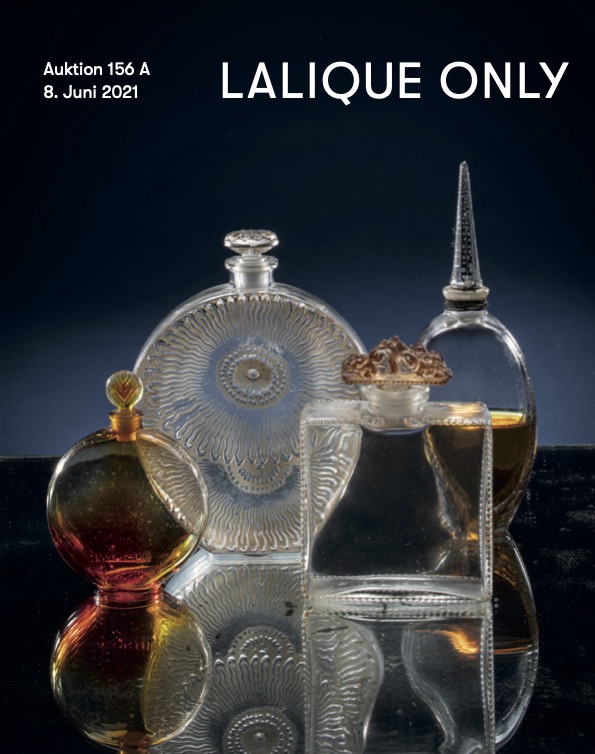 ---
Pre auction report
The auction month June starts with 'Lalique only', our regular special auction. With designs spanning from 1912 to the 1990s, we take a look at the traditional history of the glass manufactory.
The focus is on vases with sought-after décors, such as the 'Archer' model from 1921 (estimate EUR 7,000 - 8,000) or the 'Ceylan' vase from 1924.
The numerous flacon designs of the manufactory form an entirely separate field of collection As early as 1907, René Lalique began to design the first models for the perfumer François Coty. A collaboration that would become groundbreaking for the company. The attractive flacons for major brands such as Coty, D'Orsay and Worth helped René Lalique to international fame. A branch of production that has been part of the company tradition to this day. Under Marie-Claude Lalique, the company even launched its own fragrances from 1992, which are produced in limited editions. The auction features early models, such as the 'Fleurs de France' flacon for D'Orsay from 1919 (estimate 500 - 600 EUR), as well as the late collector's editions, such as Marie-Claude Lalique's 'Quatre Muses' design from 1994 (estimate 200 - 250 EUR).
The manufactory also proves its exquisite use of glass in the interior sector. The massive door handles 'Soleil' (estimate 8.000 - 10.000 EUR) are a rarity on the market and transform every portal into an impressive entrance area.
---