Auction 142A
Schools of Design

11. December 2018 at 5:00 PM MESZ CEST
---
Catalogue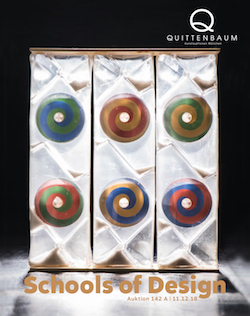 ---
At the end of the year, Quittenbaum will offer 162 top-class objects that show exemplarily the avant-garde tendencies und styles of the most important European design centres of the 20th century. 
In the founding year of the Wiener Werkstätte, in 1903, Josef Hoffmann created the candlestick with matchbox holder that is being offered at an estimate of EUR 10,000 - 14,000. It is one of eleven lots made by the Viennese secessionists, another example among them being a grid basket vase with blue glass inset, also by Hoffmann, from 1906 (EUR 6,000 - 7,000). Architect and painter Henry van de Velde often designed vessels and jugs with a sculptural quality. This becomes evident in two important silver objects in the auction: a teapot and creamer on a tray from the 'Service III' (1904, EUR 18,000 - 24,000) and a bowl of which only one other had been previously known, from the year 1909 (EUR 8,000 – 12,000).
The idea of the designers and artists of the Bauhaus was to make attainable aesthetically rarified surroundings not only for the well-to-do. Chair and table, cutlery and plate, need not only be functional but also meet modern aesthetic demands and be ready for reasonable serial production at the same time. For all its efforts, the Bauhaus only rarely succeeded in realising this task. Many of the Bauhaus products were still only available for well-to-do customers. Not one but three objects, created directly at the Bauhaus, will be on offer in this auction: A wine jug of nickel silver, made by Christian Dell in 1922 leads the way (EUR. 90,000 – 120,000). Relatives of the consignor had bought it in the beginning of the 1920s and it has been in the family since. A painted 'Model VII' chess set in original wooden box, made c. 1924 (EUR 10,000 – 15,000) was also bought in Weimar, as well as the 'ti 1a' wooden-slat chair, 1924, by Marcel Breuer (EUR 25,000 – 35,000).
Created almost simultaneously, they are two antipodes of the modern seating design: Eckart Muthesius' 'Red Comfortable Chair' (1931) – square, upholstered and with integrated lighting, designed for the Maharaja of Indore and Alvar Aalto's '31/42' easy chair for the Paimio sanatorium, of bent plywood and in excellent condition, which will be called up for EUR 4,000 – 5,000.
Elegant and inventive Italian lighting design will be represented with pieces by Angelo Lelli and Gino Sarfatti. The 'Racket Chair' by Helge Vestergaard Jensen stands out of the high-quality offer of Scandinavian furniture and lighting by Hans Wegner, Tapio Wirkkala and Ilmari Tapiovaara (EUR 12,000 – 15,000).
---