Auction 141A
Auction Art Glass from Lorraine - a private collection
Japonism and floral Art Nouveau by Gallé and Daum
20. November 2018 at 2:00 PM MESZ CEST
---
Catalogue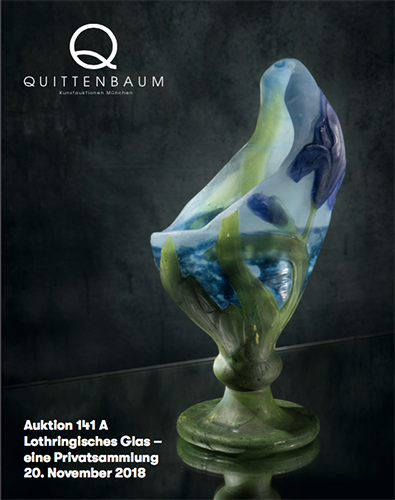 ---
Art Glass from Lorraine - A Private Collection. Japonism and floral Art Nouveau by Gallé and Daum
At the beginning of our Art Nouveau / Art Deco auctions stands an exquisite private collection of French glass. The German collector purchased most of his over 250 works of art in the 1970s and 1980s. Looking for exceptional and unusual pieces, the entrepreneur used to visit Nancy, the cradle of the Lorraine art glass, very often. His wanderings were successful: An exceptional decorative vase is among the highlights of the selection. It depicts a pond landscape with iris (1910-12) that stands out among the range of art glass by Daum Frères, given its asymmetric shape and the elaborate technique used for its execution (estimate: EUR 60,000). It appears to be a unique piece. A similar vase can be found in the collection of Gerda Koepff at Glasmuseum Hentrich / Museum Kunstpalast, Düsseldorf.
In contrast, Emile Gallé's work is represented with a range of very early art glass with enamel décor. As, for example, an historicising decorative vase, dated 1887. Its spindle shape bears the décor of a landscape, executed in grinding and etching techniques and, additionally, enamel painting and gilding. Moreover, tiny drops of darker glass are applied to its waist.
Another piece seldom seen on the art market is a Phänomen vase by Loetz, a baluster shaped vase with conical attachment and a wide, disc-like shoulder, made in 1900 for the renowned glass distributor J.&L. Lobmeyr, Vienna. The décor is very rare, in the so-called Tiffany-technique. There are several works by Tiffany in this auction as well, for example a wonderful bud vase of cased glass, clear and light yellow, with a combed pattern forming petals in opal white and brown, made by L. C. Tiffany between 1898 and 1900. A very similar exemplar was shown at the Turin World Fair in 1902.
---