Auction 138B
Art Nouveau - Art Deco

15. May 2018 at 5:00 PM MEZ CET
---
Catalogue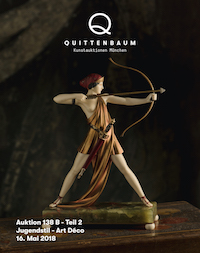 ---
Good results for French Glass – Daum and Gallé in the fore
The first part of the Art Nouveau / Art Deco auction in May was dedicated to Glass. The works by French designers were the most popular, spearheaded by Emile Gallé and the Daum brothers. The tall 'Le Lac de Côme le soir' vase with its atmospheric décor received EUR 23,310 and thus surpassed its expectations by far. Another work by the artist, the tall 'Ornothogale en ombelle' vase, even quadrupled its price at EUR 19,425. The bidders' attention was directed also to the cover lot, the 'Chèvrefeuille' jar. Having been estimated between EUR 1,500 - EUR 2,000, it surprised with receiving proceeds of EUR 9,065. More early designs by Gallé, featuring enamel patterns, sold very well, too.
Rare pieces by Daum Frères were fervently battled over, none more than the 'Libellules et renoncules jaunes' vase that found a new home for EUR 10,360.
In the international section, the 'Pomegranate' table light won bidders over. The piece by Tiffany Studios, New York, changed hands for EUR 9,065. Buy unsold lots in the post auction sale until 15th June.
Strong female figures received high prices
The wonderful figurative table light, 'La Danse, la Loïe Fuller', by Raoul Larche, demonstrates the designer's talent to depict movement. It came as no surprise then that aficionados were placing high bids on it. A private collector got the upper hand over a German museum and got the model for the Paris World Fair in 1900 for EUR 38,850. Instead, the museum was able to purchase Léonard van Weydeveldt's 'Danseuse au tambourin' from the 'Je de l'Echarpe' centrepiece for EUR 25,900.
Ferdinand Preiss' 'Diana', the cover lot of part 2, epitomises strength and tension. After a fervent bidding war, the highlight of the auction sold for EUR 49,210. Two lovely brooches by Josef Hoffmann were also sought after. While the rectangular piece with opals received a good result with EUR 10,360, the oval brooch surpassed expectations by far. With a sum of EUR 19,425 it managed to double its estimate. Eduard Klablena's 'Arrogance' headed the ceramic section. The stylised peacock received spectacular EUR 7,770.
As was the case in the Glass section, Gallé also dominated the furniture selection. The elegant lady's desk with inlaid pattern received EUR 20,720. Buy unsold lots in the post auction sale until 15th June.
---