Auction 129
Art Nouveau - Art Deco

15. November 2016 at 3:00 PM MESZ CEST
---
Catalogue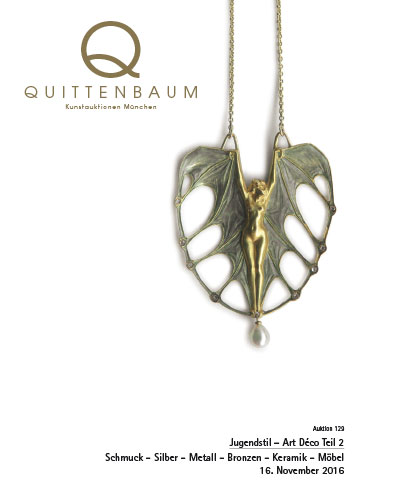 ---
As expected, the stars of the auction were found in the Jewelry selection. The three works by René Lalique surpassed their estimates by far. Lalique's 'Femme chauve souris' necklace, taxed at €30,000 - 50,000, was courted by several international telephone bidders. A dealer secured the rare piece for himself for €84,000 with fees. Prior to that, the 'Bleuets' ring had reached €19,000 and the ring with Baroque pearl was knocked down at €13,000. After battling fervently, a buyer allowed €11,650 with fees for a necklace by Georg Jensen, made between 1909 and 1924. It had been called up at €500.
French Glass provided high hammer prices as well. Customers from the Far East showed huge interest via telephones, as did the clients in the room. A Swiss collector got the upper hand for the Daum Brothers' 'Libellules et Renoncules' vase at €14,000 with fees. Early works by Emile Gallé were coveted too. The enameled 'Dahlias' vase got around €10,500 with fees from an American collector. It had been called up at €6,000.
The comprehensive offer of table lights and ceiling lights was well received. A collector paid over €10,000 for a two-storied ceiling light by Daum Frères (estimate: €5,000 - 6,000) and around €6,500 (€4,000 - 5,000) for one of their table lights. Brackets and decorative metal works were quite popular as well. Eugène Feuillâtre's 'La Nuit' vase for the Paris World Fair 1900 increased its price from €10,000 to €31,000 with fees.
In the porcelain section, the rare 'Wings' set, designed by Rudolf Hentschel for Meissen in 1901, received €11,500 with fees. Max Laeuger's works met with huge interest. A rare 'Goldmosaic' vase leads the results list. Called up at €1,500, it was sold for €7,200 with fees. Decorative bronze figures stay popular. Georg Wrba's 'Diana' received €11,500 with fees. The post auction sale ends on December 16.
---