Auction 149C
Murano Glass

20. February 2020 at 3:00 PM MEZ CET
---
Catalogue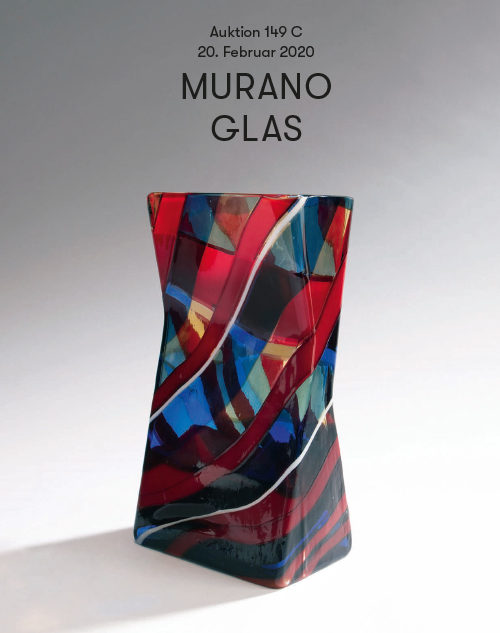 ---
A true rarity - 'Scozzese' vase by Fulvio Bianconi
Among the works by Venini, a 'Scozzese' vase by Fulvio Bianconi, valued at € 50,000 - 80,000, leads the range. Privately owned in Germany for decades, the vase, created between 1954 and 1957, combines the technical skill of the glassblower and the sculptural and compositional quality of the designer like no other glass work by the manufacturer. In the last 30 years, only a handful of these masterpieces have come onto the market.
With the second highest valuation of the auction, a rarity by Dino Martens is on offer. The model 'Traliccia' was presented at the 9th Triennale of Milan in 1951. The vase offered here is currently the only known preserved example of the design otherwise only depicted in historical photographs. The vase offered here was museum-restored in the 1980s after severe damage. For decades it was privately owned in Germany and was on loan to the exhibition 'L'Arte del Vetro' at the Palazzo Ducale in Venice in 1993. The vase, valued at € 20,000 to 30,000, will attract a great deal of interest despite its restoration, as this important design belongs in an important collection.
The record prices for works by Archimede Seguso allow the forecast that the models listed under catalogue numbers 652 and 653 will also attract attention. A tall 'Merletto giallo' is estimated at € 8.000 - 10.000 and a vase with intertwined threads in white and purple presented at the Venice Biennale in 1954 is estimated at € 4.000 - 6.000.
In response to the great demand, once again we offer a number of high-calibre works from Barovier & Toso. The very elegant vase 'Spuma di mare' from 1938-40 is valued at € 6.000 - 8.000. At the same time the rather baroque vase 'Medusa' was created in a rare pink and especially large version (€ 4.000 - 6.000). Works from the post-war period are for example the vase 'Egeo' from 1960, valued at € 5.000 - 7.000 and a small but very expressive bowl 'Tessere ambra e blu', i.e. in rare two-tone colours, for € 4.000 - 5.000.
Some early works will certainly also attract attention: The extremely rare small bowl by Vincenzo Moretti 'A murrine' with enamel painting from the 1880s (€ 5.000 - 7.000), an emerald-green vase 'Trasparente', designed by Napoleone Martinuzzi in 1927, with a two-line Venini signature (€ 1.000 - 1.500) and a 'Pasta vitrea' vase in the shape of a ball with appliquéd flowers with an early Pauly signature attributed to Martinuzzi (€ 1.500 - 2.000).
---