Auction 143C
Murano Glass

21. February 2019 at 5:00 PM
---
Catalogue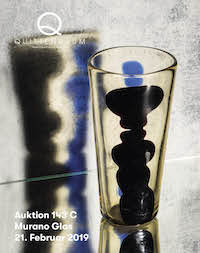 ---
143C - Murano Glass
With a sales rate of around 70%, the first Murano glass auction of the year comes to a successful conclusion.
The top lot of the auction, the rare vase 'A Macchie' by Fulvio Bianconi secured a collector for EUR 60,000. Extremely popular were the flowers of Gianni Zennaro, who rarely find their way to the market. Three copies could be offered in this auction and led to exciting bidding wars (hammer prices: EUR 7,500 / EUR 7,500 / EUR 6,000).
Very good results were achieved by the designs of Ercole Barovier, almost all of them could be sold and experienced some gratifying increases, such as the vase 'Alterno blu', which climbed from EUR 3,000 to 7,000. Particularly noteworthy is the large vase 'Parabolico' which doubled its estimate with a hammer price of EUR 8,800.
Unsold objects will be available in our post auction sale until Friday, 22 March.
---