Auction 154D
Modern Art

10. December 2020 at 3:00 PM MESZ CEST
---
Catalogue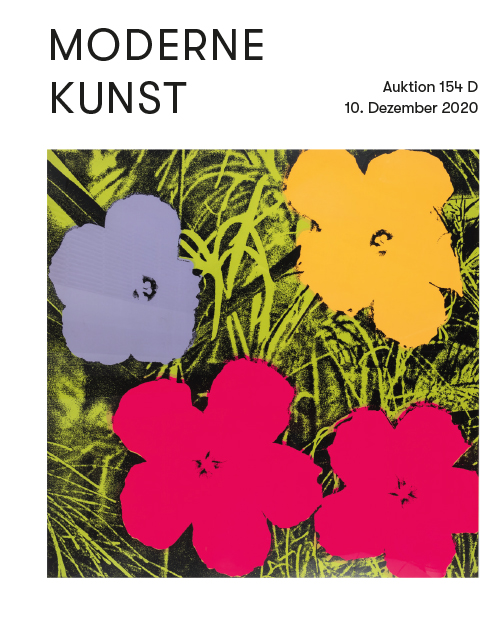 ---
The second art auction in 2020 comprises over 300 lots. Again, the focus of the offer is on Pop Art and Neo Pop Art.
Andy Warhol: the 'art businessman'
46 of the lots were penned by Andy Warhol. The range spans from his early creative phase as a commercial graphic artist and illustrator to his mature work. There are three works from the early period, his well-known 'Shoe' drawings, one in yellow and one in blue and black. A third has a checkered pattern (lots 529 - 531, estimates 8,000-10,000 euros, each). About their importance and his own appreciation, Andy Warhol stated in his 'Philosophy': 'When I was still drawing shoes for various illustrated magazines, I got a certain wage for each shoe, so I added up my shoes to work out how much I'd get. I'd live on the number of shoe drawings - I only had to count them to know how much money I had'. As an artist, you should always add up your works, Warhol then continued in the interview, 'so that you always know how much you are worth and not mistakenly assume that your product is yourself and your fame and your aura'. 1 The 'Christmas Tree' comes also from the time when Warhol was still working as a graphic artist (lot 534, estimate 10,000-15,000 euros). The high-quality lots in the Warhol offer also include two test prints: the side-by-side proof 'Jackie III' (lot 534, estimate 2,000 - 3,000 euros), and the 'Electric Chair' from the Bischofberger Edition (lot 550, estimate 5,000-7,000 euros). Andy Warhol had a very special relationship with Liz Taylor as well as with other international icons. He appeared as an actor together with her in a movie in Rome, and accompanied her there and on other occasions when the entire Hollywood elite arrived for international gatherings. He knew a lot of details about her, such as that she needed two days to unpack her luggage when she was traveling. Warhol immortalized 'Liz' many times. One 'Liz' also became the motif for the first Warhol exhibition in Canada, at the Morris International gallery in Toronto in 1964. The flamboyant poster, a serigraph print, is signed by Warhol himself (lot 561, estimate 10,000 - 15,000 euros). Andy Warhol took countless Polaroids throughout his life, all of which he kept and which were preserved for posterity through his estate. In this respect he was, as always, ahead of his time, a consistent up-cycler. 'I have a preference for these leftovers' 2 he's quoted in his 'Philosophy'. Storage was one of his fundamental characteristics and is part of his work. There was no waste in his factory, in his filmmaking, or in his everyday life. He gave away leftover food, did not throw away material scraps or what at first glance seemed less than successful. The auction includes some of his Polaroids, well-staged self-portraits (lots 537 and 539, estimates of 3,500 - 4,500 euros each) and snapshots. A particularly neat item among the Polaroids is the 'Candy box' (lot 562, estimate 6,000-8,000 euros). Candy was an amour fou of Andy Warhol's, who could have survived only on sugar: 'As a child, I never dreamed of having a maid's room; what I dreamed of was sweets. With increasing maturity the dream was then modified: Make money to be able to buy candy because of course as you get older you get more realistic too. Even after my third nervous breakdown, I still didn't have any extra candies, but then my career suddenly soared and I got plenty of candy. If I think about it that way, success has given me a candy room instead of a maid's room.' 3 Anyone who would like to read Andy Warhol's 'Philosophy' should secure themselves lot 553, a signed copy from the year 1975, published by Harcourt Brace Jovanovic (estimate 3,000-4,000 euros).
AW's Friends and Followers
Andy Warhol's environment included the younger Keith Haring, who temporarily collaborated with Angel Ortiz (LA II). The painted subway sign on New York's 'Pacific Street' with a Radiant Baby and a Dancing Man in white is attributed to Haring (lot 454, estimate 3,000-4,000 euros). A small drawing by Haring comes from the Helge Achenbach collection (lot 453, estimate 10,000-15,000 euros). The image carrier is a beer mat from the legendary Düsseldorf brewery and beer hall 'Im Füchschen'. Like Warhol, Haring was also inspired by US money: six of his dancers dance over a two-dollar note, the one in the middle lifts a Radiant Baby (lot 451, estimate 1,000-1,500 euros). Haring also wrote an autograph, a letter for his fellow painter LA II, which he signed with a Radiant Baby (lot 452, estimate 1,000-2,000 euros). The 'Dancing Man', a drawing on a large wooden panel, is ascribed to Haring and LA II. While the figures are by Haring, Angel Ortiz immortalized himself here with his unmistakable ornamental scribbles (lot 449, estimate 5,000-6,000 euros). LA II made the programmatic work 'Lefty' by himself in 2007 (lot 492, estimate 3,200-3,800 euros). Of the Neo Pop Art lots, the large 'Four Foot Dissected Companion (Black)', 2009, with its size of around 130 cm in height is a very special eye-catcher (lot 472, estimate 35,000-40,000 euros). Other lots in Neo Pop Art or Street Art stem from Banksy, Mr Brainwash, Ottmar Hörl, Damien Hirst, Jeff Koons, Nara, Julian Opie and Rose Popay.
Classics
In the selection of classic items, a gouache by the Viennese painter Maximilian Lenz is particularly worth mentioning, taken over from a north German private collection, it has never been on the market (lot 389, estimate 5,000-6,000 euros). It shows a bacchanalian scene and was created in 1898. Two paintings by Cucuel, which were probably made in southern Germany, capture local color. There is the portrait of 'Evechen Meyerweissflog' (lot 370, estimate 12,000-15,000 euros) and the 'Young woman at the lake with a parasol' (lot 369, estimate 14,000-18,000 euros), both in front of a lake backdrop, as is typical for the Bavarian landscape.
1Andy Warhol, The Philosophy of Andy Warhol from A to B and back, Frankfurt, 3rd edition 2013, page 84. 2Ibid., Page 87. 3Ibid., Page 101.
---