Auction 145C
Modern Art
Pop Art - Picasso Ceramics - Selected Works
27. June 2019 at 5:00 PM MEZ CET
---
Catalogue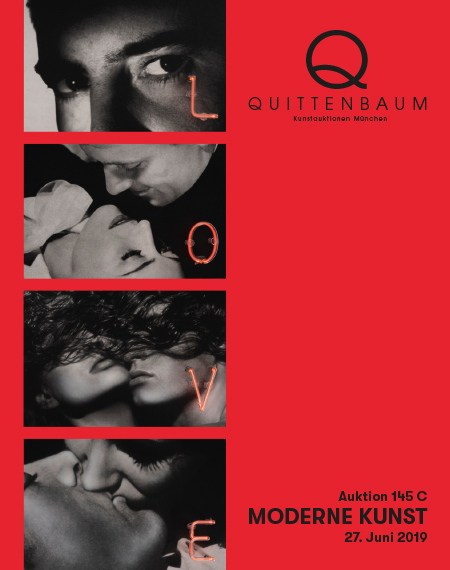 ---
The concept of our auction 'Modern Art', curated for the first time on the focal themes of Picasso and Pop Art, has proven to be very successful. Among the most sought-after pieces were the works of two exceptional artists, namely Pablo Picasso and Andy Warhol.
The first part of the auction was dedicated to Pablo Picasso. Especially his ceramic work was well received. At the top of the outstanding hammer prices is the jug 'Visage aux yeux rieurs' designed for Madoura in 1969, which comes from a private collection in Berlin (Cat.No. 493, estimated price 26,000 - 32,000 EUR). The jug received a total revenue of 32,500 EUR including premium from an Anglo-Saxon customer. The imposing plate 'Taureau dans l'Arène', designed by Picasso as early as 1948, shows in the center one of the Master's favorite motifs: a bull (Cat.No. 487, estimate: 6,000 - 9,000 EUR). The hammer went down at 6,400 EUR in favor of a customer from Great Britain.
The positions of Pop often reached a multiple of their taxes. Works by Andy Warhol, Keith Haring, Allen Jones and Texan artist Luis Jiménez received particularly impressive results. The interest in proof prints by Andy Warhol was particularly high. The iconic image of 'Liz' (Cat.No. 593, estimated price 800 - 1,000 EUR) was bought by a telephone bidder for 18,500 EUR. The atmosphere became vibrant when the 'Three Stacked Figures' were called up, which Keith Haring immortalized on a New York subway sign of the 'Bowery' station (Cat.No. 529, estimated price: 4.000-6.000 Euro). The lot quickly climbed to a hammer price of 14,000 EUR and the work is going now to the United Kingdom.
Unsold objects can still be purchased in the post-auction sale, which lasts until July 26th.
---